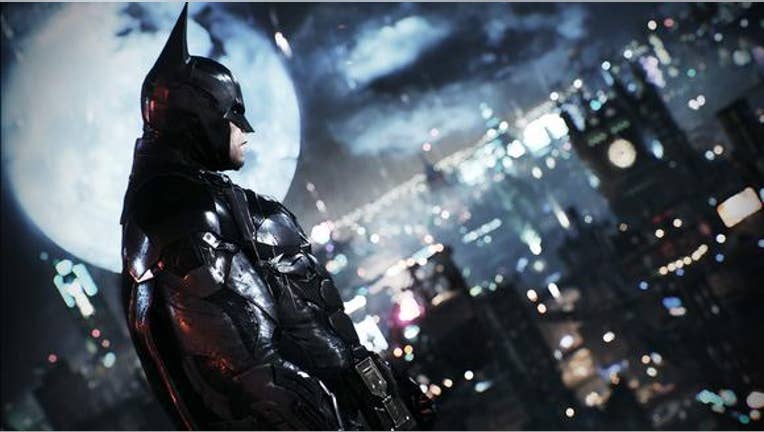 Image source: Batman: Arkham Knight official page.
Time Warner's Batman v Supermanrepresents a credible challenge toDisney's superhero movie prowess, but there's no denying that The House of Mouse dominates the genre. The 12 films in the Marvel Cinematic Universe have grossed over $9 billion in combined ticket sales, and the Avengers squad is still the team to beat at theaters.
Disney isn't winning all aspects of the global superhero race, however. Time Warner has been doing a significantly better job of utilizing its comic book characters in video games than Disney, and Warner's game division looks to be an appreciating asset for the company going forward, while Disney looks to be taking a different approach to interactive entertainment.
Riding in the BatmobileThe past 12 months have seen Time Warner's video game division compensate for weak film performance and propel the company's Warner Bros. segment to growth. The segment now has dramatically increased earning power in years when both film and games are firing on all cylinders and a way to pad performance when one or the other is in a slow stretch. Warner's strength in gaming is a relatively recent development, and one shadowy, pointy-eared figure has been instrumental in the company's emergence as a video games powerhouse. Who might that crusader with a golden touch be? Who else but Batman?
Warner's Batman: Arkham Asylumlaunched in 2009 and quickly became one of the company's first big video game hits outside theLego series. A 2011 sequel went on to become one of the fastest-selling games ever and the series' fourth mainline installment released in 2015, and it quickly passed 5 million copies. Great use of the Batman license andfinely tuned game mechanics helped makeArkhamone of the most successful game series of the past decade.
Batman even influenced the reintroduction ofMortal Kombat,Warner's other core gaming property and a franchise that the company is re-engineering for the silver screen.
Warner purchased the rights to the Moral Kombat franchise in 2009 and set about rebooting the game series using the same development engine that had powered Arkham Asylum, as well as a visual style influenced by the popular Batman games. This set the stage for a crossover, and in 2013,Batman and other DC Comics characters had a fighting game showdown with theMortal Kombatcast inInjustice: Gods Among Us.
The Mortal Kombatseries was partially influenced by comic books, so video game tie-ins with the DC Comics crew and Warner's upcoming attempt at branching the game series to a superhero-style movie universe aren't big stretches.
The DC characters also have crossovers withLego games and helped Lego Dimensions to perform favorably againstDisney Infinity and Skylanders: Supercharge Forcefrom Activision Blizzard. The House of Mouse gets a lot of credit for the synergies it has built between its divisions -- and for good reason -- but Warner is showing emerging evidence of similarly beneficial dynamics.
Will Disney be a bigger player in superhero games?The Avengers and other characters from the Marvel universe can be found in Disney's Infinityseries and inLego games published by Warner, but they haven't come close to matching the gaming success of Batman. Chief rival Iron Man has had a few game releases to tie in with his movie outings, but the games were mostly forgettable and not given the superstar treatment that the IP deserves. Given the inherent value of the characters, why has Disney left its superhero licenses relatively underused in the gaming sphere?
The absence of high-profile Marvel-verse games wasn't intentional -- at least not initially. A big-budget game featuring the cast of the first Avengersmovie was being developed by since-dissolved games publisher THQ, but ultimately fell by the wayside as the company collapsed.
Disney almost certainly aims to build a bigger gaming presence for its superheroes, but it may not have the incentive or the development resources to spearhead additional triple-A franchises on its own. The company has indicated that it will only proceed with Marvel games when it has found the right partner. One likely candidate for a team-up on superhero games is Electronic Arts -- the publisher handling development and publishing ofStar Warsgames that don't fall under Time Warner'sLego banner.It's not hard to imagine a scenario where Electronic Arts handles development and publishing of mainlineStar Wars and Avengersgames, while Time Warner continues to deliverLego offshoots.
What's next for Time Warner and Disney in gamingBetweenBatman,Mortal Kombat, and Lego, Time Warner just had its best video games year ever, and the company is building strength at a time when the industry is experiencing rapid growth and publishers are being rewarded by increasingly favorable sales makeup.There's no denying the strength of product that Warner has delivered with its gaming ventures, and it looks positioned for ongoing wins in the segment.
Meanwhile, Disney looks like it will keep its internal development efforts focused on its Infinity toys-to-life platform and mobile releases and continue benefiting from licensing deals with companies including Time Warner and Electronic Arts.
Both Warner and Disney have growth opportunities in gaming, but Warner's interactive entertainment division is gaining super-strength.
The article Time Warner Is Crushing Disney in This Superhero Battle originally appeared on Fool.com.
Keith Noonan owns shares of Activision Blizzard, and believes that Batman could defeat Superman if given the requisite prep time. The Motley Fool owns shares of and recommends Activision Blizzard and Walt Disney. The Motley Fool recommends Time Warner. Try any of our Foolish newsletter services free for 30 days. We Fools may not all hold the same opinions, but we all believe that considering a diverse range of insights makes us better investors. The Motley Fool has a disclosure policy.
Copyright 1995 - 2016 The Motley Fool, LLC. All rights reserved. The Motley Fool has a disclosure policy.