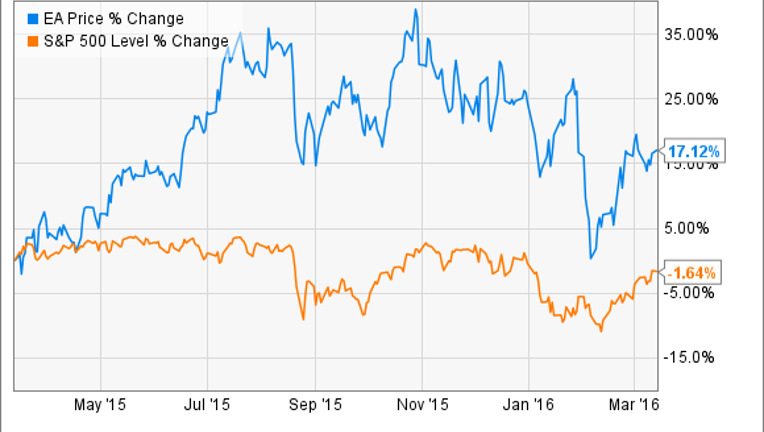 Lego Star Wars: The Force Awakens promo footage. Source: Lego
The first video game based on the seventhStar Warsfilmis coming this summer --Lego Star Wars: The Force Awakens is set to launch on June 28.
Disney's intellectual property has fueled many successful video game launches, including, most recently,Electronic Arts' marquee first-person shooter, Star Wars: Battlefront, which played a key role in its 2015 lineup. Lego Star Wars could be similarly effective in driving Time Warner's video game business, which has been a source of growth for the media conglomerate in recent quarters.
Electronic Arts has partial exclusivityElectronic Arts signed a deal with Disney in 2013 for the rights to develop Star Wars-themed video games. Electronic Arts' management has emphasized the exclusive nature of the deal, but there's a major exemption: Disney retained the rights to Star Wars games aimed at casual audiences. Disney Infinity 3.0 Star Wars, released last August, is a perfect example. Its relatively simplistic gameplay and emphasis on physical toys endears it mostly to young children. Lego Star Wars: The Force Awakenshas no toy component but will more or less target the same group of players.
In contrast, Star Wars: Battlefront is aimed at core gamers --those whose gaming habits generally center around such franchises asCall of Duty,Grand Theft Auto, andMadden. In January, Electronic Arts announced that it had sold 13 million copies of Battlefront into the supply chain. That was enough to make it the fourth best-selling video game of 2015 in the U.S., accordingto research firm NPD. The game was favorably received by critics but clearly benefited from the general Star Wars fervor permeating pop culture in 2015. Battlefront's marketing leaned heavily on the original Star Wars trilogy, and the company was careful to ensure its release coincided with the debut of the film.
Given that it owed Disney a royalty, Battlefront didn't offer Electronic Arts the same profit margin as some of its other games. Still, it played a key role in Electronic Arts' 2015 performance. The video game giant turned in a string of strong earnings reports last year and raised its guidance, due in part to the excitement surrounding Battlefront. That helped Electronic Arts shares outperform the S&P 500 over the last 12 months.
Data by YCharts
Battlefront should continue to reward EA shareholders, as the company plans to release several digital expansions. Moreover, analysts and investors may react favorably when Electronic Arts announces otherStar Wars games, which have been confirmed but not officially unveiled.
Time Warner's growing video game businessIt would be surprising but not unprecedented if Time Warner's title sold similarly well. The company has been making Lego-themed video games for nearly a decade now, and though they aren't regularly among the best-selling games in the market, they do crack NPD's top 10 list from time to time. Most recently, in 2012, Time Warner's Lego Batman 2: DC Super Heroes was No. 9 on the list.
Lego Star Wars: The Force Awakens won't have the benefit of being released close to the film's debut, but Disney will release The Force Awakens on disc and through digital download services next month, and rental demand could keep the movie in the minds of consumers for several months thereafter.
The Warner Bros. segment generated nearly $13 billion of revenue in 2015, with about 80% of that coming from its theatrical films and television shows. Its video games and other component contributed just $2.2 billion, or about 5% of Time Warner's overall revenue in 2015. Yet, to its credit, video games did make up the company's fastest growing business, surging 39% on an annual basis. Last year was the best ever for the video game business, and management expects the segment's growth to continue. "I do believe that film and games will more than offset the difficult comp in TV, and we will have strong growth in 2016," said Warner Bros. head Kevin Tsujihara on the company's latest earnings call.
Time Warner has other games in the pipeline, but Lego Star Wars could be its most significant title of 2016.
The article Time Warner Inc, Not Disney, Is Behind the Next "Star Wars" Video Game originally appeared on Fool.com.
Sam Mattera has no position in any stocks mentioned. The Motley Fool owns shares of and recommends Walt Disney. The Motley Fool recommends Time Warner. Try any of our Foolish newsletter services free for 30 days. We Fools may not all hold the same opinions, but we all believe that considering a diverse range of insights makes us better investors. The Motley Fool has a disclosure policy.
Copyright 1995 - 2016 The Motley Fool, LLC. All rights reserved. The Motley Fool has a disclosure policy.