Time Warner Cable Inc. Earnings: What to Watch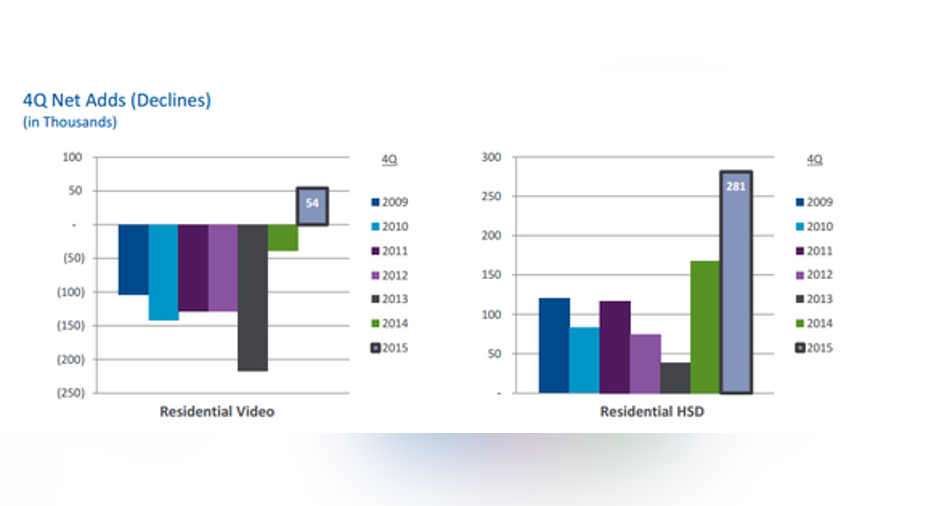 Time Warner Cable is set to post first-quarter earnings results on Thursday, April 28, just as its merger deal with Charter Communications seems to be progressing toward final approval. In addition to details on that profitable tie-up, Time Warner Cable shareholders can look forward to (mostly) good news out of the cable giant when it announces operating results this week.
Here are a few important trends to watch for in the report.
Subscriber additions CEO Rob Marcus and his executive team declined to issue any 2016 forecasts last quarter because of the pending merger, but there's every reason to expect solid sales growth in Q1. After all, TWC in January booked a 54,000 subscriber gain in its cable business last quarter on the way to its first fiscal year of growth by that metric since 2006.
HSD = High Speed Data. TWC added 54,000 cable subscribers and 281,000 high-speed data users last quarter. Image source: TWC.
That success helped power the division's best sales growth rate in years, which is a key reason why consensus estimates peg revenue rising by 6% this quarter to $6.14 billion. In addition to healthy cable service gains, TWC hopes to keep expanding a high-speed Internet service that attracted 1 million new customers last year.
Programming costs Subscriber growth, whether in the cable business or on the high-speed data side, doesn't come cheap, though. In fact, Time Warner's profitability has been shrinking lately (declining to 35% of sales from 37% in Q4) as programming costs spike higher while average revenue per user stays roughly flat. TWC paid 10% more for its content in the last year, compared to a 7% boost for Comcast and an 8% uptick for Charter.
Rising costs pushed profit margin down to 35% of sales last quarter. Image source: TWC.
The cable giant will need to close the gap between expenses and revenue. That will likely be accomplished with help from a healthy dose of price hikes, which should be easier to pass along in an environment of solid subscriber growth momentum.
Capital investments Meanwhile, TWC's list of important capital spending priorities continues to grow. It spent $4.4 billion last year (up 8% from 2014) on expenditure projects ranging from network capacity and reliability upgrades, to issuing new cable modems and set-top boxes, to rolling out its high-speed Maxx service in new markets.
TWC Net Income (Annual) data by YCharts.
Net income and profitability have taken a hit from all that extra spending, but executives believe these investments are laying the groundwork for long-term growth. Marcus pointed to rising customer satisfaction levels and lower cancellation rates as proof that the spending is working. "We made great strides in key residential customer service metrics," he said in last quarter's conference call.
The Foolish bottom lineConsensus estimates are for TWC's earnings to spike higher by 18% this quarter to $1.82 per share, likely reflecting the benefits of a having a growing pool of cable and high-speed data subscribers who are becoming increasingly happy with their service.
The Charter deal is inching closer to a close, but the good news for investors is that the huge merger doesn't seem to be distracting management from their central goal of improving the business this year. Marcus told investors last quarter, "We have an ambitious 2016 financial and operating plan, marked by continued subscriber growth, better financial performance, and continued investment to improve the customer experience." Shareholders will be looking for progress on each of these metrics on Thursday.
The article Time Warner Cable Inc. Earnings: What to Watch originally appeared on Fool.com.
Demitrios Kalogeropoulos has no position in any stocks mentioned. The Motley Fool has no position in any of the stocks mentioned. Try any of our Foolish newsletter services free for 30 days. We Fools may not all hold the same opinions, but we all believe that considering a diverse range of insights makes us better investors. The Motley Fool has a disclosure policy.
Copyright 1995 - 2016 The Motley Fool, LLC. All rights reserved. The Motley Fool has a disclosure policy.