Time to Get Greedy With This Under-the-Radar Stock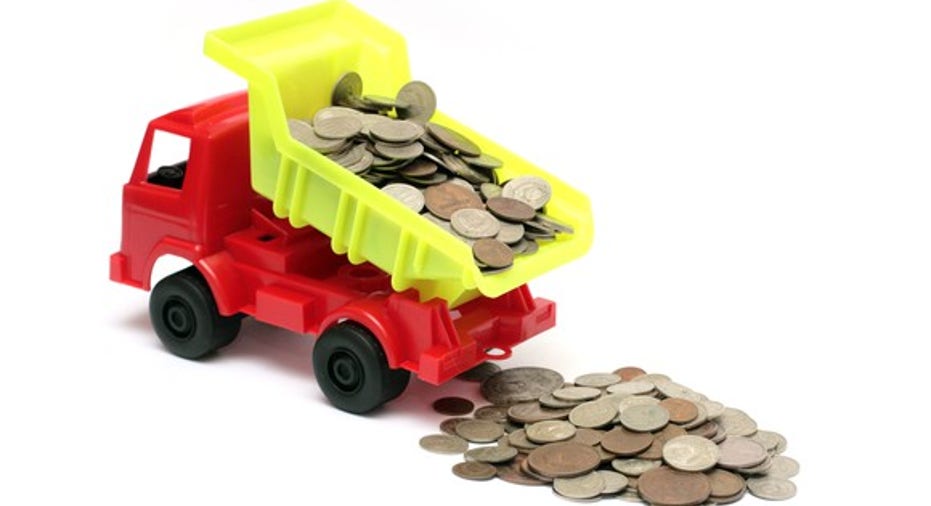 Image source: Getty Images.
Earlier this year, the White House announced a "moonshot" effort in personalized medicine powered by advances -- and continued investments -- in genomics which have been nothing short of amazing.
Consider that the cost of DNA sequencing has fallen tremendously since the completion of the Human Genome Project in 2003.Although the international effort gobbled up $2.7 billion in the name of science, the first full human genome was estimated to cost about $1 billion, according to the National Institutes of Health. As for today? Faster, better, cheaper methods for reading DNA have pushed the price tag below $5,000 for a full human genome. Research institutions with high throughput can achieve costs of $1,000 per genome if they purchase the newest machines from Illumina (NASDAQ: ILMN).
Despite these remarkable advances, the promise of unlocking the information of our genetic code has yet to be realized by consumers. Several factors explain the gap -- $5,000 is still a lot of money for an individual, it costs extra to interpret the data represented by the 20,000-plus genes in a full genome, and we still don't fully understand the data -- but there's plenty of value to be had without going all-in. As genetic testing companies such as Myriad Genetics (NASDAQ: MYGN) have shown, detecting the presence of even a handful of genes associated with diseases can provide value to patients, healthcare providers, treatment centers, and investors.
Of course, even this approach has yet to trickle down into most people's visits to the doctor. That has more to do with how the payments system is structured than the underlying technology, however. But there's good news: That's all about to change. And we can thank tiny genetic testing newcomer Invitae (NYSE: NVTA) for blowing up market inefficiencies to create the future originally envisioned when the Human Genome Project began over two decades ago. That's why it may be time to get greedy with this under-the-radar stock.
The business
Invitae has a simple goal: to bring genetics into mainstream medicine. The company is hoping to achieve that through three strategic efforts:
Provide a low-cost genetic testing platform for individuals.
Do away with corporate gatekeepers and empower individuals to be in complete control over their genetic data.
Aggregate the genetic data of millions of people to create new markets not possible today.
While riding the wave of constantly improving genomic technology plays a significant role in Invitae's strategy, the company believes that the current structure of the healthcare system unnecessarily impedes innovation and keeps costs high for individuals. This is absolutely true -- and it has to do with how genetic tests have historically been billed.
Myriad Genetics offers the most obvious example, although it is hardly the only one benefiting from inefficiencies in the billing system. Consider that the company generates nearly 90% of its revenue from its BRACAnalysis test, a hereditary test that detects the presence of genes linked to breast and ovarian cancer. Patents and regulations allow Myriad Genetics to keep its prices high, and the total cost of the test can reach $4,000.
Invitae is looking to change the system by charging substantiall less for tests and allowing individuals to benefit from improving technology. Its own genetic test for BRCA genes was recently set at a price of $622.53 by Medicare.That helped to highlight the fragility of Myriad Genetics' business strategy and has been a driving force in the stock's 57%free fallyear to date.
Invitae's star is rising
A quick look at Invitae's financials doesn't reveal anything particularly exciting. The company generated just $5.6 million in the second quarter of this year with negative gross margin. Over the last five quarters, it has averaged EPS of negative $0.76 and operating losses of $24 million. It will need to raise a significant amount of additional capital, through stock or debt, before the middle of next year.
But there's still a lot to be excited about if you dig a little deeper.
Consider the following year-over-year comparison:
Data sources: Invitae press releases and investor presentation.
Looking at the income statement shows that Invitae posted losses in the second quarter of 2016 that were nearly identical to those in recent quarters. But the same number on a per-test basis shows a dramatically improving picture. That should give some confidence that the company will achieve positive gross margin -- a stated goal -- by the end of this year.
Importantly, deals to become a partner in several national healthcare networks including Blue Cross Blue Shield affiliates, Aetna, and contractors in various states have dramatically improved the company's potential customer base. That should allow it to greatly increase the amount of billable tests sold in the second half of 2016 and provide plenty of momentum heading into 2017.
Invitae is also making investments in the long-term future of genomic data industries, even if applications are difficult for consumers to envision at the moment. In mid-October the company announced a collaboration with Helix, an Illumina spinoff focused on building "the app store" of genetics for consumer driven applications. The partnership will allow Invitae to launch its first health apps on Helix's platform -- and some of the first on the platform, period -- to provide individuals actionable tools for accessing and making decisions about common inherited diseases.
If the companies have their way, then the future of personalized medicine will be much more personal than many individuals think. Helix, backed by $110 million in funding from Illumina, has the reach, and Invitae has the testing platform to begin making just such a future a reality.
What does it mean for investors?
Invitae is an under-the-radar stock today, but it looks like the best bet investors can make for next-generation genomic applications. That could change as the ecosystem grows and new players emerge. However, given the company's awesome growth potential and low valuation, long-term investors won't have much to complain about if the company executes on its vision.
A secret billion-dollar stock opportunity The world's biggest tech company forgot to show you something, but a few Wall Street analysts and the Fool didn't miss a beat: There's a small company that's powering their brand-new gadgets and the coming revolution in technology. And we think its stock price has nearly unlimited room to run for early in-the-know investors! To be one of them, just click here.
Maxx Chatskohas no position in any stocks mentioned.Follow him on Twitterto keep up with developments in engineered biology and materials science.
The Motley Fool owns shares of and recommends Illumina. Try any of our Foolish newsletter services free for 30 days. We Fools may not all hold the same opinions, but we all believe that considering a diverse range of insights makes us better investors. The Motley Fool has a disclosure policy.