Time to Get Greedy With Dave & Buster's Stock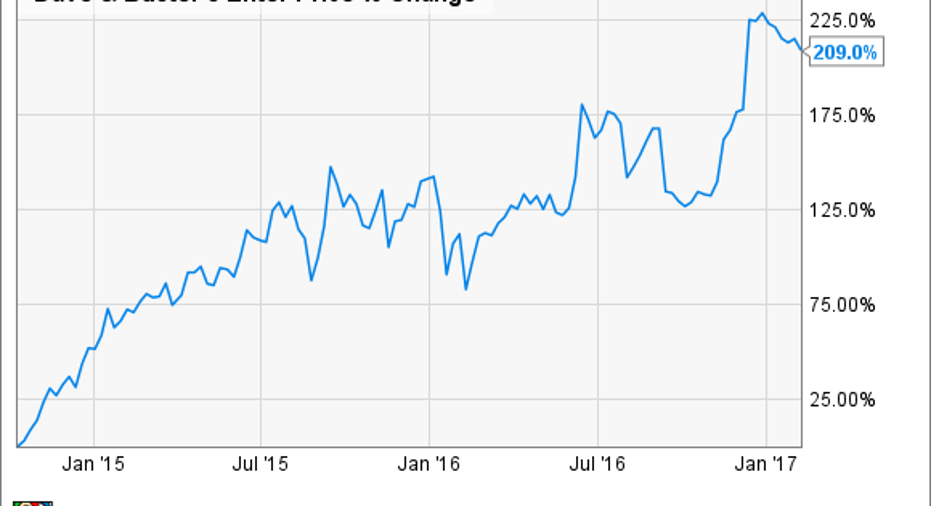 Since first going public in 2014,Dave & Buster's(NASDAQ: PLAY)has become a surprising star on the market -- the stock has more than tripled from its $16 IPO price.
While the restaurant and amusement chain doesn't have the profile of a flashy tech stock, it has been one of the best performers out there, climbing steadily over two years.Looking at the price chart below, you may think you missed out on a chance to cash in with the company, but this bull thesis is just heating up. Let's take a look at a few reasons why.
Data by YCharts.
1. The secret sauce
Dave & Buster's motto -- "Eat, Play, Drink, and Watch" -- sums up the unique nature of its business concept. While most restaurants are built around food and beverage, and some players likeBuffalo Wild Wingsentice patrons with beer and sports, Dave & Buster's throws amusements into the mix. Besides eating, drinking, or watching a game, customers also enjoy playing arcade games, billiards, and even bowling.
The combination has major benefits for the business, as amusements actually generate more revenue and profits than food and beverage. Through the first three quarters of 2016, 55.6% of Dave and Buster's $734 million in revenue came from amusements, while the cost of amusements was just 11.9% compared to 25.7% for food and beverage.
At a time when many restaurant chains have complained of slowing traffic due to a "restaurant recession" as food deflation has persuaded customers to visit grocery stores instead, Dave & Buster's unique offering has provided a bulwark against such trends and given it a significant advantage over the competition. Same-store sales jumped 5.9% in the most recent quarter, and the company has now outperformed the casual dining sector for 18 quarters in a row.
2. Strong track record
Dave & Buster's has beaten analyst earnings per share estimates in all nine of its quarterly reports as a publicly traded company, often by a wide margin. The chart below shows this history.
| | | | |
| --- | --- | --- | --- |
| Quarter | Actual | Estimate | Surprise |
| Q3 2015 | ($0.06) | ($0.09) | 33% |
| Q4 2015 | $0.33 | $0.28 | 18% |
| Q1 2016 | $0.46 | $0.37 | 24% |
| Q2 2016 | $0.40 | $0.23 | 74% |
| Q3 2016 | $0.12 | $0.03 | 300% |
| Q4 2016 | $0.53 | $0.43 | 23% |
| Q1 2017 | $0.72 | $0.59 | 18% |
| Q2 2017 | $0.50 | $0.44 | 14% |
| Q3 2017 | $0.25 | $0.14 | 79% |
Data source: ETrade.
As you can see, Wall Street has consistently underestimated Dave & Buster's, despite the fact that the company keeps overachieving. For fiscal 2018, analysts expect earnings growth to slow to just 16% from more than 50% over the last four quarters. That seems unlikely, as the company has continued to put up solid comparable sales growth. If the company continues to outperform, the stock will surely move higher.
3. Real estate
Dave & Buster's diversified business model gives it more advantages than just the ones listed above. At an average footprint of 30,000 to 45,000 sq. ft.,its locations are much larger than a typical restaurant. Built around both amusements and food, Dave & Buster's offerings cannot be outsourced via e-commerce or delivered to the home. That means the business is a rare traffic driver at a time when retailers and mall owners are desperate to keep shoppers coming into their stores.
Image source: Dave & Buster's Twitter page.
Mall owners are increasingly turning to alternative tenants like gyms, offices, movie theaters, and even laser-tag arenas and farmers markets to fill vacant space inside their cavernous shopping centers. As department store anchors likeMacy'sandSearsshrink their footprint, it's easy to see a landlord looking to a company like Dave & Buster's to take over a floor of a former department store inside a mall. At the end of its last quarter, the company had 88 stores and sees room for at least 200 total locations in North America.
4. The price is right
Shares of the entertainment chain spiked after its last earnings report, but the stock has pulled back since then and is now down about 5% from its recent peak.
Dave & Buster's trades at a forward price-to-earnings valuation of just 26.8 times, which seems like a steal for a stock that's demonstrated such strong growth potential. By comparison,StarbucksandMcDonald's, the two most valuable restaurant companies in the world, trade at valuations of 25.9 and 20.2 times, respectively.Buffalo Wild Wings, perhaps the closest thing to a peer for Dave & Buster's, trades at a similar 27.3 times.
But Dave & Buster's has much more opportunity to expand than any of those other companies, and its track record of outperformance and strong comparable sales growth shows what kind of results the company can deliver.
While investors may feel that they missed out on Dave & Buster's heady growth days, there's still plenty of upside potential to this dynamic restaurant company.
10 stocks we like better than Dave and Buster's EntertainmentWhen investing geniuses David and Tom Gardner have a stock tip, it can pay to listen. After all, the newsletter they have run for over a decade, Motley Fool Stock Advisor, has tripled the market.*
David and Tom just revealed what they believe are the 10 best stocks for investors to buy right now... and Dave and Buster's Entertainment wasn't one of them! That's right -- they think these 10 stocks are even better buys.
Click here to learn about these picks!
*Stock Advisor returns as of February 6, 2017
Jeremy Bowman owns shares of Starbucks. The Motley Fool owns shares of and recommends Buffalo Wild Wings and Starbucks. The Motley Fool recommends Dave and Buster's Entertainment. The Motley Fool has a disclosure policy.