Tim Cook's Apple Watch Reassurance Falls Flat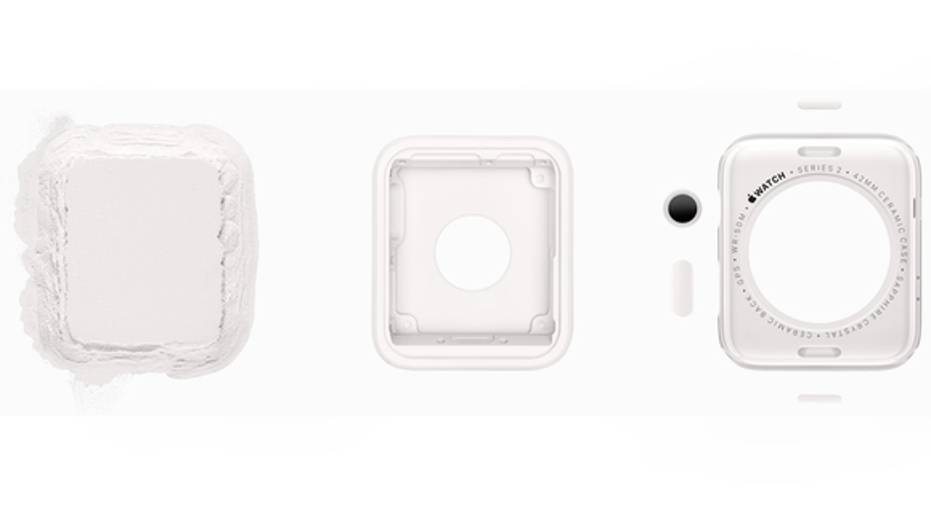 Apple Watch Series 2 includes new features like improved water resistance. Image source: Apple.
There's been quite a bit of pessimism surrounding Apple (NASDAQ: AAPL) Watch sales during the past few months. Much of it is due to third-party estimates on how the smartwatch market is faring, and market researcher IDC has some pretty gloomy figures for both the smartwatch market, as well as Apple Watch specifically.
IDC put out estimates for the smartwatch market at the end of October, followed by numbers for the broader wearables market just yesterday. In both instances, the researcher pegged Apple Watch unit volumes at 1.1 million, down 72% from a year ago. Apple Watch has been on sale for six quarters, and for reference here are IDC's estimates for the past year and a half.
Data source: IDC. Chart by author.
CEO Tim Cook recently responded to an email question from Reuters, and provided some rare commentary. "Our data shows that Apple Watch is doing great and looks to be one of the most popular holiday gifts this year," Cook told Reuters. He continued:
Cook is clearly on the defensive and wants to reassure investors that Apple Watch sales are doing just fine. Unfortunately, this attempt falls flat.
There's no context
Making vague statements about Apple Watch performance is meaningless lacking context. "Off the charts" is a close cousin of "doubling down," another somewhat abstract phrase that business leaders like to use without having to actually provide details. On top of that, the product's history is so short that it shouldn't take a lot to post the best week ever. The most meaningful information that Cook shared is that Apple is trending toward the "best quarter ever," which is still frustratingly vague even if it's a little more relevant in terms of financial reporting.
Additionally, Cook is referring to sell-through, while IDC measures unit volumes based on channel sell-in. Sell-through is what really matters if you're trying to gauge customer demand.
Apple Watch Edition Series 2 is made with a ceramic case. Image source: Apple.
While it's not reasonable to expect Cook to disclose granular detail in this medium (which would likely be a violation of Regulation FD anyway), the broader point is that Apple is fully capable of providing as much context as it wants around Apple Watch sales. It's just that Apple wants to provide as little as possible. This is the type of financial obfuscation that Amazon.com has been doing for years, much to the frustration of its own investors. Cook's comments are comparable to this imagined conversation with Jeff Bezos. Growth off an unknown base doesn't impress anyone.
Here's a little context
There is still some context worth considering, though, but it has nothing to do with Cook's email. Apple launched Apple Watch Series 2 at the very end of Q3 and only in limited quantities. The original model had a roughly 18-month product cycle, which is longer than iPhones but shorter than iPads and Macs. With the reduced price of Series 1, combined with an improved Series 2 with new features and functionalities, I would certainly hope that Apple Watch jumps to new highs this holiday shopping season. In fact, I'd be surprised and disappointed if it didn't. Cook is essentially just reaffirming something that investors should have been expecting anyway.
10 stocks we like better than Apple When investing geniuses David and Tom Gardner have a stock tip, it can pay to listen. After all, the newsletter they have run for over a decade, Motley Fool Stock Advisor, has tripled the market.*
David and Tom just revealed what they believe are the 10 best stocks for investors to buy right now... and Apple wasn't one of them! That's right -- they think these 10 stocks are even better buys.
Click here to learn about these picks!
*Stock Advisor returns as of Nov. 7, 2016
Evan Niu, CFA owns shares of Apple. The Motley Fool owns shares of and recommends Amazon.com and Apple. The Motley Fool has the following options: long January 2018 $90 calls on Apple and short January 2018 $95 calls on Apple. Try any of our Foolish newsletter services free for 30 days. We Fools may not all hold the same opinions, but we all believe that considering a diverse range of insights makes us better investors. The Motley Fool has a disclosure policy.