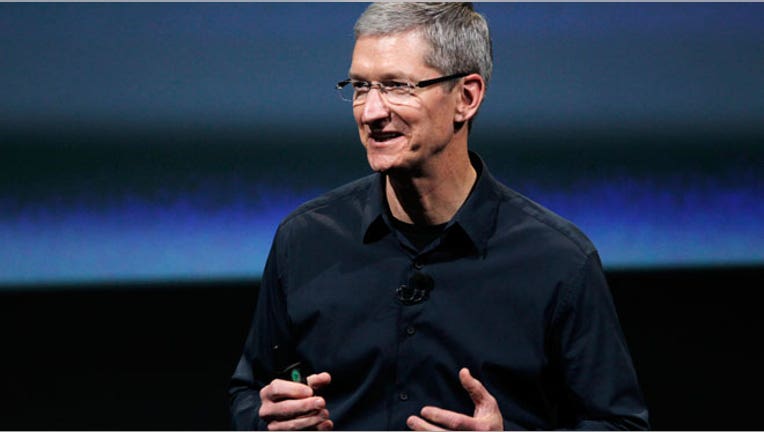 Apple Inc. Chief Executive Tim Cook, in a meeting with senior government officials, pledged to increase investment in China and set up an "independent" research center, China's state media reported Tuesday.
Chinese state broadcaster CCTV reported in its evening news program that Mr. Cook met Tuesday with China Vice Premier Zhang Gaoli. The report didn't show Mr. Cook speaking, only listening to Mr. Zhang.
An Apple spokeswoman didn't immediately reply to a request to confirm the report.
The report comes as Apple faces multiple headwinds in China, including the shutdown of its online book and movies services, tighter cybersecurity regulations and slowing iPhone sales. Once Apple's fastest-growing region, China has been the company's biggest drag on sales in the past two quarters as Chinese rivals produce increasingly competitive products.
CCTV didn't elaborate on what an "independent" research and development center would entail. But China has been leaning on Apple and other U.S. technology companies to store their data locally, share source code with the government and accept reviews to prove their products are secure, according to industry groups. Source code is a company's proprietary software.
Apple revealed in April that it has refused requests from Chinese authorities to share source code. That month, China also shut down Apple's online book and movie services, telling the company it lacked the necessary licenses, according to people familiar with the matter.
Apple has since sought to get back in Beijing's good graces by investing $1 billion in Chinese ride-hailing company Didi Chuxing Technology Co. in May.
Mr. Cook also said he would support China's plan to update traditional manufacturing industries with automation and Internet technologies, according to CCTV.
Terry Gou, chairman of Apple's main contract manufacturer Foxconn Technology Group, was also shown at the Beijing meeting in the CCTV report. A Foxconn spokesman didn't immediately reply to a request for comment.
China has previously used state media to put pressure on Apple. In 2014, CCTV ran a segment that accused the iPhone of being a "national security risk" due to its feature for tracking user locations. Apple said a day later it "appreciated" the report, and added it didn't have access to user locations.
That year, Apple moved Chinese customer data to a facility operated by local telecom carrier China Telecom Corp. and said the data was encrypted and not accessible by China Telecom.
Write to Eva Dou at eva.dou@wsj.com