Tiger's Back! Or at Least His Video Game Is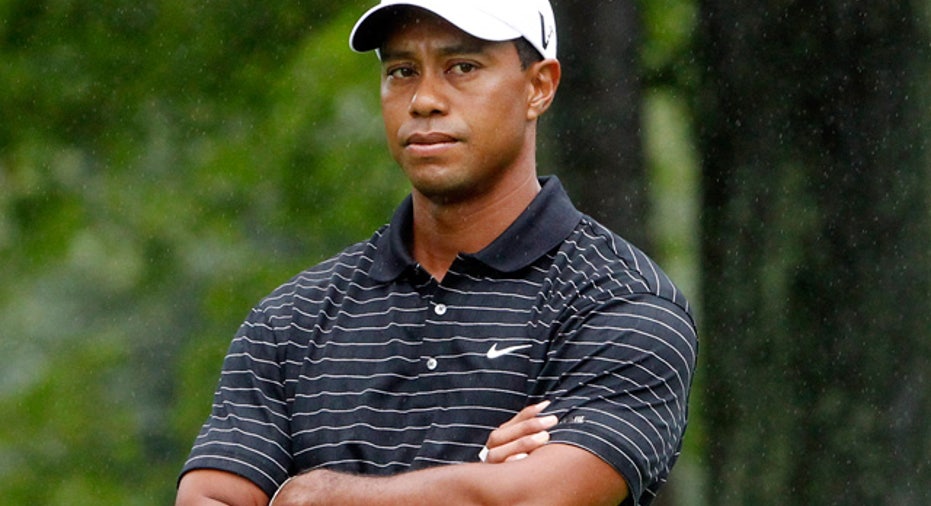 Tiger Woods is back atop the leader board. Well, at least his namesake video game is.
Woods himself roared back to championship form at this year's Masters golf tournament, and that may boost future sales of the title. The golfer finished tied for fourth, just missing out on a fifth green jacket awarded to the event's champion. But the folks at video game publisher Electronic Arts (NASDAQ:ERTS) and its shareholders may be even happier than Charl Schwartzel (who won the real-life tournament with a video-game-like four-hole birdie streak into the clubhouse).
That's because the latest version of Tiger Woods PGA Tour had the biggest opening week of sales in its 14-year history. EA Sports reports record growth across all platforms, from game consoles to mobile -- including top honors all week in the sports department of the Apple (NASDAQ:AAPL) App Store.
While many gamers snack on the Apple device game apps (which cost less than $10 each), Tiger Woods continues to be a big-screen game. It sold 225,000 units for consoles (PlayStation 3, Xbox 360, and Wii). That was 17% more in North America than the previous one-week sales mark from 2007. It also tripled last year's mark, which was well below par for the perennial best-seller.
Michael Pachter, a video game analyst for Wedbush Morgan, says the fast start in sales doesn't mean EA has driven the green, "The numbers aren't particularly leveraging, and they are comparing to an all-time low for the franchise. I think that sales will be back to around 75% of the old peak sales, up 50% over last year."
This year the game teed off a week before this most famous of golf tournaments, instead of the usual June launch. It didn't hurt that Tiger was in the hunt until the last few groups of Sunday's final round, but the real show-stopper in the game is the august course at Augusta National.
The home of The Masters debuted in this year's version, even knocking the troubled Tiger off the box cover for all but one special edition of the packaged game.The excitement of gamers and weekend duffers to play Augusta is measurable. In just two weeks, the   game's publisher says fans have played nearly two million rounds at the uber-exclusive Augusta National Golf Club.
"I think there definitely was some pent-up demand," says David Cole, president of research firm DFC Intelligence. "I think it is a combination of people getting over the scandal and Tiger's performance, the pent-up demand, and having the novelty of Augusta."
But getting fans interested in the course is not enough to keep sales out of the rough. "The game still has to be great," says Joe Spiegel, managing member of Dalek Capital Management. Early reviews have largely been positive, and the sales back them up.
Spiegel says EA made a smart move by keeping Tiger but not focusing on him this year. "They hedged and didn't put all of their eggs in Tiger's basket. It gives them room to showcase him without being so closely associated with him, which was a problem last year."
EA Sports officials have denied they are downplaying a diminished Tiger brand after the player's well-known exploits outside the ropes and on-course struggles last year grabbed headlines. His extramarital affairs not only cost him his marriage, but millions of dollars in endorsements as many sponsors walked away. EA gave Tiger a marketing mulligan, but it remains to be seen if he can carry the brand again in the future.
DFC's Cole says Tiger will remain a near-term focus, but that EA Sports is likely planning for post-Tiger golf. "With any major franchise that depends on a current athlete, it always becomes a balancing issue. The best strategy is to gradually transition away, because the career of a specific athlete is always unpredictable."
EA investors may have anticipated the brisk sales as the stock rallied to an 18-month high last week as the leadoff drive was launched down the famous first fairway, above the storied azalea bushes and fans chowing down on pimento cheese and barbeque sandwiches.
And now that fans are virtually mastering every undulation at Augusta, what's left to drive sales next year?
"Maybe if Tiger gets his mojo back, " Pachter muses, "the sport and the game will be more popular."