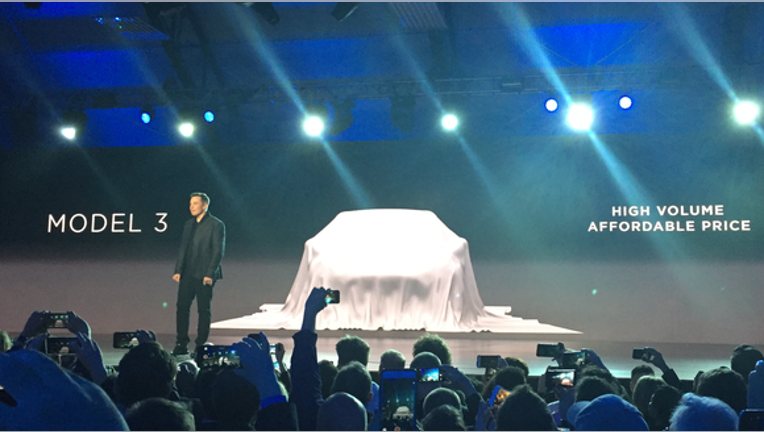 Tesla (NASDAQ: TSLA) investors have good reason to be very interested in any details about the electric-car maker's upcoming $35,000 Model 3. Tesla management expects the vehicle will help take the company from an annualized production run rate of about 100,000 units today to 500,000 units next year.
Slated for production to begin in July, here's what investors can learn about the vehicle from Tesla's most recent earnings call.
Model 3. Image source: Tesla Motors.
Tesla is still anti-selling the Model 3
When an analyst inquired about the order book for Model 3, Tesla refused to go into detail.
"We're still in great shape," Tesla CFO Jason Wheeler said simply (via an S&P Capital IQ transcript of the earnings call). Going further, Musk even said the company continues to "anti-sell" the Model 3, pushing interested customers toward its pricier Model S and Model X vehicles.
After unveiling its Model 3 in March 2016, deposit-backed reservations for the vehicle quickly skyrocketed as long lines of customers formed at Tesla stores to put down reservations. Between the vehicle's unveiling on March 31 and May 15, Tesla said Model 3 reservations climbed to 373,000.
Since the first few weeks following the Model 3's launch, Tesla has put very little effort into promoting Model 3.
"We don't want to make the line longer," Wheeler said in the company's fourth-quarter call, summing up Tesla's mentality toward pre-production Model 3 demand.
Tesla expects an impressive gross margin for Model 3
While Musk admitted during the company's fourth-quarter earnings call that the Model 3 will initially have a "horribly negative margin," simply because of the initial slow rate of production on a "giant machine, Musk was surprisingly optimistic about Model 3's gross margin going forward.
"[A]s we get to the initial phase of capacity of 5,000 a week, I would expect to see gross margins comparable to that of the S and X," Musk said.
Tesla vehicle production. Image source: author.
For some context, Tesla said in its fourth-quarter shareholder letter it expected its Model 3 production ramp to exceed 5,000 vehicles per week "at some point in the fourth quarter." So, Tesla essentially expects Model 3 to have Model S and X gross margins going into 2018.
What do Model S and Model X gross margins look like? In Tesla's fourth quarter, non-GAAP automotive gross margin, which includes combined sales of Model S and X, was 22.2% when excluding the benefit of zero emission vehicle credits. And this was abnormally low because Tesla wasn't able to recognize new Autopilot-related revenue during the fourth quarter since the company delayed a planned software update to enable the driver-assist technology to Q1. Tesla's non-GAAP automotive gross margin in Q3 was 25% when excluding zero emission vehicle credits.
Don't expect to see the final version of Model 3 before July
Given that Tesla has previously said it could make more Model 3 announcements in March or April, some investors may have been expecting a full unveiling of the production version of Model 3 before the company began production of the vehicle in July. But as Model 3 production nears, Musk seems to be leaning toward a more low-key approach to bringing the car to market.
Elon Musk unveils Model 3 prototype. Image source: author.
The production version of Model 3 will be "a lot better"
While Tesla didn't reveal any new concrete details about the production version of Model 3, Musk was confident it will impress.
Given its critical importance to Tesla's growth story, investors should stay tuned to any more company updates on Model 3 leading up to planned production in July.
10 stocks we like better than TeslaWhen investing geniuses David and Tom Gardner have a stock tip, it can pay to listen. After all, the newsletter they have run for over a decade, Motley Fool Stock Advisor, has tripled the market.*
David and Tom just revealed what they believe are the 10 best stocks for investors to buy right now... and Tesla wasn't one of them! That's right -- they think these 10 stocks are even better buys.
Click here to learn about these picks!
*Stock Advisor returns as of February 6, 2017
Daniel Sparks owns shares of Tesla. The Motley Fool owns shares of and recommends Tesla. The Motley Fool has a disclosure policy.