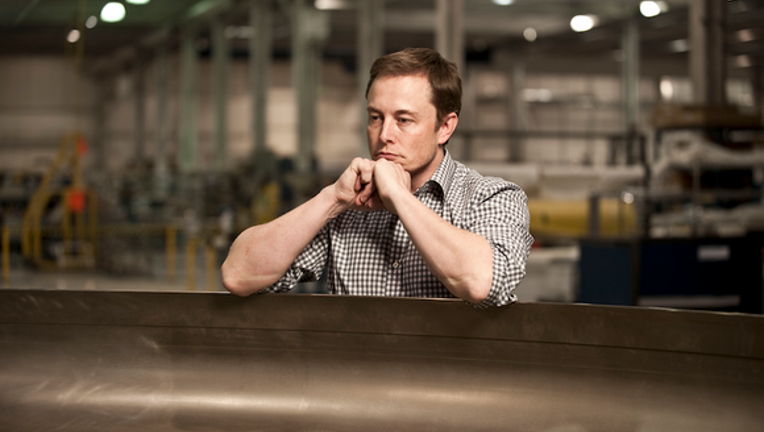 The nascent market for long-range all-electric cars is often viewed a zero-sum game, prompting headlines heralding the latest electric-vehicle unveilings as "Tesla-Killers." But Tesla (NASDAQ: TSLA) CEO Elon Musk seems to disagree with the notion that new electric vehicles threaten Tesla's prospects. Indeed, during a question-and-answer session with shareholders earlier this month,Musk expressed concern about the timidity of other automakers' plans for electric vehicles, even going as far as to say General Motors (NYSE: GM) isn't fully taking advantage of the opportunity its new electric Chevrolet Bolt is presenting the company.
Elon Musk. Image source: Tesla Motors.
Musk to competition: Why are you so slow?
When asked in a Nov. 17 shareholder meeting about what Musk thinks of increasing competition, particularly GM's new Bolt, which boasts 238 miles of range and a much-more-affordable-than-Model S price tag of $37,000, and the just-unveiled Jaguar I-Pace, Musk said the new vehicles are encouraging. However, he expressed concerns about car makers' underwhelming ambitions for the underlying programs supporting these vehicles.
Musk went on to specifically note that GM reportedly is only targeting production of 20,000 to 30,000 units a year for its all-electric Bolt. This program is far too conservative Musk suggested: "But really a car like that should be 300,000 to 500,000 per year for it to really make a difference."
Chevrolet Bolt. Image source: General Motors.
Musk may have been referencing a combination of reports, including one from Reuters in 2015 stating GM was targeting around 25,000 to 30,000 deliveries in 2017 and a statement earlier this year at HybridCars by GM's manager of electrification, Kevin Kelly, saying the company could meet demand for up to 50,000 units for first-year sales. Whether GM is aiming for 25,000 to 30,000 deliveries or 50,000, both would fall far short of what Musk thinks the Detroit-based automaker should be targeting.
Recent commentary on GM's plans for the Bolt continue to suggest the company will be rolling out its fully electric vehicle program slow -- at least for now. While the Chevrolet Bolt is scheduled to begin shipping to customers before the end of the year, initial availability will be very limited, accordingtoThe Wall Street Journal.
"General Motors Co.'s first long-range electric car won't be made widely available for several months," wrote WSJ's Adrienne Roberts, "with the auto maker planning to sell the Chevrolet Bolt in California and Oregon in coming weeks to meet its commitment to put it on sale in 2016."
Even more, The Bolt will only be offered "in limited quantities in 2017," Roberts said, citing GM spokeswoman Michelle Malcho.
Tesla is betting on a big market for EVs
Tesla's production plans for its first more affordable electric vehicle, Model 3, contrast with GM's. Priced at $35,000 and slated to begin delivering to customers toward the end of next year, Tesla plans to deliver Model 3 in volume before 2017 is over. Further, Tesla expects rapidly increasing Model 3 production to help annual production sales soar from a projected 80,000 units this year to 500,000 in 2018. In other words, Tesla is likely anticipating Model 3 deliveries to be in the hundreds of thousands in the vehicle's first twelve months of availability.
Tesla vehicle production. Image source: The Motley Fool.
And Tesla isn't taking a shot in the dark when it comes to estimating demand, the company easily garnered over 370,000 deposit-backed reservations for the vehicle in under two months of its March unveiling -- all without any advertising or any significant social media efforts. So, it's easy to see why Musk is so bullish on the segment.
As is evident by both Tesla's ambitious production plans and his apparent disappointment in competition's ability to bring to market compelling electric vehicles backed by big production plans, Musk clearly has a different idea of how rapidly the market for electric vehicles is about to grow as the first affordable battery-powered vehicles with over 200 miles of range hit the market.
10 stocks we like better than General Motors When investing geniuses David and Tom Gardner have a stock tip, it can pay to listen. After all, the newsletter they have run for over a decade, Motley Fool Stock Advisor, has tripled the market.*
David and Tom just revealed what they believe are the 10 best stocks for investors to buy right now... and General Motors wasn't one of them! That's right -- they think these 10 stocks are even better buys.
Click here to learn about these picks!
*Stock Advisor returns as of November 7, 2016
Daniel Sparks owns shares of Tesla Motors. The Motley Fool owns shares of and recommends Tesla Motors. The Motley Fool recommends General Motors. Try any of our Foolish newsletter services free for 30 days. We Fools may not all hold the same opinions, but we all believe that considering a diverse range of insights makes us better investors. The Motley Fool has a disclosure policy.