[TICKER COVERAGE] 3 Things Hecla Mining Company Has to Prove in 2017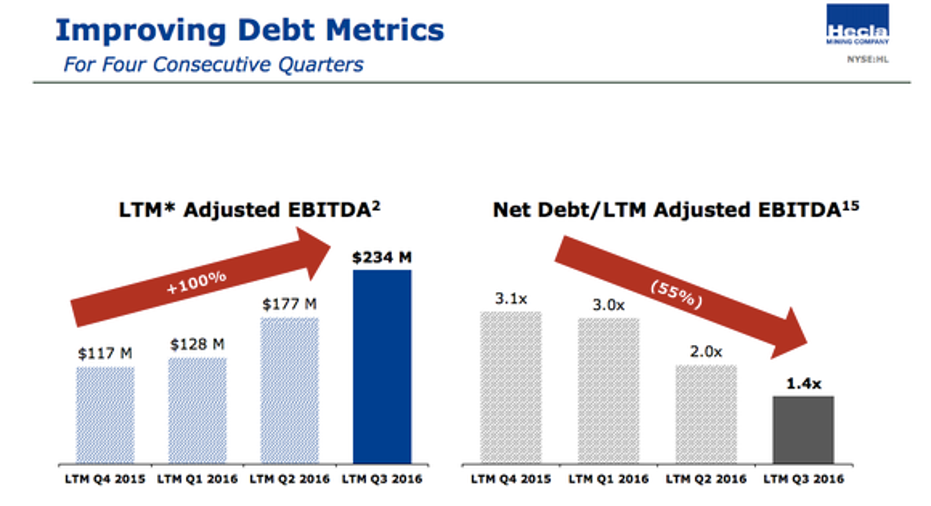 Hecla Mining Company (NYSE: HL) produced more silver equivalent ounces in 2016 than ever before in its 125-year history. And it has a number of projects in the works that make the outlook for more growth fairly bright. However, there's still a lot of work to be done before that forecast becomes a reality. If Hecla's production growth story interests you, here are three things the silver and gold miner needs to prove in 2017.
Image source: Hecla Mining Company.
More and less
Between 2012 and 2016, Hecla expanded its silver production by 169%. Gold production increased by an even more impressive 322%. Overall, silver equivalent production, which puts silver and gold on equal footing, was up 223%. That's pretty impressive growth considering that gold and silver were in a deep downturn through most of that period. To give a comparison point, precious metals giant Barrick Gold Corporation's (NYSE: ABX) gold production fell roughly 25% over the same span.
The comparison here is even more interesting when you consider costs. Barrick's decision to reduce production is about lowering costs by focusing on its best assets. Hecla, meanwhile, has been working to grow production while keeping its costs in check. That said, since 2012, Hecla's cash costs have increased because of its growth spending. That's not unreasonable.
The timeline for some of Hecla's big projects. Image source: Hecla Mining Company.
In fact, the miner's cash costs can vary greatly from period to period depending on the timing and progress of its investments. For example, year over year in the third quarter of 2016, its silver cash cost fell 51% partly because of successfully increased silver production at the Greens Creek and Lucky Friday mines. Its gold cash costs, however, increased 15% because of the expensing of stripping costs at the East Mine Crown Pillar pit.
It's a delicate dance between cost and production growth. And that's why in 2017 Hecla needs to prove to investors that it can continue to expand production while at the same time not letting costs get out of hand.
Solid foundation
The other big issue to keep in mind is Hecla's financial position. At the end of the third quarter, long-term debt made up roughly a quarter of the miner's capital structure. That's a decent figure. The absolute debt level, meanwhile, has remained fairly steady since 2013, which is another piece of good news.
What Hecla needs to prove is that it can maintain that kind of discipline in 2017 and beyond. For example, with gold and silver prices heading higher, Helca has been talking about its improving net-debt-to-adjusted-EBITDA metrics. That's well and good, but rising commodity prices are bolstering the company's EBITDA numbers. If it uses this metric as an excuse for increasing leverage as it pays for its expansion efforts, a fall in silver and gold prices would be that much more painful.
Hecla's debt metrics have been helped along by rising gold and silver prices.Image source: Hecla Mining Company.
Keeping up the good work
At the end of the day, the real key for Hecla is doing more of the same. That means making discernible progress on its development efforts, keeping its costs in check, and maintaining a solid balance sheet despite its growth spending. With silver and gold prices starting to solidify, there's likely to be more money floating around in 2017 than there was during the commodity downturn. That's good news, but it could make maintaining the discipline of recent years harder to achieve. So watch closely to see if Hecla can prove it has what it takes to stay on course.
10 stocks we like better than Hecla Mining When investing geniuses David and Tom Gardner have a stock tip, it can pay to listen. After all, the newsletter they have run for over a decade, Motley Fool Stock Advisor, has tripled the market.*
David and Tom just revealed what they believe are the 10 best stocks for investors to buy right now... and Hecla Mining wasn't one of them! That's right -- they think these 10 stocks are even better buys.
Click here to learn about these picks!
*Stock Advisor returns as of January 4, 2017
Reuben Brewer has no position in any stocks mentioned. The Motley Fool has no position in any of the stocks mentioned. The Motley Fool has a disclosure policy.