Thousands expected in New Mexico for annual Native American art festival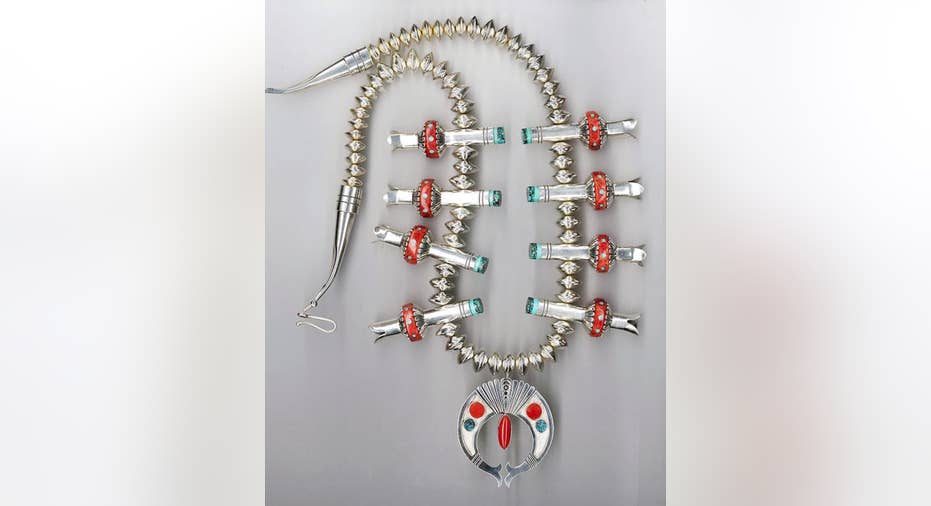 Tens of thousands of people are expected to descend upon downtown Santa Fe, New Mexico, for what organizers say has become the world's largest juried show of indigenous artwork.
The 94th annual Santa Fe Indian Market begins at sunrise Saturday and runs through Sunday.
Dallin Maybee, the chief operating officer of the Southwestern Association for Indian Arts, said the market is not just about promoting and selling art but rather "unfolding the history and legacy of Native traditions and cultures."
And part of that is the evolution of Native art, he said.
This marks the first time that contemporary art forms that don't fit into the more traditional categories will get their own separate show dubbed "Indian Market Edge."
Here are some things to know:
___
THE ARTISTS:
About 1,000 artists from across the United States and Canada will be showing and selling their work. The market has used a jury process for decades to select the artists, helping to make it one of the most prestigious venues. Most of the artists are full-time professionals who have won awards for their work.
___
ON DISPLAY:
Since the artists span generations and represent many different tribes, there's everything from traditional weavings and pottery to jewelry, carvings, paintings and beadwork. Some die-hard collectors have been known to camp out at their favorite artist's booth to get first shot at the artwork when the market opens Saturday morning. Hundreds of booths will line streets in the downtown area, and the "Edge" show will be at the Santa Fe Community Convention Center.
___
ECONOMICS:
Organizers estimate the market attracts about 150,000 people to Santa Fe, including collectors who are looking to buy direct from the artists. Many artists reported record sales last year, fundraising for the Southwestern Association for Indian Arts was also up and the overall economic impact for the city and the state has been pegged at $80 million.
___
NOT TO BE MISSED:
One of the highlights is the Native Haute Couture Fashion Show on Saturday afternoon. Some of Indian Country's hottest designers will be featured and it's usually one of the most photographed events of the market. There will also be panel discussions on art and activism and then there's the food and music. The market offers no better place to get a full cross-section of Native American culture, Maybee said, because so many tribes are represented.
___
IF YOU GO:
The market is located on the Santa Fe Plaza and the surrounding area. Booths open Saturday at 7 a.m. and Sunday at 8 a.m. http://swaia.org