Thor Industries Hits the Gas As RV Demand Keeps Climbing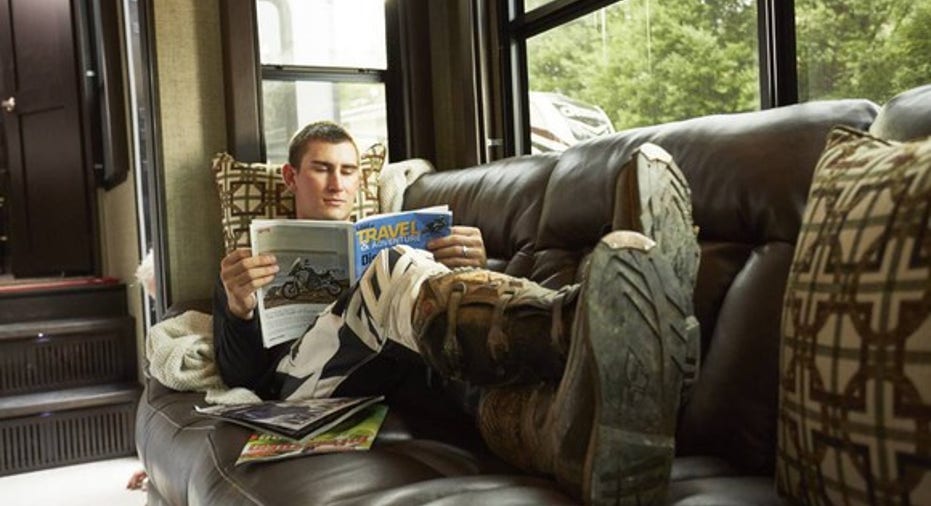 The market for recreational vehicles has been extremely strong lately, and Thor Industries (NYSE: THO) has worked hard to capture as much of the market for RVs as possible. The company's organic growth has been impressive, and Thor has also turned to the mergers and acquisitions front to bolster its business even further. Coming into Monday's fiscal first-quarter financial report, Thor investors were extremely optimistic about its potential, and the company left no doubt that it shares the enthusiasm that its stakeholders have toward its business. Let's look more closely at how Thor Industries did and what could be yet to come.
Image source: Thor Industries.
Thor shifts into overdrive
Thor Industries' fiscal first-quarter results continued the RV specialist's impressive upward trajectory. Revenue soared by two-thirds to $1.71 billion, absolutely crushing the consensus forecast for $1.5 billion. Similarly, net income of $78.7 million was up by more than half from year-ago levels, and that produced earnings of $1.49 per share, topping what investors had expected to see by $0.26 per share.
Looking more closely at Thor's results, the recent acquisition of the Jayco RV unit clearly played a major role in the combined company's success. Jayco contributed about $467 million toward Thor's top line, or more than a quarter of its total. The impact on Thor's bottom line wasn't quite as big, primarily because Jayco's assets have increased Thor's amortization expenses and purchase accounting costs. Nevertheless, Jayco accounted for about two-thirds of the increase in Thor's backlog in the towable RV segment and about 40% of the rise in motorized RV backlog.
On a segment-by-segment basis, Thor looked uniformly strong. Motorized RV sales jumped by 84%, with about two-thirds of the revenue rise coming from Jayco. Sales of moderately priced gasoline-powered class A and class C motorhomes were strongest, given their popularity among people buying their first RV. Income growth for the segment was more modest, rising by about a third, but backlogs doubled from year-ago levels.
Meanwhile, the towable RV segment was also a big winner. Sales were up 63%, largely because of the Jayco acquisition, but organic growth was up 19% on strength in the travel trailer business. Pretax income jumped by nearly half, and Thor pointed to cost containment strategies as playing a vital role in boosting the bottom line. Backlogs nearly doubled in the segment.
CEO Bob Martin was ecstatic about Thor's performance. "The strong revenue and earnings growth reflects the ongoing enthusiastic reception of our product offerings by dealers and consumers alike," Martin said, "as well as our ability to effectively manage our growth and integrate acquisitions successfully." The CEO also pointed to events like its Dealer Open House, which helped stoke interest throughout its distribution channel.
What's down the road for Thor Industries?
Yet if anything, Thor sounds even more optimistic about its future. As Martin put it, "We believe 2017 will be one of the strongest years for wholesale shipments for the industry since the 1970s." In response, Thor has worked to expand capacity in a prudent manner, pointing to expanded production lines and manufacturing facilities for its Dutchmen, Heartland, Highland Ridge, Jayco, and Thor Motor Coach brands. The company expects double-digit growth in revenue and increasing earnings throughout the remainder of the fiscal year.
Still, Thor knows that it has to keep aiming at making the most of its opportunities going forward. Jayco's gross margin figures aren't as strong as the company would like, and Thor said that it would seek cost synergies in back-office functions such as human resources to cut overall costs. Thor doesn't intend to micromanage Jayco, instead remaining committed to its ideal of letting its subsidiaries operate as autonomously as possible. However, Jayco's own restructuring efforts have a lot of promise, and Thor seems confident that it will improve its margin performance and contribute more to earnings in the future.
Indeed, perhaps the most encouraging thing about Thor's business is that the secular shift toward RV demand appears more sustainable than past upticks. With new customers aiming toward the lower end of the market, Thor is seeing one end of its funnel start to fill up. Over time, those customers will be more likely to upgrade to higher-value RVs, and that could spur the recurring stream of revenue that Thor wants to see.
Shareholders in Thor Industries were quite happy with the results, sending the stock up 8% in after-hours trading following the announcement. If conditions remain this beneficial for Thor, then the company could easily see its string of record results continue well into the future.
10 stocks we like better than Thor Industries When investing geniuses David and Tom Gardner have a stock tip, it can pay to listen. After all, the newsletter they have run for over a decade, Motley Fool Stock Advisor, has tripled the market.*
David and Tom just revealed what they believe are the 10 best stocks for investors to buy right now... and Thor Industries wasn't one of them! That's right -- they think these 10 stocks are even better buys.
Click here to learn about these picks!
*Stock Advisor returns as of November 7, 2016
Dan Caplinger has no position in any stocks mentioned. The Motley Fool recommends Thor Industries. Try any of our Foolish newsletter services free for 30 days. We Fools may not all hold the same opinions, but we all believe that considering a diverse range of insights makes us better investors. The Motley Fool has a disclosure policy.