This Stock Just Raised Its Dividend by 9.4% and Trades Near Its 52-Week Low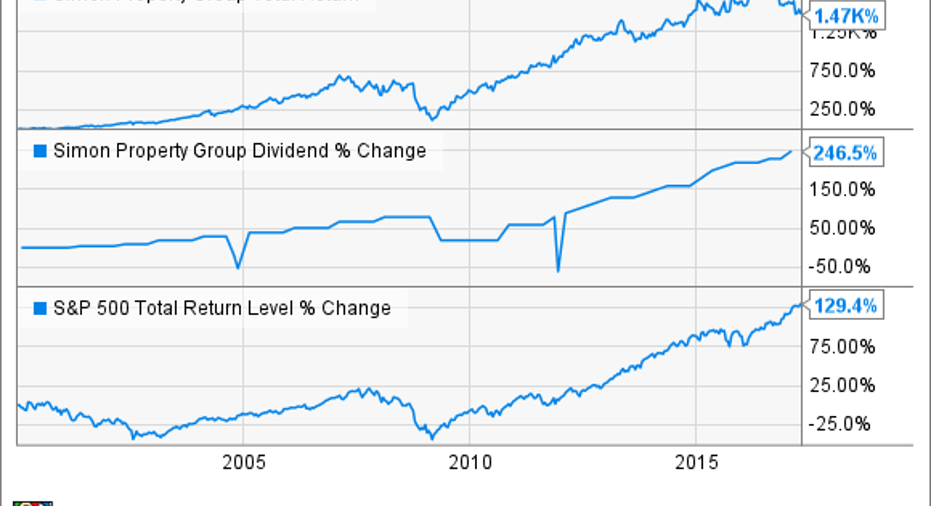 Mall real estate investment trust (REIT)Simon Property Group (NYSE: SPG)recently announced strong first-quarter results, as well as a 9.4% year-over-year dividend increase. The stock now yields more than 4.2% per year, but trades for just over its 52-week low. Is now a good time to get in on this unique retail REIT?
Simon Property Group: The short version
Simon Property Group is actually the largest REIT of any kind in the United States. The company invests in mall properties, many of which are under its "Premium Outlets" and "The Mills" brand names. As of this writing, Simon owns or has an interest in about 230 properties with about 190 million square feet of space.
Image source: Getty Images.
Simon does some of its growth through acquisitions, but the company's preferred growth mechanism is ground-up development, which is typically the better value-creator. Think of it this way: If a mall property is worth $10 million, but you can build the exact same property for $8 million, developing it yourself produces $2 million of instant value. Of course, this is a simplified example, but the point is that if it's done right, development has the potential to produce much better returns than acquisitions. As of the end of the first quarter, Simon has four new projects under development, three of which are expected to be completed this year.
Since I specifically brought up Simon's dividend increase, let's take a look at Simon's dividend and performance history. In all, Simon's dividend has grown by 247% since 2000. And while the payout hasn't increased every single year, the track record of growth is pretty strong. Furthermore, the company has generated a 1,470% total return for shareholders in the 21stcentury (17.6% annualized), handily beating the S&P 500 by a wide margin.
SPG Total Return Price data by YCharts.
A strong first quarter shows that Simon's business model still works
Simon Property Group's first-quarter earnings showed strong growth and income, which is why the stock popped by 2% after the quarterly results were released. David Simon, Chairman and CEO of Simon Property Group, said, "We are off to a good start in 2017 with the reporting of financial and operational results that exceeded our expectations."
Simon's funds from operations (FFO) -- the REIT version of earnings -- grew by 4.2% from the same quarter last year. Occupancy was unchanged at 95.6%, which was likely a relief to investors, given the recent headlines involving struggling brick-and-mortar retailers such as Sears and Bebe Stores.
In addition, Simon successfully received a lower interest rate on its $4 billion revolving credit facility, which should set it up for low-cost borrowing in the future. And, the company took advantage of its depressed stock price and repurchased nearly 871,000 of its own shares.
What sets Simon apart from other mall operators?
Simon's key competitive advantage (other than its size) is that it is willing to invest large amounts of capital and other resources to ensure that its properties provide the best shopping experience, both for shoppers and retailers. Simon's malls tend to have features that 21st-century shoppers want, such as free wi-fi, valet parking, and more dining and entertainment options. To date, Simon has completed redevelopment properties on about half of its properties, and has a few dozen more underway as I write this.
Simon also has about $7 billion in available liquidity, and one of the highest credit ratings in the real estate sector, which gives it the financial flexibility to pursue virtually any opportunities that come up, and at a lower cost than most of its peers.
In addition, Simon treats its tenants as partners, not just a monthly rent check. For example, Simon rolled out an innovative gift card program this past holiday season, which was not only good at any of its malls, but gave shoppers 5% back on their purchases. Programs like this are a win-win. It encourages shoppers to spend their money at Simon's tenants, helping to ensure their success, and specifically encourages shopping at the locations within Simon's properties, which adds value to the retail space Simon leases.
Another example is the fact that Simon has its own venture capital fund, Simon Venture Group, which is actually one of the 10 most active investors in retail technology. Basically, the fund seeks to back emerging technologies that complement Simon's goal of enhancing the shopping experience, bringing brick-and-mortar retail into the modern age to be able to compete with e-commerce alternatives.
The Foolish bottom line
It's true that many retailers are struggling to make ends meet right now, but Simon's business is firing on all cylinders. With the stock trading for just a bit more than its 52-week low, now could be a great time to add this leading high-dividend REIT to your portfolio.
10 stocks we like better than Simon Property GroupWhen investing geniuses David and Tom Gardner have a stock tip, it can pay to listen. After all, the newsletter they have run for over a decade, Motley Fool Stock Advisor, has tripled the market.*
David and Tom just revealed what they believe are the 10 best stocks for investors to buy right now... and Simon Property Group wasn't one of them! That's right -- they think these 10 stocks are even better buys.
Click here to learn about these picks!
*Stock Advisor returns as of April 3, 2017
Matthew Frankel has no position in any stocks mentioned. The Motley Fool has no position in any of the stocks mentioned. The Motley Fool has a disclosure policy.