This Stock Could Be the Next Dividend Aristocrat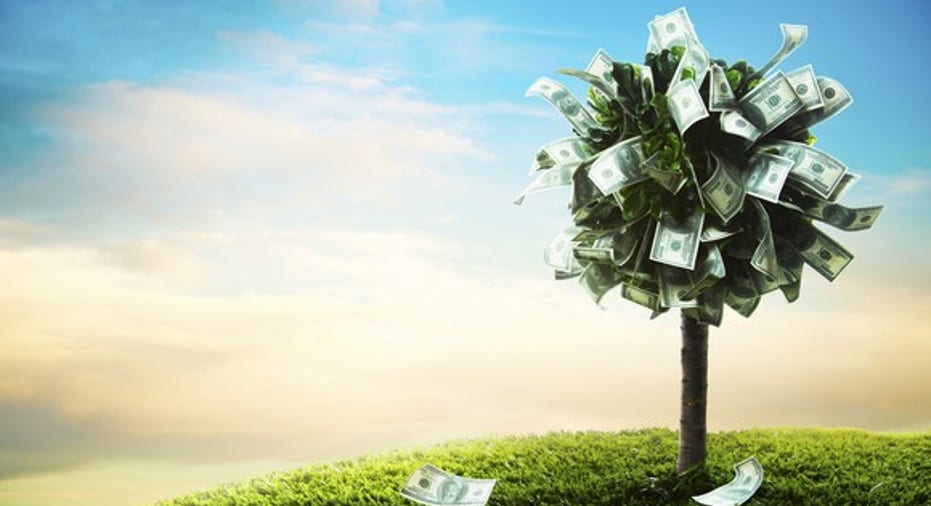 There are currently 50 companies whose stocks qualify as "dividend aristocrats," meaning they're components of theS&P 500, and they have paid a dividend -- and raised it -- for 25 consecutive years.
Considering that dividend growth stocks often make for market-crushing investments, finding a company with the potential to be one of the biggest in America and to have given investors a raise every year for at least a quarter-century could make for a strong addition to anyone's portfolio.
Dividend aristocrats are as close to money trees as investors will find, paying out increasingly bigger dividends year after year. Image source: Getty Images.
Here's a closer look at three companies, including two giants within striking reach of joining the club inInternational Business Machines Corp.(NYSE: IBM) and United Technologies Corporation(NYSE: UTX), and an outsider in both size and dividend history, Polaris IndustriesInc.(NYSE: PII), which is on track to be a future dividend aristocrat worth owning. Our Fool contributors explain.
Big Blue wants to join this exclusive club
Anders Bylund (IBM): Would you believe that IBMhas never qualified as a bona fide dividend aristocrat, despite offering uninterrupted payouts for the past 101 years?
It's true. The business-computing giant traces its unbroken streak of annual payouts all the way back to 1916, but with plenty of dividend cuts and multi-year periods of simply stable dividend checks along the way. Through world wars and global economic crises, through market disruptions and competitive pressures, Big Blue has always found a way to keep those payout checks coming -- just not always at an accelerated pace. So the coveted dividend-aristocrat club has never counted IBM as a member.
That may be about to change, though. In fact, I would be downright shocked if it didn't happen by 2021.
The current streak of consecutive years with dividend increases goes back to 1995. IBM is only four years away from reaching that elusive 25-year threshold and joining the dividend-aristocrat elite.
And there's little reason to believe that IBM would falter before getting there.
The company has explicitly focused on returning oodles of cash to shareholders for many years, often going as far as financing its dividend increases and share buybacks with fresh debt. Management still swears by these principles, promising to return at least 70% of its rock-solid free cash flow directly to shareholders.
Dividend increases have become the preferred method of cash returns in recent years, and the company still has plenty of room to boost its payouts further. Big Blue has boosted its annual dividend payouts by a staggering 2,140% over the past 22 years, including 250% in the past decade.
This dividend streak is going places. IBM really wants to become a dividend aristocrat, and we shareholders sure appreciate that owner-friendly ambition.
Black Hawk down; dividends going up
Cory Renauer(United Technologies Corporation): After selling its Sikorsky helicopter unit toLockheed Martin, this company no longer manufacturers the iconic Black Hawk helicopter. The $9 billion sale was part of a long-term pivot away from the tricky military market to strengthen segments with competitive advantages that could easily help it become a dividend aristocrat two short years from now, when it would reach 25 straight years of divvy growth.
The company's Otis brand is far and away the world's most popular elevator, and that segment jibes well with United Technology's leading climate control, fire, and security products. Combined, these segments make United Technologies a one-stop shopping center for new building construction.
While the sale of commercial and industrial building equipment alone doesn't carry the widest margins, the aftermarket services required to maintain such equipment do. The same can be said of its aerospace operations, and long-term service contracts give the company a stable source of cash flow even during economic downturns.
United Technologies isn't stingy with the cash it generates, either. Over the past two years it has returned $16.5 billion to shareholders in dividends and share buybacks. At recent prices, the dividend offers a 2.4% yield that should rise as dependably as an Otis elevator. It used just 44% of the free cash flow generated last year to make payments, which gives it plenty of room for annual increases in the years ahead.
Maybe not the "next," but the next one worth buying first
JasonHall(Polaris Industries): Polaris is both too small to make the cut as a component of the S&P 500, and has "only" increased its regular dividend for 22 consecutive years. In other words, there are going to be a few companies to join the ranks of the dividend aristocrats before the powersports-vehicle maker does. But if it's strong dividend growth as well as steady capital appreciation you're looking for, this smaller company with a big opportunity for growth might be the best one to buy.
Over the past several years, Polaris has dealt with a number of challenges -- none bigger than general weakness in demand across several of its key product categories, but also including reputation-damaging recalls that could have a lingering negative effect on sales.
Yet even with these challenges, Polaris' management has done a solid job managing capital. The company remains solidly profitable even in a weak part of the demand cycle for its products, giving it a significant amount of wiggle room to both invest in the future of the business, while continuing to pay out and increase its dividend.
Furthermore, the U.S. economy continues to do well, and that bodes well for demand for motorcycles and ATVs going forward. Factor in international growth, and the best time to buy a "future" dividend aristocrat is when there's still a lot more room to grow. That's likely the case for Polaris today.
10 stocks we like better than IBMWhen investing geniuses David and Tom Gardner have a stock tip, it can pay to listen. After all, the newsletter they have run for over a decade, Motley Fool Stock Advisor, has tripled the market.*
David and Tom just revealed what they believe are the 10 best stocks for investors to buy right now and IBM wasn't one of them! That's right -- they think these 10 stocks are even better buys.
Click here to learn about these picks!
*Stock Advisor returns as of February 6, 2017
Anders Bylund owns shares of IBM. Cory Renauer has no position in any stocks mentioned. Jason Hall has no position in any stocks mentioned. The Motley Fool owns shares of and recommends Polaris Industries. The Motley Fool has a disclosure policy.