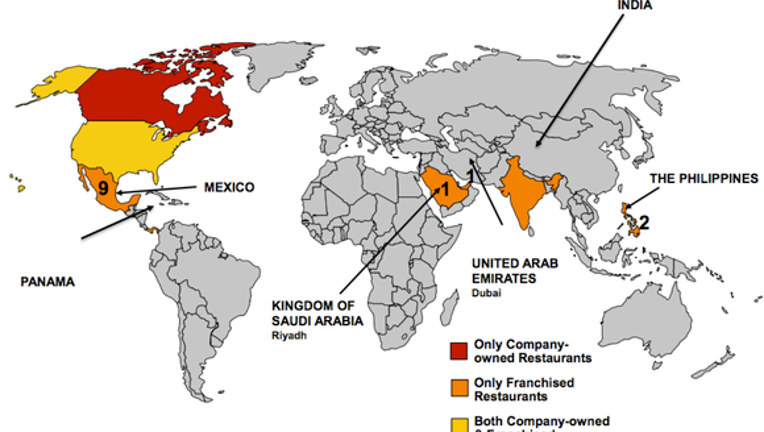 Image source: Buffalo Wild Wings.
Buffalo Wild Wings has a straightforward proposition to customers, the company offers a wide variety of beer options, simple and popular food items such as its signature chicken wings, and plenty of TV screens to watch all kinds of sports with your friends. These kinds of simple businesses can many times be remarkably profitable investment ideas, and Buffalo Wild Wings looks like the right restaurant stock to pick from the menu.
An order of chicken wings with extra-spicy growthBuffalo Wild Wings is one of the most successful growth stories in the restaurant industry over the last decade. Back in 2005 the company had only 370 stores, 122 of them company-owned and 248 franchised restaurants. Fast forward ten years, and Buffalo Wild Wings ended the year 2015 with a total of 1,175 units, 596 of them company-owned and 579 franchised.
The business continues firing all cylinders according to the latest financial report from the company. Total revenue during the fourth quarter of 2015 grew 19.9% to $490 million. Company-owned restaurant sales for the quarter increased 21.3% versus the same period in the prior year, driven by a 1.9% increase in comparable store sales and 103 new company-owned restaurants.
For 2016 management is planning to open 45 to 50 company-owned Buffalo Wild Wings restaurants and 30 to 35 franchised locations in the United States. In addition, management is expecting the opening of 12 to 15 franchised international Buffalo Wild Wing locations during the coming year. Due the simplicity of the menu, the business model is quite easy to replicate in international markets, and CEO Sally Smith is quite optimistic about demand trends, both at home and overseas. In her own words:
Management believes the company has enough room for nearly 1,700 units in the United States and Canada, and the company is just getting started in international markets, so this restaurant chain is still offering substantial room for expansion in the coming years.
Image source: Buffalo Wild Wings.
Besides, Buffalo Wild Wings is expanding into Mexican food and pizza with two new concepts: Rusty Taco and PizzaRev. There are only ten Rusty Taco Units and two PizzaRev restaurants in existence as of the end of 2015, and management is quite encouraged with customer response to these new concepts. If the company can replicate with these new brands only a fraction of the success it has achieved with its traditional Buffalo Wild Wings concept, investors in the company could be rewarded with explosive growth from these new ventures.
Attractive valuationWhen comparing Buffalo Wild Wings against other-high growth restaurant chains such as Panera Bread , Domino's Pizza , and Chipotle Mexican Grill , the company has materially outperformed its peers over the last several years in terms of revenue growth.
BWLD Revenue (TTM) data by YCharts.
Furthermore, Wall Street analysts are expecting Buffalo Wild Wings to continue outgrowing the competition in the years ahead. Buffalo Wild Wings has an expected earnings growth rate over the coming five years of 20% annually versus 15% for Panera Bread, 14% for Domino's Pizza and 14.5% for Chipotle Mexican Grill.
Above-average past performance and expectations for superior growth should theoretically be reflected in higher valuation ratios for Buffalo Wild Wings in comparison to its peers, however, that's not the case. When looking at the key valuation metrics such as price to earnings, price to earnings growth, and price to sales, Buffalo Wild Wings looks cheaper than its competitors.
| Company | P/E | PEG | P/S |
| --- | --- | --- | --- |
| Buffalo Wild Wings | 32.4 | 1.64 | 1.7 |
| Panera Bread | 35.9 | 2.4 | 1.9 |
| Dominos Pizza | 37.7 | 2.7 | 3 |
| Chipotle Mexican Grill | 33.7 | 2.3 | 3.4 |
Data source: FinViz.
Not only is Buffalo Wild Wings a compelling business generating impressive financial performance and offering considerable room for growth, valuation is also quite attractive in comparison to other successful high-growth restaurant chains. For this simple and powerfull reason, the stock looks well positioned to deliver mouthwatering returns in the years ahead.
The article This Restaurant Stock Offers Delicious Upside Potential originally appeared on Fool.com.
Andres Cardenal has no position in any stocks mentioned. The Motley Fool owns shares of and recommends Buffalo Wild Wings and Panera Bread. Try any of our Foolish newsletter services free for 30 days. We Fools may not all hold the same opinions, but we all believe that considering a diverse range of insights makes us better investors. The Motley Fool has a disclosure policy.
Copyright 1995 - 2016 The Motley Fool, LLC. All rights reserved. The Motley Fool has a disclosure policy.