This Renewable Energy Source Blew Solar Away in 2015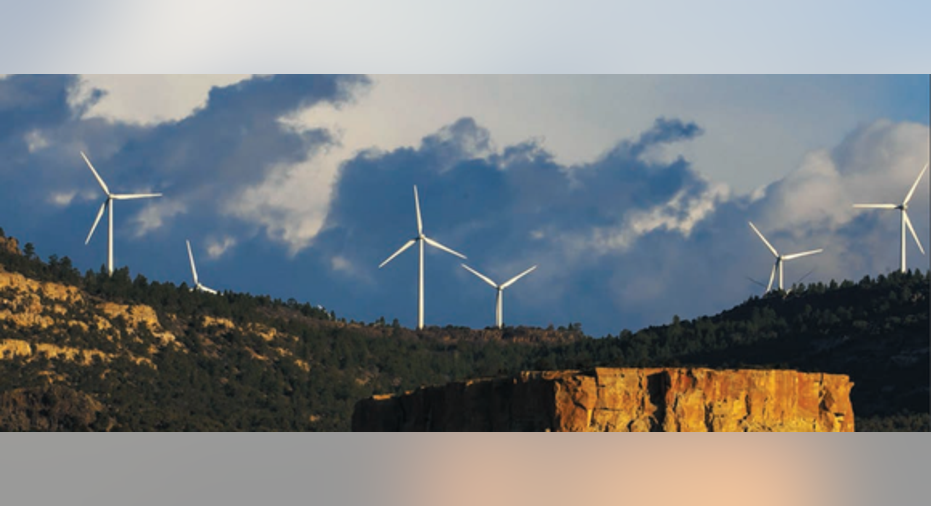 Source: NextEra Energy,; Red Mesa Wind Energy Center in New Mexico
Solar energy soared in 2015, notching more capacity additions than ever before. But if the recent demise of several solar companies teaches us anything, it's that investors who stare too long into the sun can get burned. Wind energy offers an alternative green energy investment to solar. Here's what you need to know, as well as some wind energy stocks to consider.
Wind versus solarBoth wind and solar are both booming. In the U.S., power producers continue to improve and expand upon both technologies. Wind is expected to head offshore for the first time this year and new solar setups like solar thermal are trying to solve the energy storage problem. But since both offshore wind and solar thermal are nascent and non-scaled models, we'll focus our compare-and-contrast on renewable energy stalwarts: solar PV and onshore wind.
Onshore wind and solar PV share a lot of similarities. Both are renewable; both are intermittent (sometimes the wind isn't blowing on your windmills, and sometimes the sun isn't shining on your panels); both can operate at utility scale; and both fall within the "zero-carbon" category of the federal government's new Clean Power Plan (more on this later).
However, there are some key differences between them as well. While both are scalable, it's solar that's excelled at the residential level; rooftop solar systems are everywhere, but household wind turbines are nearly unheard of. Companies like SolarCity Corp. gained attention as investors rode the wave of enthusiasm for residential solar -- but SolarCity also saw share prices stumble as growth trajectories and cost concerns came into question.
Onshore wind and solar PV also face different futures. Currently, wind energy is cheaper to generate than solar energy. And according to the U.S. Energy Information Administration, it'll still be cheaper in 2020 :
Source: WikiMedia Commons, data from EIA.gov; Andynct
However, the chart above also reveals that estimates of solar's future cost are far less precise, and a lot of that has to do with efficiency advancements. SolarCity and other solar companies continue to set new efficiency records, and solar costs have dropped around 78% from 2009-2014, compared to 58% for wind, according to a report by asset management firm Lazard.
Hot air?Whether it's solar or wind, one essential fact for investors to remember is that regulatory support is still a major driver of all forms of renewable energy. For example, when the wind energy production tax credit was set to expire in 2012, installers ramped up installation forecasts to squeeze in those final eligible farms:
Source: EIA.gov
In 2015, on the verge of another tax credit expiration (that has since been extended), installers pushed production back up to the highest levels since 2009, excluding 2012's frenzied build year.
Source: EIA.gov
Most important for investors is the clear indication that regulations matter for companies' bottom lines. NextEra Energy , a utility with over 12,000 MW of wind energy under its umbrella, notes in its annual report that any "changes in tax laws," "ability to utilize...tax credit carry forwards," and the "loss of tax credits" could adversely affect its business -- and that's important for investors to remember.
Investment optionsWhen it comes to investment options, there are no "pure play" wind energy stocks as the solar industry offers. Instead, investors will have to make do with buying shares of a corporation that incorporates wind energy as part of its business model.
On the manufacturing end, General Electric (NYSE: GE) is as solid as they come. The company recently announced plans to double-down on its industrial focus and has unloaded most of its non-core assets like its massive GE Capital financial arm. Within its industrial business, wind plays a relatively small but increasingly relevant role. GE's recent Alstom Energy acquisition allowed the company to expand its offerings by 30,000 turbines and offer offshore wind for the first time. The move also spurred GE to finally create a renewable energy business unit, which will allow investors to take a deeper look at the fundamental finances of this business for the first time. In 2015, renewable energy revenues clocked in at $6.3 billion, equivalent to 5.8% of GE's overall industrial segment sales. Granted, the units' $431 million operating profit played a smaller role, accounting for just 2.3% of the industrial segment's earnings.
For those looking to cash in on wind power, itself, NextEra Energy may be the best option. Utilities are some of the steadiest stocks in the energy sector, allowing NextEra shareholders to minimize risk while still investing in renewable energy. With 110 wind farms spread across 19 states and Canada, NextEra's generation unit counts on wind power for a whopping 58% of its capacity.
Source: NextEra Energy,; 19,578 total net MW capacity
However, investors will also have to swallow a variety of other assets alongside wind energy. NextEra's regulated utility, Florida Power & Light, brought in $1.65 billion in net profit in fiscal 2015, compared to $1.1 billion for its competitive generation unit -- and Florida Power & Light relied on natural gas and nuclear power for more than 90% of its own generation in 2015.
Wind for the win?Investing in wind energy can be difficult -- it's only one part of any of the publicly traded options, and it's still tough to tell who will truly champion this energy's American expansion. However, General Electric and NextEra Energy are good starter stocks to consider and, if 2015 is any indication, keeping an eye out for emerging wind energy opportunities may be a smart long-term move for your portfolio and profits.
The article This Renewable Energy Source Blew Solar Away in 2015 originally appeared on Fool.com.
Justin Loiseau owns shares of General Electric Company, shares of SolarCity, and two kites. The Motley Fool owns shares of and recommends SolarCity. The Motley Fool owns shares of General Electric Company. Try any of our Foolish newsletter services free for 30 days. We Fools may not all hold the same opinions, but we all believe that considering a diverse range of insights makes us better investors. The Motley Fool has a disclosure policy.
Copyright 1995 - 2016 The Motley Fool, LLC. All rights reserved. The Motley Fool has a disclosure policy.