This Potential Catalyst Could Bring an End to Synaptics' Slump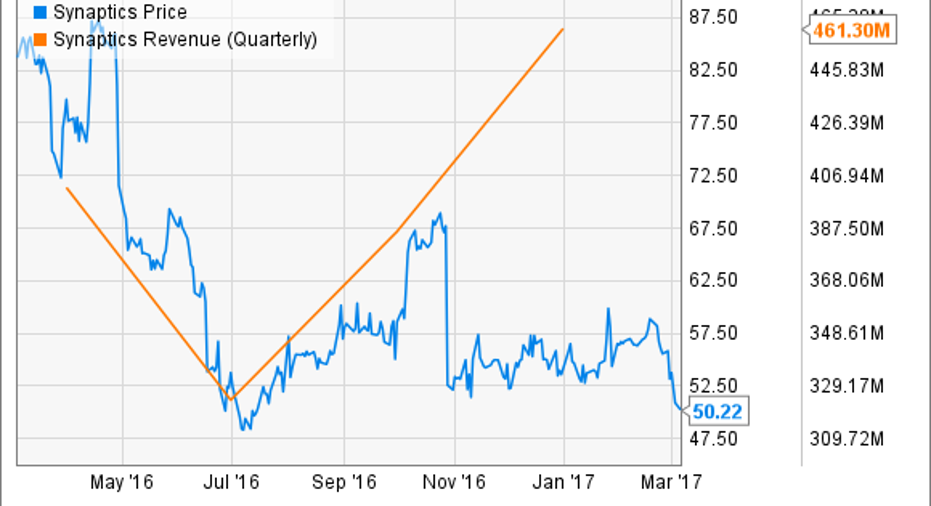 Image source: Synaptics.
Human interface solutions provider Synaptics (NASDAQ: SYNA) has been struggling this year despite a strong showing in the fiscal second quarter. What's even more surprising is that the better-than-expected guidance for the current quarter -- that calls for revenue growth of 7% from last year -- has failed to lift investor sentiment.
In fact, Synaptics' top line growth has gained momentum in recent quarters. But its stock price hasn't followed suit as it currently languishes near 52-week lows.
Synaptics, however, can get a nice boost going into the latter half of the year thanks to a potential design win in Apple's (NASDAQ: AAPL) anniversary edition iPhone. Here's how that could happen.
Why Synaptics can land a spot in the next iPhone
Supply chain rumors indicate that Apple is widely expected to include an edge-to-edge display in the upcoming iPhone, removing the home button in the process. No home button means that the Touch ID will have to be integrated into the display itself -- an application that Synaptics already specializes in.
In December last year, Synaptics launched its FS9100 optical fingerprint sensor that eliminates the need for a home button in smartphones and tablets. The sensor can scan fingerprints through 1mm of glass, and can be placed conveniently toward the bottom of the front bezel, beneath the cover glass of the mobile device.
Cowen and Company analyst Timothy Arcuri's supply chain checks (via AppleInsider) indicate that Apple could end up using this solution from Synaptics:
Synaptics will start sampling these fingerprint sensors to customers in the first quarter of 2017, with mass production set to begin in the second quarter. This coincides with Apple's iPhone production schedule that's expected to begin in June this year.
Will Apple go in-house or turn to Synaptics?
There are conflicting reports as to whether Apple will go in-house or use Synaptics' fingerprint technology for the next iPhone. Taiwanese publication DigiTimesrecently released a report stating that the iPhone maker will use its own fingerprint ID technology developed through AuthenTec, a company that it had acquired in 2012.
The DigiTimes report, however, should be taken with a grain of salt as it does not have the best record of accurately forecasting Apple's supply chain. Additionally, it also contradicts the supply chain noise related to the production schedule of the next iPhone, throwing up more questions regarding its reliability.
Meanwhile, Foolish colleague Ashraf Eassa points out that Apple could use Synaptics' fingerprint technology in the next iPhone if Cupertino's own product development falls behind schedule.
Facial recognition could be a big win
Synaptics might not be guaranteed a slot in the next iPhone with the fingerprint ID technology, but it might have a chance if Apple decides to integrate facial recognition.
Last month, the iPhone maker acquired Israeli cybersecurity start-up RealFace, gaining control over its proprietary facial recognition technology. But this acquisition has come just months before the next iPhone production cycle, so it is unlikely that Apple will use RealFace's technology in its upcoming device(s).
This opens up a way for Synaptics to take advantage of an integrated technology it launched in January this year. Synaptics followed its FS9100 sensor with a multi-factor biometric engine for smartphone, tablet, and notebook applications, giving users the flexibility to use either facial or fingerprint recognition to unlock their devices.
Now, supply chain gossip indicates that Apple could include facial recognition technology in the next iPhone, according to noted analyst Ming-Chi Kuo. This improves the chance of a Synaptics design win in the anniversary iPhone thanks to its integrated biometric engine, setting the stage for potentially strong financial gains in the second half of 2017.
10 stocks we like better than SynapticsWhen investing geniuses David and Tom Gardner have a stock tip, it can pay to listen. After all, the newsletter they have run for over a decade, Motley Fool Stock Advisor, has tripled the market.*
David and Tom just revealed what they believe are the 10 best stocks for investors to buy right now... and Synaptics wasn't one of them! That's right -- they think these 10 stocks are even better buys.
Click here to learn about these picks!
*Stock Advisor returns as of February 6, 2017
Harsh Chauhan has no position in any stocks mentioned. The Motley Fool owns shares of and recommends Apple. The Motley Fool has the following options: long January 2018 $90 calls on Apple and short January 2018 $95 calls on Apple. The Motley Fool has a disclosure policy.