This May Be The Fastest-Growing Biotech Stock Next Year (Hint: It's Not Gilead Sciences)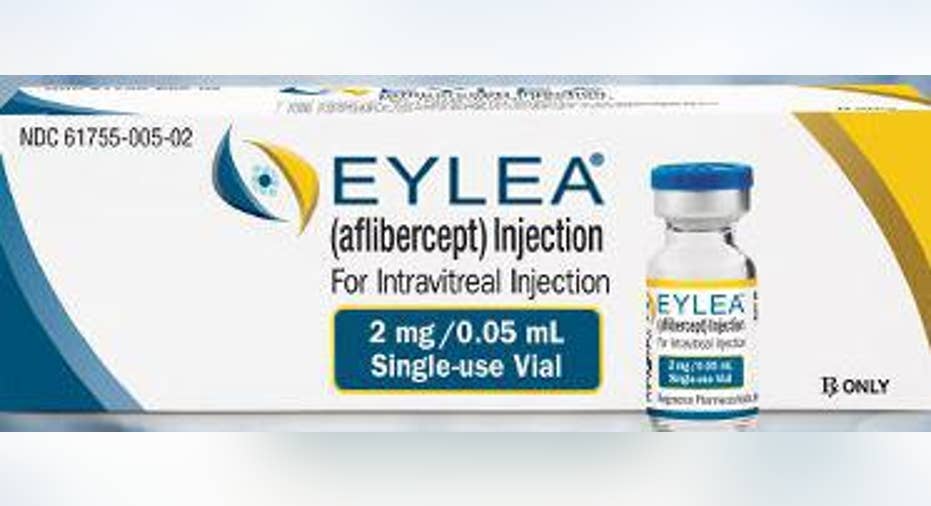 Source: Regeneron Pharmaceuticals.
Gilead Sciences' fast-growing hepatitis C drug, Harvoni, has the company on pace to post a big bump up in earnings this year, but it's Regeneron Pharmaceuticals that industry watchers think will deliver the best earnings growth among big-cap biotech companies in 2016.
Surging ahead Gilead Sciences is a Goliath in HIV and hepatitis C treatment, and drugs for those indications have catapulted Gilead Sciences' profit significantly higher this year.
Revenue at Gilead Sciences has climbed to $23.7 billion in the first nine months of this year, up from $17.2 billion last year, and that's allowed the company's net income to soar to $8.73 per share in the period, up from $5.18 in 2014.
Because Gilead Sciences' performance this year is indisputably impressive, it may be surprising to learn that industry watchers believe that Regeneron Pharmaceuticals, not Gilead Sciences, will post the biggest jump in year-over-year earnings growth next year.
Analysts expect that fierce competition from Merck & Co. in hepatitis C will cause Gilead Sciences' EPS to slip by 1.97% in 2016, but they expect Regeneron's EPS will climb 18.2% to $14.94 next year.
Reasons to cheerThere are two big reasons Regeneron Pharmaceuticals could see its earnings jump next year.
First, it's likely that the company's top-selling Eylea will continue to gain ground on Novartis' Lucentis in wet age-related macular degeneration (AMD) and diabetic macular edema (DME). Second, Regeneron Pharmaceuticals' recently launched cholesterol buster, Praluent, which it co-developed with Sanofi, is arguably going to become a billion-dollar drug next year.
Enthusiasm for Eylea is understandable, given that an increasingly older America is causing demand for vision-improving medicine to soar. First approved to treat wet AMD in 2011, Eylea scored another big win earlier this year, when the FDA approved its use in DME, another large and growing patient population.
Source: Regeneron Pharmaceuticals.
Since the DME approval, sales of Eylea have accelerated, clocking in at $1.1 billion in the third quarter alone, up 53% from a year ago.
Since 10,000 baby boomers are turning 65 daily and that means demand for AMD drugs is climbing and 2.5 million people have DME, including 1 million people who remain undiagnosed, there appears to be plenty of room to grow again in 2016.
Praluent could also move the profit needle at Regeneron Pharmaceuticals next year. Praluent is one of two recently approved cholesterol-busting drugs that work in an entirely new way from the standard of care for lowering cholesterol: statins.
In studies, adding Praluent to statin therapy lowered bad cholesterol levels by up to an additional 60%. Praluent does so by inhibiting the PCSK9 enzyme responsible for breaking down bad cholesterol receptors in the liver. Since Praluent increases the number of receptors in the liver, more bad cholesterol is stripped from the bloodstream, thereby leaving less bad cholesterol swimming around to clog arteries.
The FDA gave Praluent a green light in July, but sales are likely to start off slowly because the drug is pricey. At $14,000 annually, it's going to be a while before payers warm up to paying for Praluent; particularly, given that they're used to paying only a few hundred dollars per year for statins.
Nevertheless, Praluent's efficacy in tough-to-treat high-cholesterol patients is hard to ignore, and therefore, payers will still end up reimbursing for Praluent's use next year. Because there are more than a half-million Americans who have stubbornly high cholesterol levels, that could qualify them to use Praluent, meaning this drug has billion-dollar market potential in 2016.
A great year ahead? If Gilead Sciences wins approval for its next-generation pan-genotype hepatitis C cocktail next year, then it could solidify its leadership in the indication, blunt Merck's threat, and skirt the risk of decelerating earnings. That's a real possibility, but investors might find that Regeneron Pharmaceuticals' shares are more attractive, given that its path to profit growth appears to be a bit clearer.
The article This May Be The Fastest-Growing Biotech Stock Next Year (Hint: It's Not Gilead Sciences) originally appeared on Fool.com.
Todd Campbell owns shares of Gilead Sciences.Todd owns E.B Capital Markets, LLC. E.B. Capital's clients may have positions in the companies mentioned. The Motley Fool owns shares of and recommends Gilead Sciences. Try any of our Foolish newsletter services free for 30 days. We Fools may not all hold the same opinions, but we all believe that considering a diverse range of insights makes us better investors. The Motley Fool has a disclosure policy.
Copyright 1995 - 2015 The Motley Fool, LLC. All rights reserved. The Motley Fool has a disclosure policy.