This Looks to Be Johnson & Johnson's Next Blockbuster Drug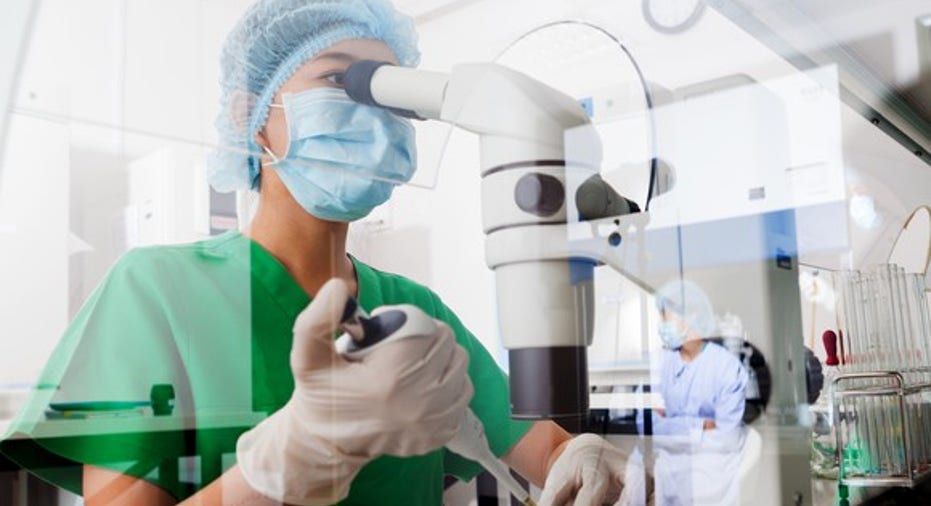 Johnson & Johnson CEO Alex Gorsky. Image source: Johnson & Johnson.
Healthcare conglomerate Johnson & Johnson (NYSE: JNJ) probably needs little introduction -- it's a commonly held stock among long-term investors, income seekers, and retirees.
Johnson & Johnson's business is comprised of more than 250 subsidiaries, but in a larger sense breaks down to three major franchises: consumer products, medical devices, and pharmaceuticals.
Consumer products isn't a fast growing segment, but the inelasticity of its health products provides a predictable level of cash flow year in and year out. Additionally, the inelasticity of this segment allows J&J the ability to pass along price hikes on an as-needed basis to ensure that it stays ahead of the inflation curve.
The medical devices unit has also been slow-growth of late, but it's quite promising with the elderly population expected to nearly double between 2012 and 2050, according to the U.S. Census Bureau. Older Americans are living longer than ever, and medical devices will probably be called upon more frequently as baby boomers and generation X age.
However, the pride and joy of J&J, and without question the biggest contributor to its top-line growth and margins, is its pharmaceutical operations. Between 2009 and mid-2014, J&J introduced 14 novel drugs, half of which reached $1 billion in annual sales, the definition of a "blockbuster drug." Looking ahead, Johnson & Johnson anticipates bringing 10 novel blockbusters to market by 2019. One example is the Nov. 2015 introduction of multiple myeloma drug Darzalex, which could potentially expand from its current third-line indication into early indications, boosting its sales north of $1 billion.
Image source: Getty Images.
Meet Johnson & Johnson's next possible blockbuster drug
Late last week at the European Academy of Dermatology and Venerology Congress in Vienna, Austria, Johnson & Johnson introduced the world to its next possible blockbuster drug, guselkumab.
Guselkumab is an intriguing new therapy designed to treat immune disorders of the skin. The study presented at the EADV examined guselkumab as a treatment for plaque psoriasis. Unlike the vast majority of Food and Drug Administration-approved psoriasis drugs that work by slowing down the activity of the tumor necrosis factor protein, which is the driver of inflammation, guselkumab targets a protein known as interleukein-23, which has more specificity when it comes to immune response disorders of the skin.
The phase 3 study, which analyzed 837 patients with plaque psoriasis, found that guselkumab handily met its primary endpoint of a statistically significant improvement in skin clearance compared to the placebo and AbbVie's (NYSE: ABBV) Humira, the best-selling drug in the world. After 16 weeks, 85% of the patients taking guselkumab had clear or nearly clear skin, which compares to just 6.9% of the patients receiving the placebo.
In terms of near-complete skin clearance at week 16, guselkumab was effective for 73% of patients, which compared favorably with the placebo (2.9%) and Humira (nearly 50%). Furthermore, as lead researcher Dr. Andrew Blauvelt from the Oregon Medical Research Center noted of guselkumab, "These responses were durable and maintained through week 48." At the 48-week mark Humira led to near-clearance in 55% of all patients compared to 81% of guselkumab patients.
Safety data was in-line with existing therapies, too, with 4.9% of patients taking guselkumab dealing with a serious side effect compared to 4.5% taking Humira. It is worth noting that two guselkumab patients developed cancer (one prostate cancer and the other breast cancer); however Dr. Blauvelt doesn't believe either cancer is as a result of the treatment. Nonetheless, long-term follow-up studies would be required of J&J.
Image source: Getty Images.
This data couldn't come at a better time for J&J
In many respects this data couldn't come at a better time for Johnson & Johnson.
Johnson & Johnson already has a variety of plaque psoriasis drugs on pharmacy shelves, including blockbusters Remicade and Stelara. However, these therapies target the tumor necrosis factor protein, which, as noted above, is a common target in plaque psoriasis and a host of other skin disorders. By introducing a new pathway of treatment, J&J is providing some degree of separation that physicians and patients may latch onto -- especially with results superior to those of both the placebo and Humira.
More importantly, a handful of large drugmakers are actively developing biosimilar drugs, or copycat versions of biologic drugs, to displace select blockbuster brand-name therapies. One of the drugs actively being targeted by biosimilar drug developers is J&J's Remicade. If legal maneuvering is unable to prevent biosimilars and generic entrants from reaching the market, Humira, Remicade, and a cadre of tumor necrosis factor protein-targeting therapies could see their sales pressured.
If guselkumab is approved, it would possibly insulate J&J from these biosimilar pressures by providing what appears to be a superior product. In other words, J&J would have time to move its Remicade patients, and perhaps even Stelara patients, to guselkumab before biosimilars and generics steal sales. Considering that Remicade and Stelara brought in $5.1 billion in sales through the first six months of 2016, up from the nearly $4.4 billion in sales during the first-half of 2015, it's quite reasonable to expect guselkumab to reach blockbuster status relatively quickly if approved.
The X-factors investors should be aware of from here on out are the Food and Drug Administration, which is never a lock to do what Wall Street and investors expect, and J&J itself. Johnson & Johnson will have to be careful how it prices guselkumab to avoid pricing so highly that it gets excluded from insurance company formularies. However, with a long and successful history of drug launches, J&J will probably be just fine.
If you're a long-term shareholder of Johnson & Johnson, the guselkumab phase 3 data gives you yet another reason to be excited.
A secret billion-dollar stock opportunity The world's biggest tech company forgot to show you something, but a few Wall Street analysts and the Fool didn't miss a beat: There's a small company that's powering their brand-new gadgets and the coming revolution in technology. And we think its stock price has nearly unlimited room to run for early in-the-know investors! To be one of them, just click here.
Sean Williamshas no material interest in any companies mentioned in this article. You can follow him on CAPS under the screen nameTMFUltraLong, and check him out on Twitter, where he goes by the handle@TMFUltraLong.
The Motley Fool has no position in any of the stocks mentioned. Try any of our Foolish newsletter servicesfree for 30 days. We Fools may not all hold the same opinions, but we all believe thatconsidering a diverse range of insightsmakes us better investors. The Motley Fool has adisclosure policy.