This Lockheed Martin Acquisition Just Paid Off in a Big Way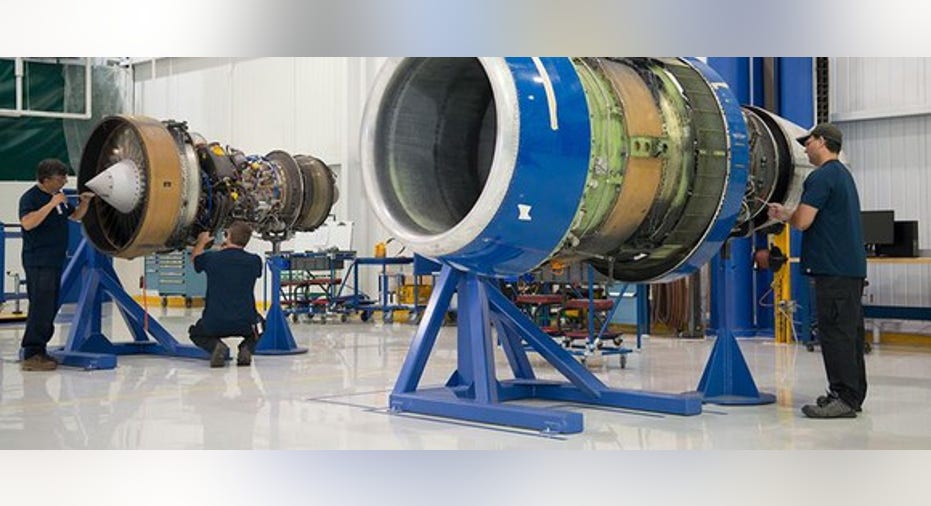 Four years ago, Lockheed Martin (NYSE: LMT) acquired the engine maintenance, repair, and overhaul assets of Canadian contractor Aveos Fleet Performance, merging it with Lockheed's own Kelly Aviation Center in San Antonio to form a new business, later renamed Lockheed Martin Commercial Engine Solutions (LMCES).
The purchase price was not disclosed at the time, which implies it was so small as to be immaterial -- but already it's paying off in a big way.
Image source: Lockheed Martin.
A big win for Lockheed Martin
Earlier this week, as reported in the Pentagon's daily digest of contracts awarded, Lockheed won a nine-year, $1 billion contract to service engines across the U.S. Air Force's fleet of 59 KC-10 aerial refueling tankers. Powered by three General Electric (NYSE: GE) CF6-50C2 turbofans each, USAF's KC-10 fleet boasts a total of 177 engines that need regular maintenance.
Now, you might think that, because General Electric builds the engines, it would also service them -- but not so. Although GE and its investors might like to get this work, the Air Force is instead hiring LMCES to service its KC-10 engines. With an advertised capability of refurbishing "one engine per business day," LMCES has more than enough capacity to do the job.
It almost goes without saying that this is a big win for Lockheed Martin and a huge return it's getting on an "immaterial" investment made just four years ago. But how big of a deal is this for Lockheed Martin stock? Should investors be excited?
Counting up the dollars and cents
Lockheed Martin groups its LMCES business under its dominant aeronautics division, the company's largest by revenue ($17.9 billion in 2016) and by profit as well ($1.9 billion). LMCES is not, however, its most profit-able division. In fact, according to data from S&P Global Market Intelligence, it produces profit margins of only 10.5%. Both Lockheed's missiles and fire control division (operating profit margin -- 14.7%) and its space systems (13.5%) unit earn more profit pennies per revenue dollar booked than does aeronautics.
Applied to this $1 billion contract, the 10.5% profit margin that Lockheed Martinearns from its aeronautics division promises to earn the company a clean $105 million in profit over the course of this deal, or about $0.36 per share. Over the course of the nine-year contract, this work can be expected to add about $0.04 per share to Lockheed Martin's earnings -- an amount equal to about 0.3% of what Lockheed is expected to earn this year.
Which just goes to show: When a company's as big as Lockheed Martin, even a $1 billion deal isn't that big of a deal after all.
10 stocks we like better than Lockheed MartinWhen investing geniuses David and Tom Gardner have a stock tip, it can pay to listen. After all, the newsletter they have run for over a decade, Motley Fool Stock Advisor, has tripled the market.*
David and Tom just revealed what they believe are the 10 best stocks for investors to buy right now... and Lockheed Martin wasn't one of them! That's right -- they think these 10 stocks are even better buys.
Click here to learn about these picks!
*Stock Advisor returns as of February 6, 2017
Rich Smith has no position in any stocks mentioned. The Motley Fool owns shares of General Electric. The Motley Fool has a disclosure policy.