This Just In: Upgrades and Downgrades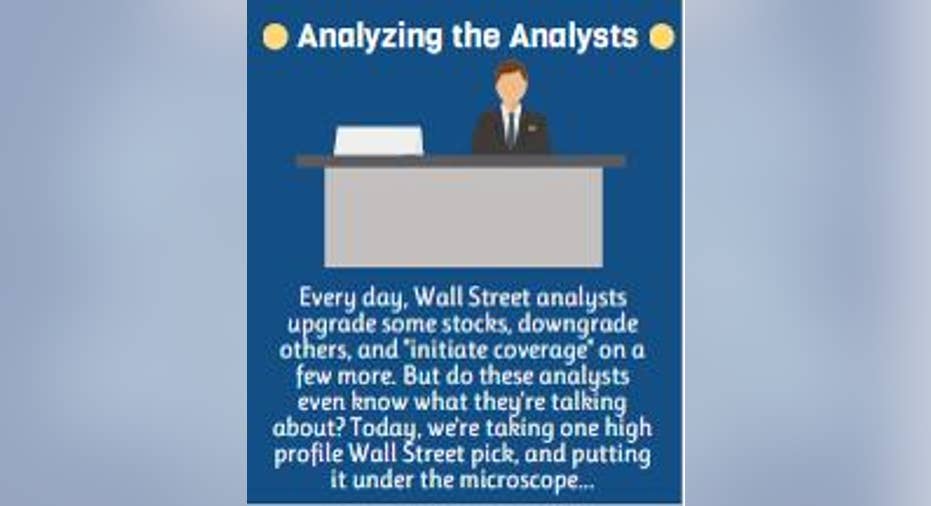 As winter rolls in, much of the country is hunkering down and bundling up. But up in New York City, on Wall Street -- Spring is in the air. And today we're going to regale you with a tale of two bankers in love.
Bright and early Monday morning, analysts from Bank of America's brokerage division, Merrill Lynch, announced that they've just upgraded shares of New York Community Bancorp from neutral to buy. In and of itself, that's hardly huge news -- investment bankers upgrade and downgrade stocks all the time. But in the case of New York Community Bancorp, it may be bigger news than first meets the eye.
Because this is actually the second time Merrill Lynch has upgraded NYCB in less than a month.
Love is in the airAccording to data from StreetInsider.com, Merrill Lynch had been recommending that investors sell out of New York Community Bancorp as recently as last month. But Merrill did an abrupt about-face on Nov. 3, upgrading NYCB shares from underperform to neutral. Fast-forward four weeks, and Merrill is upgrading New York Community Bancorp again today.
According to media reports, the most recent upgrade seems to be tied to NYCB's decision to merge with Astoria Financial -- a merger discussed by The Motley Fool's own John Maxfield here.
Merrill thinksthat the merger will accelerate growth at New York Community Bancorp, and calls the "risk/reward" of the merger "compelling." Of course, that raises the obvious questions: How risky is it to follow Merrill Lynch's advice? And how well have investors been rewarded by following such advice in the past?
Let's go to the tapeThose aren't always easy questions to answer. Fortunately, here at Motley Fool CAPS, we've been tracking the performance of Merrill Lynch's multiple recommendations for nearly a decade. And by this point, we think we've got a pretty good handle on how well this analyst performs when it comes to picking banking stocks.
As you can see, Merrill Lynch's record is a bit mixed. On the one hand, Merrill tends to get more of its banking picks right than it gets wrong. (To be precise, we've got Merrill Lynch pegged for a record of 54% accuracy on its banking picks over the past 10 years). On the other hand, when Merrill does make a mistake in banking, it has a tendency to lose more money than it gains from its winners -- which isn't a good thing.
Should you bank on a merged New York Community Bancorp?It's also entirely possible that this will be the outcome of today's recommendation to buy New York Community Bancorp as well. Consider:
In deciding to merge with Astoria Financial, New York Community Bancorp is essentially requiring shareholders who bought its shares, valued at 15 times earnings today, to become part-owners of Astoria -- valued at more than 19 times earnings-- as well. New York Community Bancorp is also taking its own enormously profitable operations, which generated net profit margins in excess of 35% over the past year, and diluting them with Astoria's less profitable (23% net margin) business.
Also, by merging its operations with those of a less profitable banker, New York Community Bancorp is putting its own generous 6.2% dividend yield at risk. Sure, that dividend probably sounds attractive to owners of Astoria Financial, who are currently earning only a 1% dividend yield from their bank, and would appreciate a bump up. But New York Community Bancorp's huge dividend yield has always a big reason investors liked NYCB stock so much -- as evidenced by the stock's four-star rating on Motley Fool CAPS. Diluting that popularity by associating itself with Astoria's much less popular, two-star-ranked shares, might not be a good thing for current New York Community Bancorp shareholders.
Long story short, given Merrill Lynch's rather iffy reputation in the field of bank-stock picking, and given the pricey shares and lesser profitability of the company that New York Community Bancorp has decided to merge with, on balance, I'm going to have to side with our CAPS community today -- and against Bank of America Merrill Lynch. This merger just doesn't look like something that's going to work out well for New York Community Bancorp shareholders.
The article This Just In: Upgrades and Downgrades originally appeared on Fool.com.
Fool contributorRich Smithdoes not own shares of, nor is he short, any company named above. You can find him onMotley Fool CAPS, publicly pontificating under the handleTMFDitty, where he's currently ranked No. 318 out of more than 75,000 rated members.The Motley Fool recommends Bank of America. Try any of our Foolish newsletter services free for 30 days. We Fools may not all hold the same opinions, but we all believe that considering a diverse range of insights makes us better investors. The Motley Fool has a disclosure policy.
Copyright 1995 - 2015 The Motley Fool, LLC. All rights reserved. The Motley Fool has a disclosure policy.