This Is Why Papa John's International, Inc. Stock Rose 16% In November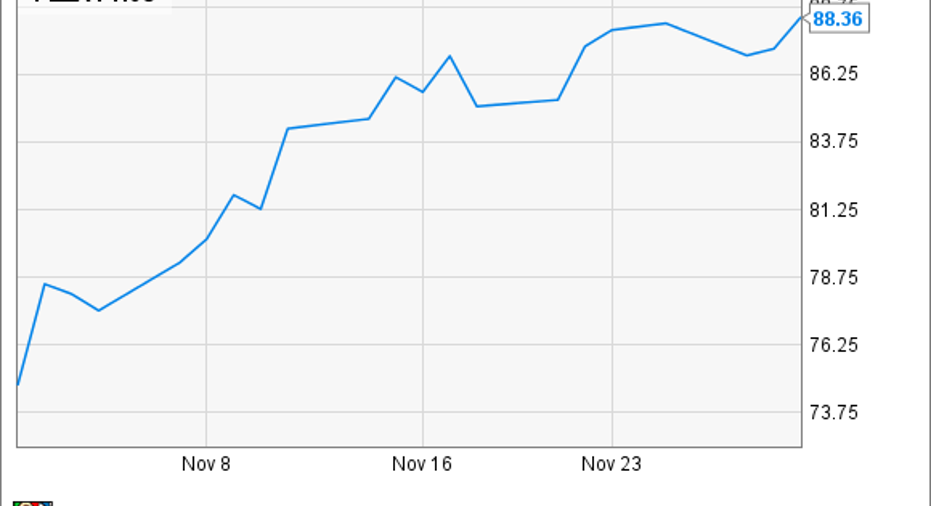 Papa John's (NASDAQ: PZZA) continues to prove that if you tell Americans something is good often enough, a certain percentage of the country will actually believe it. That's the only way to explain why consumers flock to the chain, which uses the tag line "Better Ingredients, Better Pizza," despite the fact that in many locations, it's possible the first half is true, but the second half most certainly is not.
Image source: YCharts.com.
What happened
The delivery-driven pizza chain reported another strong quarter on November 1. Across the company, Papa John's reported comparable sales increases of 5.5% for North America and 7.6% for International in the third quarter. That was good enough to send its stock from $75.80 on November 1 to $88.36 on November 30, a gain of 16.56%, according to data from S&P Global Market Intelligence.
So what
Papa John's hasbeen on a steady upward climb that shows it's not affected by the overall trends in the restaurant industry. In the third quarter, Papa John's saw an 8.5% increase in revenue and a 19.5% increase in income over the same period last year. It also put up a massive increase in earnings per share, going from $0.45 in Q3 2015 to $0.57 this year, a 26.7% jump.
"We are pleased that our strong performance continued in the 3rd quarter, with excellent comp sales, earnings and unit growth," said Papa John's CEO John Schnatter in the earnings release. "With continued enhancements to our digital platforms, expansion of our international footprint, and the introduction of our new pan pizza, 2016 is shaping up to be another outstanding year for Papa John's."
Now what
It feels like, at some point, the momentum for Papa John's and its entire segment should slow down, but there are no signs of that actually happening. The pizza chain has managed to keep expanding with little signs that market demand has been met. It has also been able to successfully market variants of its product (double pepperoni or a new combo of toppings) as innovation, which has steadily worked.
Papa John's is obviously doing something right. This was a solid quarter that's really just more of the same from a company that shows no signs its upward trajectory will point even slightly down anytime soon.
10 stocks we like better than Papa John's International When investing geniuses David and Tom Gardner have a stock tip, it can pay to listen. After all, the newsletter they have run for over a decade, Motley Fool Stock Advisor, has tripled the market.*
David and Tom just revealed what they believe are the 10 best stocks for investors to buy right now...and Papa John's International wasn't one of them! That's right -- they think these 10 stocks are even better buys.
Click here to learn about these picks!
*Stock Advisor returns as of Nov. 7, 2016.
Daniel Kline has no position in any stocks mentioned. The Motley Fool owns shares of Papa John's International. Try any of our Foolish newsletter services free for 30 days. We Fools may not all hold the same opinions, but we all believe that considering a diverse range of insights makes us better investors. The Motley Fool has a disclosure policy.