This Is Why Keryx Biopharmaceuticals Surged 28% in November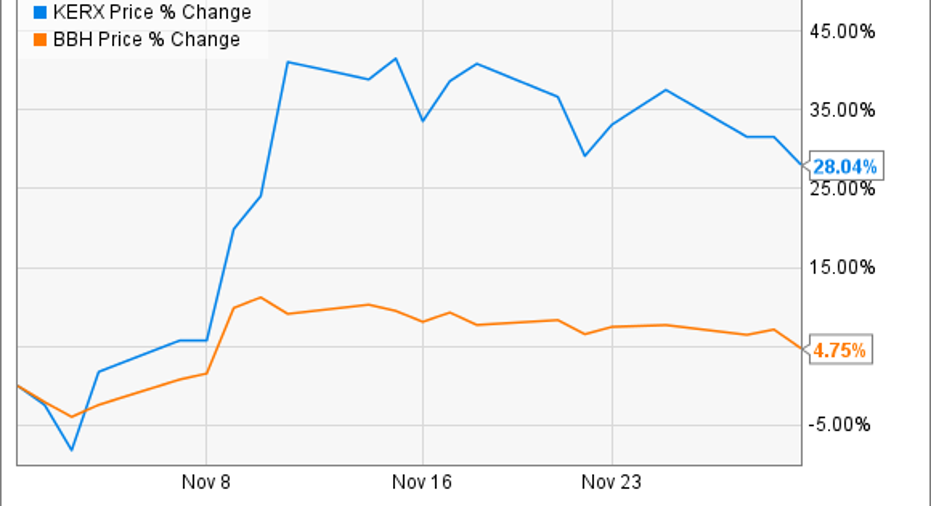 Image source: Getty Images.
What happened
Shares ofKeryx Biopharmaceuticals (NASDAQ: KERX),a biopharma focused on renal disease, rose more than 28% in November, according to data fromS&P Global Market Intelligence. That move far outpaced the biotech sector in general as measured by the VanEck Vectors Biotech ETF (NYSEMKT: BBH).
So what
Keryx reported third-quarter results in November. Here's a look at some of the highlights from the report:
Revenue declined 31% sequentially to $6.4 million. The drop was mostly owed to the previously announcedsupply disruptionfor Auryxia, the company's only approved drug. On the bright side, sales came in higher than the $5.5 million that market watchers were expecting.
Net loss per share was $0.39, which was much worse than the $0.20 loss that the Wall Street had projected.
Keryx finalized its sNDA application that could potentially expandAuryxia'slabeling. The company plans on submitting the document for FDA review soon.
While the financial results were mixed, the big news from the quarter was that a second contract manufacturer has been FDA approved to produce Auryxia. This news should resolve the company's supply disruption issues.
Beyond the quarterly report, a few other news items released during the month caused the markets to cheer:
A study of 3.5 million veteranswas released during the month that linked constipation with chronic kidney disease (CKD). This results of this study could suggest that the market for treatments of CKD -- like Auryxia -- could grow faster than previously expected.
Keryx presented data from its Phase 3 study using Auryxia to treat iron deficiency anemia and non-dialysis dependent CKD at the American Societyof Nephrology's 2016 Kidney Week.
All in all, it was a month filled with good news, so it is not hard to understand why shares skyrocketed.
Now what
With Auryxia's supply issues now resolved, the company can once again focus itsattentionon building awareness and demand for the drug. However, that might prove to be a tough challenge given thecompany'srecentmissteps. After all, it is possible that providers who were impacted by the supply disruption might be left with a bad taste in their mouth and refuse to start new patients on the drug. Only time will tell how long it will take to win back their trust.
Investors won't know the answer to that question until the company announces its fourth-quarter earnings results. Potential investors might want to remain cautious until then.
10 stocks we like better than Keryx Biopharmaceuticals When investing geniuses David and Tom Gardner have a stock tip, it can pay to listen. After all, the newsletter they have run for over a decade, Motley Fool Stock Advisor, has tripled the market.*
David and Tom just revealed what they believe are the 10 best stocks for investors to buy right now... and Keryx Biopharmaceuticals wasn't one of them! That's right -- they think these 10 stocks are even better buys.
Click here to learn about these picks!
*Stock Advisor returns as of Nov. 7, 2016
Brian Feroldi has no position in any stocks mentioned. Like this article? Follow him onTwitter where he goes by the handle@Longtermmindsetor connect with him on LinkedIn to see more articles like this.
The Motley Fool has no position in any of the stocks mentioned. Try any of our Foolish newsletter services free for 30 days. We Fools may not all hold the same opinions, but we all believe that considering a diverse range of insights makes us better investors. The Motley Fool has a disclosure policy.