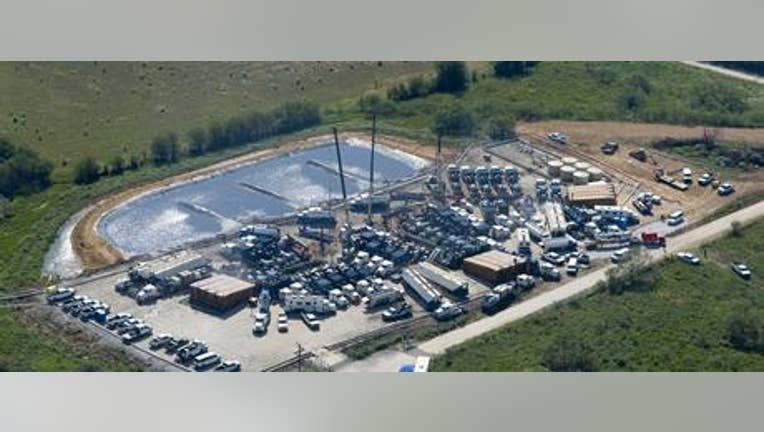 Image source: Baker Hughes.
The price of oil has been under tremendous pressure this year because producers are pumping an abundance of it into an oversaturated market. This price weakness has had a trickle-down effect on the entire industry and is putting a lot of pressure on the margins of oil-field service companies, especially the likes of Halliburton and C&J Energy Services .
Here's what's causing the most stress for these companies right now.
Drilling is doing fineOn Halliburton's third-quarter conference call, Halliburton President Jeff Miller spent some time detailing the current market conditions in the company's core North American market. He started off by saying:
Here, Miller breaks down the company's two main businesses: Drilling and completions. He notes that the drilling business is doing just fine as evidenced by margins, which were up last quarter despite the fact that the company is carrying a bit more costs than it would otherwise because of its pending merger with Baker Hughes. One reason drilling is strong is because oil companies are still drilling a lot of shale wells.
That said, the problem lies in the trend where producers are not completing all of those wells. In North Dakota, for example, there are currently more than 1,000 wells that have been drilled, but not completed. This is because producers are waiting for better oil prices before completing these wells largely due the out-sized portion of cost of bringing a new well online, with completions representing upwards of two-thirds of the overall cost.
Pressure is under stress Because of this, Miller noted:
Halliburton's pressure pumping business, or the actual fracking, is under the most stress right now due to a couple of factors. As noted previously, oil companies are drilling, but not completing thousands of wells, which is hurting volume. However, another big issue is that the producers that are fracking are seeking a big discount, which is really eating into margins.
This trend also had a big impact on C&J Energy Services during the third quarter, which noted in its third-quarter earnings release that its completion services segment was very weak due to a decline in activity levels and increased pricing pressure. Its hydraulic fracturing services segment in particular was deeply affected after C&J Energy Services aggressively reduced pricing with one of its most active customers in order to maintain that relationship.
Halliburton, likewise, cut its prices to levels it didn't like in order to maintain some key customer relationships. That said, while this is causing the company to operate this segment at a loss right now, Miller does see better days ahead. He said:
In other words, Halliburton's solution to fixing its stressed pressure pumping business is simply to operate well and then wait for the recovery. That's because when the recovery comes, it will be very sharp, due in part to the growing backlog of wells just waiting to be fracked once oil prices hit a certain level. In addition to that, Halliburton's upside would be even more magnified assuming it closes its merger with Baker Hughes, which also has a large North American completions business.
Investor takeawayPressure pumping in North America is under a lot of stress right now, which is putting downward pressure on the margins of Halliburton, C&J Energy Services, and Baker Hughes. There isn't a lot these companies can do right now, other than serve their customers well and wait out the storm. That said, once the storm clouds begin to dissipate, it will relieve a lot of the pressure on pumping margins because there's such a large inventory of wells just waiting to be fracked. That's a silver lining to be sure, but one that's not yet visible on the horizon.
The article This Is What Is Stressing Halliburton Company originally appeared on Fool.com.
Matt DiLallo has no position in any stocks mentioned. The Motley Fool owns shares of and recommends Halliburton. Try any of our Foolish newsletter services free for 30 days. We Fools may not all hold the same opinions, but we all believe that considering a diverse range of insights makes us better investors. The Motley Fool has a disclosure policy.
Copyright 1995 - 2015 The Motley Fool, LLC. All rights reserved. The Motley Fool has a disclosure policy.