This Is the One Metric Snap Investors Should Be Worried About Right Now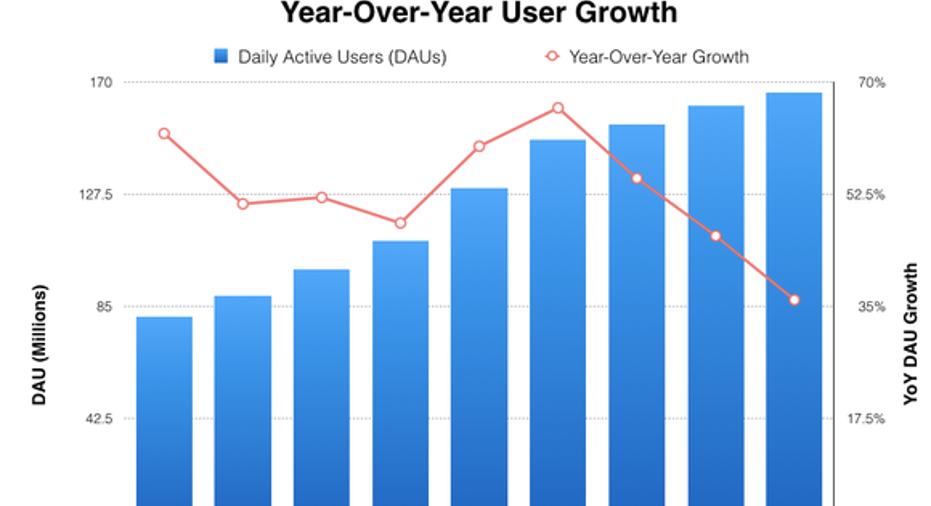 I listened to a news story a few days ago in which a handful of Snap Inc. (NYSE: SNAP) investors talked about why they had bought shares of the company after its IPO. For a few of them, the investment thesis was, essentially, "I use the app and my friends to do, so I wanted to invest in it." Fair enough, but Snap's first-quarter earnings report may have thrown some cold water on that perspective.
The company added just 8 million daily active users (DAUs) in the first quarter, up 5% sequentially, to a total of 166 million. Measured year over year, that amounted to a moderate increase of 36%. It was the second time in a row the company has posted disappointing user growth numbers.
Image source: Snap Inc.
But who cares, right? After all, eager investors and analysts always want the earnings, revenues, user growth, etc. to be higher. Well, this time, it's a little bit different, because Snap Inc. is such a young company that its sequential and year-over-year user growth really should be exploding right now.
To understand how important this is, let's take a look at Snap's user growth rate, and how it has slowed down over the past few quarters:
Source: Snap
You can see from the chart Snapchat is gaining more customers (the blue graph in the chart), and it's true that as any social media company gains more users the year-over-year growth percentages will eventually slow down. But the key word there is eventually. The fact is that Snapchat's user growth shouldn't be slowing yet (as reflected by the red line in the graph). Snapchat is still in a stage where it needs to be building up its user base rapidly and expanding beyond its core audience -- so several consecutive quarters of slowing user growth isn't what investors should be seeing right now. Snap still hastime to turn things around, but it needs to improve its app now to make that happen.
Remember when Facebook was for just college kids?
Nearly all messaging platforms and social media companies at some point discover they need to make adjustments to their platform in order to attract new users and expand their base. It can be hard to recall now, but there was a time whenFacebook (NASDAQ: FB) was only accessible to college students with active ".edu" email addresses.
I hate making any type of comparison between Snap and Facebook because the difference between the two companies, and their platforms, are major (though Facebook is doing its best to add Snapchat-like features to its apps). But the point is that Facebook made changes to expand its base, and Snap will need to do the same in light of its declining user growth.
The company has loyal following of millennials right now, which isn't a bad thing at all. Millennials will spend $1.4 trillion annually by 2020, and according to an Accenture study, they are expected to inherit about $30 trillion in the coming years. That's great news for advertisers, and better news for Snapchat as it targets that demographic with ads.
But in order to succeed as a company, and create value for its investors, Snap needs more than millennials. It's time for the company to make some slight changes to its platform to draw in more users at a faster pace. I think Snap has time to get this right, but it needs market Snapchat to a wider audience in order to make it happen.
And in the meantime, if you're a Snap investor who bought shares because you and your friends all use the app, you may want to start spreading the word about it a little more earnestly.
10 stocks we like better than Snap Inc.When investing geniuses David and Tom Gardner have a stock tip, it can pay to listen. After all, the newsletter they have run for over a decade, Motley Fool Stock Advisor, has tripled the market.*
David and Tom just revealed what they believe are the 10 best stocks for investors to buy right now... and Snap Inc. wasn't one of them! That's right -- they think these 10 stocks are even better buys.
Click here to learn about these picks!
*Stock Advisor returns as of May 1, 2017
Chris Neiger has no position in any stocks mentioned. The Motley Fool owns shares of and recommends Facebook. The Motley Fool has a disclosure policy.