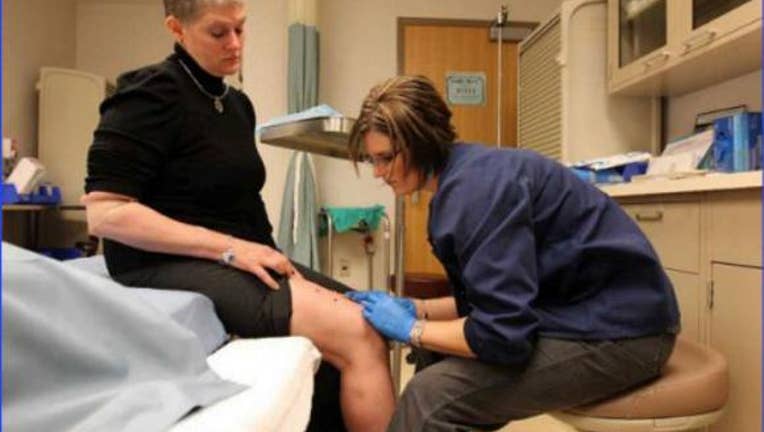 Image source: National Cancer Institute.
Cancer is a scary diagnosis regardless of the type, but lung cancer is among the most feared diagnoses a patient can receive.
Lung cancer's terrifying statistics Lung and bronchus cancer is the third most commonly diagnosed cancer according to the American Cancer Society, trailing only breast cancer in annual diagnoses. This year, an estimated 221,200 people are expected to be diagnosed with lung cancer. What's particularly terrifying is the mortality rate associated with lung cancer. The ACS estimates 158,040 people will die from lung and bronchus cancer in 2015, which is more than breast cancer, colon cancer, prostate cancer, and pancreatic cancercombined!
At the heart of the concern is the fact that lung cancer survival rates haven't improved by as much as other cancer types over the past three-plus decades. Whereas breast cancer and prostate cancer have seen their five-year survival rates improve from 75% and 68%, respectively, between 1975 and 1977 to 91% and greater than 99% between 2004 and 2010, five-year survival rates for lung cancer have only trickled higher by 5 percentage points, to 17% from 12%, over the same time span. We'd like to think that pharmaceutical improvements are making headway in treating lung cancer, but this 5% improvement in survival rates over three-plus decades could have more to do with improved education of lung cancer risk factors and improved early detection (allowing surgical resection) than substantial improvements in pharmaceuticals.
Image source: National Cancer Institute.
The best way to treat lung cancer, revealed But there's good news: A new study conducted by the Jonsson Comprehensive Cancer Center at UCLA (and published in The Lancet), which enrolled over 1,000 people who had PD-L1-expressing non-small cell lung cancer (NSCLC), the most common type of lung cancer, appears to show that cancer immunotherapies are far superior to chemotherapy when it comes to treating lung cancer.
Cancer immunotherapies are a new type of drug being used to combat a variety of solid tumors, including metastatic melanoma and metastatic NSCLC, which are the two indications where Merck's Keytruda and Bristol-Myers Squibb's Opdivo are currently approved. Cancer's greatest "trick" is that it often goes undetected by the immune system, allowing mutated cells to proliferate at will. Checkpoint inhibitors from Merck and Bristol-Myers Squibb turn off the ability of cancer cells to evade detection, thus exposing them to an immune response.
In UCLA's study about two-thirds of the patients enrolled tested positive for PDL1-expressing tumors. All patients, regardless of PD-L1 expression, were randomly assigned into three groups: two who received differing doses of Merck's Keytruda, and one who got chemotherapy. As a whole, the results showed that patients receiving Keytruda were considerably more likely to have their tumors shrink significantly compared to the chemotherapy group. Additionally, patients receiving Keytruda also lived significantly longer than those who received chemotherapy. The icing on the cake is that patients on Keytruda also had less incidence of treatment toxicity than the chemotherapy cohort.
Image source: Merck.
Broken down a bit further, patients with the highest levels of PD-L1 expression typically had the best responses. This shouldn't come as much of a surprise since Merck's Keytruda and Bristol-Myers Squibb's Opdivo both demonstrated overall response rates of around 60% in advanced NSCLC patients with high levels of PD-L1 expression. Typical response rates for these patients would typically be around 25% to 30% with prior standards of care. But UCLA researchers also discovered that patients with relatively low PD-L1 expression also tended to demonstrate a better response rate, survival, and quality of life in the Keytruda arm compared to chemotherapy.
In short, cancer immunotherapies look like the unequivocal solution to treating lung cancer -- at least in those patients whose tumors express some degree of PD-L1.
We're nowhere near donePerhaps the best part of the ongoing research into cancer immunotherapies is that we're nowhere near done. Cancer immunotherapies have demonstrated remarkable responses in a number of different cancer types, lending hope that new treatments may be on the way.
Image source: Galena Biopharma.
For example, small-cap immunotherapy developer Galena Biopharma is examining its late-stage vaccine, NeuVax, in a phase 3 study known as PRESENT. NeuVax is an adjuvant treatment given in combination with Herceptin that's designed to prevent the recurrence of breast cancer in patients with low-to-moderate HER2 expression. Galena's phase 2 study showed that NeuVax prevented the recurrence of cancer in more than 94% of patients in the NeuVax-administered cohort. This was a 78% reduction in recurrence relative to the placebo group. Galena is also working on a separate drug designed to prevent ovarian and endometrial cancer recurrence.
Inovio Pharmaceuticals is another small dog working on making a splash in a big pond. Inovio's DNA-based immunotherapy platform has more than a half-dozen ongoing cancer trials, with VGX-3100, a treatment for cervical dysplasia caused by human papillomavirus types 16 and 18, being its most advanced. In mid-stage studies, VGX-3100 led to a statistically significant amount of disease regression compared to the placebo, and it also demonstrated superior HPV clearance relative to the placebo cohort. Inovio is primarily examining its immunotherapies for the treatment of cervical dysplasia, head and neck cancer, and prostate cancer.
Hard-to-treat cancers such as gastric cancer and bladder cancer, cancers with low survival rates such as pancreatic cancer, and even broad-based cancers such as colon cancer may prove treatable one day with the use of immunotherapies.
I, for one, am thrilled by the ongoing success of immunotherapies. While there's a multibillion-dollar growth opportunity here for investors, there's a much more important improvement in response rates, overall survival, and quality of life -- and that's priceless.
The article This Is the Most Effective Way to Treat Lung Cancer, Study Shows originally appeared on Fool.com.
Sean Williamshas no material interest in any companies mentioned in this article. You can follow him on CAPS under the screen nameTMFUltraLong, track every pick he makes under the screen nameTrackUltraLong, and check him out on Twitter, where he goes by the handle@TMFUltraLong.The Motley Fool has no position in any of the stocks mentioned. Try any of our Foolish newsletter servicesfree for 30 days. We Fools may not all hold the same opinions, but we all believe thatconsidering a diverse range of insightsmakes us better investors. The Motley Fool has adisclosure policy.
Copyright 1995 - 2015 The Motley Fool, LLC. All rights reserved. The Motley Fool has a disclosure policy.