This Is America's Least-Liked Fast-Food Chain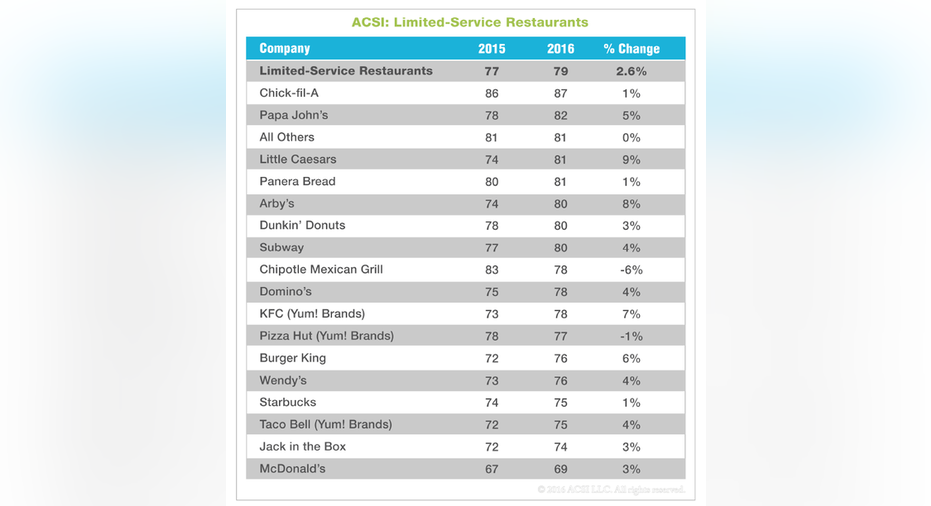 While the commercials may say "I'm loving it," the survey results say otherwise.
McDonald's placed at the bottom of the annual American Customer Satisfaction Index report(ACSI) (registration required)for limited-service (fast-food and fast-casual) restaurants. To further rub salt in to Ronald McDonald's wounds, the chain also scored lower than any restaurant in the full-service category.
The only positive for the chain may be that while it came in last place as it did in 2015, it did improve its score. In 2015 McDonald's nabbed a 67 on the 100-point scale, down 6% from the previous year. This year the fast-food company climbed to a 69 -- still bad enough to earn the least-liked restaurant title -- but up 3% over the year before.
"Fast casual restaurants like Panera Bread are raising the bar on quality, and we're seeing higher quality industry wide, which is driving the boost in customer satisfaction,"ACSI Managing Director David VanAmburg told The Motley Fool in an email."McDonald's has long been the face of fast food, and it's more challenging for a company with such a massive footprint to change with the times. They're fighting brand fatigue, but seem to have found some traction with their all-day breakfast."
McDonald's has come in last on the ACSI survey two years in a row. Image source: McDonald's.
A look at the fast-food industry
While McDonald's continued to bring up the rear, the overall fast-food industry made gains versus full-service restaurants. Overall, the limited-service industry improved its collective rating from a 77 to a 79, a 2.6% gain while full-service dropped dropped 1.2% from an 82 to an 81.
"Americans are now spending more money dining out than shopping for groceries," ACSI Chairman Claes Fornell said in a press release. "Fast food restaurants appear to be capitalizing on this trend more than full-service restaurants, maintaining the lower prices and speedy service that has long defined the industry, while also appealing to health-conscious consumers via more diverse offerings and higher-quality ingredients."
Not all chains associated with higher quality food did well, however, asChipotlesaw the biggest drop of any restaurant, falling 6% from an 83 to a middle-of-the-pack 78.
"Higher quality drives the improving scores for the industry, but quality issues relating to food-borne illnesses knock down Chipotle," said VanAmburg in the press release. "Just as Netflix's stock took a dive after the singular event of its pricing and Qwikster branding misstep in 2011, Chipotle's stock also has fallen after its food-quality crisis. Netflix rebounded rather quickly, but it can take more time for a restaurant to recover from quality issues."
Image source: ACSI.
Customer service is improving
If you consider that the Chipotle drop really reflects a one-time anomaly, overall scores for limited-service restaurants were even more impressive than they appear at first glance. Every chain rated except for Chipotle andYum! Brands' Pizza Hut posted improved scores in 2016.
And while McDonald's came in last, it is not far behind its hamburger rivals, which all came inbelow the industry average, but did all show improvement. Restaurant Brands International's Burger King, at 6%, had the biggest increase to tie Wendy's (+4%) at 76.
The ACSI report is based on 4,786 customer surveys collected in March 2016.
Even for McDonald's these are good numbers that show the overall perception of fast food has improved with consumers. This report showed that in some ways (with Chipotle being an exception for a clear reason) a rising tide lifts all boats. McDonald's still has a ways to go to not be America's least-liked restaurant brand, but at least it has its ship sailing in the right direction.
The article This Is America's Least-Liked Fast-Food Chain originally appeared on Fool.com.
Daniel Kline has no position in any stocks mentioned. He eats at Chipotle a lot, but almost never visits McDonald's.The Motley Fool owns shares of and recommends Chipotle Mexican Grill, Netflix, and Panera Bread. Try any of our Foolish newsletter services free for 30 days. We Fools may not all hold the same opinions, but we all believe that considering a diverse range of insights makes us better investors. The Motley Fool has a disclosure policy.
Copyright 1995 - 2016 The Motley Fool, LLC. All rights reserved. The Motley Fool has a disclosure policy.