This Industrial Internet of Things Play Gained 31% in 2016, but What Will 2017 Bring?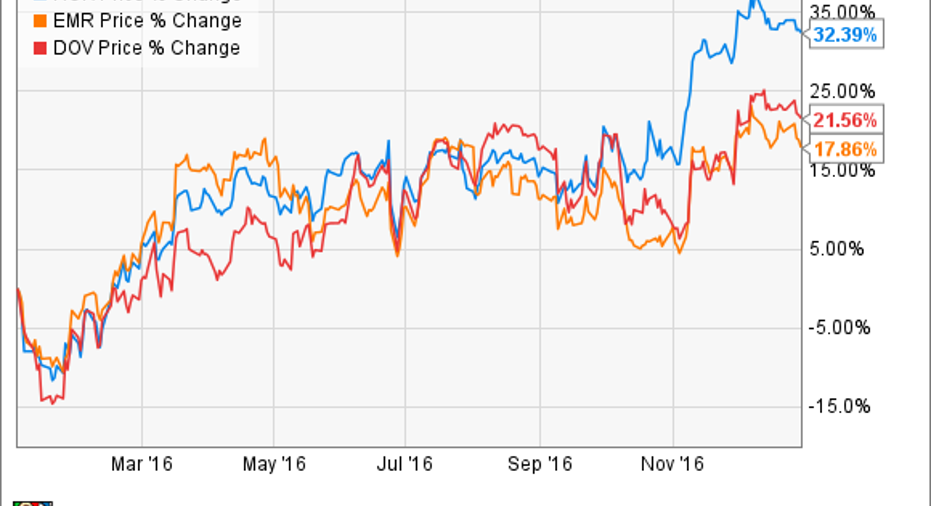 Rockwell Automation's (NYSE: ROK) strong rise in 2016 is reflective of a general change in sentiment toward industrial stocks that took place as the year progressed. So how are the company and stock positioned for 2017? Can Rockwell's stock have another strong year?
Rockwell Automation needs to grow in order to make the stock look cheap. Image source: Getty Images
What happened in 2016
Many of the leading industrial companies started the year on valuations not seen since the aftermath of the last recession, and investors took advantage by buying into them in anticipation of an industrial recovery. As the year progressed, so did the buying, notwithstanding earnings misses and a deteriorating near-term industrial outlook.
In short, the market decided that every stock-specific disappointment (earnings misses, guidance cuts, and th like) was a mere delay of an inevitable end market recovery. In particular, the energy-heavy industrials such as Rockwell, Dover Corp. (NYSE: DOV) and Emerson Electric Co. were bid up as the market looked on as oil prices increased to above $50.
Fully valued on current estimates
The following table shows analyst estimates for Rockwell in the coming years. For reference, the company's year end is in September.
Data source: Nasdaq.com. Based on the current stock price of $141. Table by author.
The P/E ratios generated by analyst estimates suggest Rockwell isn't cheap compared to valuations of recent years.
ROK PE Ratio (TTM) data by YCharts
On the other hand, earnings estimates are there to be beaten, and the quoted figures also reflect the midpoint of Rockwell's near-term guidance. For example, in the investor day presentation in December, management guided toward adjusted EPS of $5.85 to $6.25 for 2017 -- note how the midpoint of the range is very near to the estimate for 2017.
In a nutshell, value-conscious investors will be hoping Rockwell can deliver earnings at least at the top of its earnings guidance next year and then deliver EPS ahead of analyst estimates in the coming years. So let's look at three ways the company coulddo this.
Three reasons Rockwell can exceed growth expectations
Aside from the obvious exposure to industrial production growth -- which could always exceed expectations, particularly with some Trump-inspired infrastructural stimulus spending -- the key growth drivers are likely to be:
Increasing adoption of the Industrial Internet of Things (IIOT) among manufacturing companies.
A sustained increase in oil prices that would probably spur capital spending plans.
Manufacturers in China that accelerate adoption of automated processes in manufacturing.
Rockwell's management claims it's an industrial software company, and in fact, nearly 45% of total sales came from architecture and software in fiscal 2016. Rockwell isn't just a company that makes control products and sensors for automated processes; it's also a key player in IIOT. After all, the data captured from smart devices interacting with automation is the key to driving productivity from IIOT.
Rockwell Automation is a leading industrial software company. Image source: Rockwell Automation
As leading IIOT players such as General Electric expand and create market awareness, companies such as Rockwell could benefit from an increasing willingness among manufacturers to invest in IIOT.
As for oil and gas, Rockwell, Dover Corp., and Emerson Electric are all heavily exposed to upstream capital spending -- hardest hit in the downturn, but often quick to rebound if oil prices increase. Clearly, this growth driver depends on oil prices and when energy companies start increasing capital expenditures again. On that note, Dover Corp.'s recent outlook statement is suggesting that energy spending is set to make a comeback.
The third growth driver depends on the need for China's manufacturing industry to catch up with Western levels of productivity. However, it's also likely to be driven by industrial conditions in China. In other words, it's not entirely a secular growth driver.
Rockwell Automation stock in 2017
On balance, I don't believe Rockwell Automation is a good value anymore. Its growth drivers are attractive, and perfectly good reasons to like the long-term potential of the company, but timing an entry point in a stock is a key part of investing.
On a risk/reward basis, the stock isn't a great value right now. Despite a more positive outlook, the valuation leaves little room for error, and I think Rockwell is going to have to deliver earnings at the top end of expectations or it's likely to correct.
10 stocks we like better than Rockwell Automation When investing geniuses David and Tom Gardner have a stock tip, it can pay to listen. After all, the newsletter they have run for over a decade, Motley Fool Stock Advisor, has tripled the market.*
David and Tom just revealed what they believe are the 10 best stocks for investors to buy right now... and Rockwell Automation wasn't one of them! That's right -- they think these 10 stocks are even better buys.
Click here to learn about these picks!
*Stock Advisor returns as of January 4, 2017
Lee Samaha has no position in any stocks mentioned. The Motley Fool owns shares of General Electric. The Motley Fool recommends Emerson Electric. The Motley Fool has a disclosure policy.