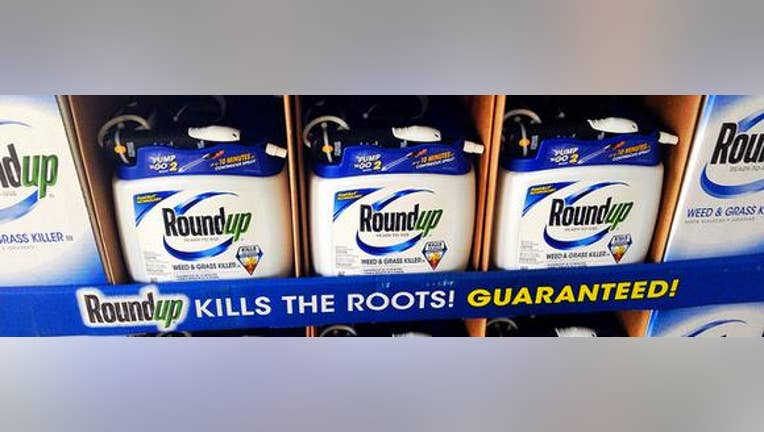 The FDA will begin testing our food supply for traces of glyphosate, the active ingredient in Monsanto's Roundup herbicide. Image source: Horia Varlan.
Uh-oh. This can't be good for Monsanto . As if the chemicals giant didn't have enough on its plate already trying to deal with unfavorable currency exchange rates and lower prices for seeds, which just caused it to slash its earnings outlook for the year, the Food and Drug Administration recently announced it will begin testing food samples for traces of glyphosate,a development that could really bring the hammer down.
Glyphosate is the primary active ingredient in Monsanto's best-selling herbicide Roundup, but because the chemical permeates almost every aspect of its business, the findings of the FDA tests could rock Monsanto to its core.
A systemic problemWhen sprayed on weeds and plants, glyphosate is devastating, killing it root and all. Sales of Roundup, when including both the product and the revenue realized from genetically modification seed sales, account for about half of Monsanto's total $15 billion in annual revenue.
But the killer chemical has been under pressure lately. The glyphosate market is suffering a glut of generic versions on the market, causing prices to fall. In taking an axe to its guidance, Monsanto said the pricing pressure was taking a toll on its agricultural productivity segment, which consists of the crop-protection products and lawn-and-garden herbicide products, most notably Roundup. Moreover, competition from other herbicides, like Dow Chemical's Enlist Weed Control System, are also eating away at sales.
There is also a broader growing resistance to the use of such chemicals. After years of overapplication of herbicides and pesticides, nature is fighting back, developing superweedsand superbugs resistant to their use. It's one of the reasons Dow Chemical is excited about GMO seeds now approved to withstand the withering effects of its Enlist system. Since nature is growing immune to Roundup, it should generate big sales of its competing 2,4-D herbicide. It's also why Monsanto wanted to buy the Swiss chemical corporation Syngenta to get at its crop protection portfolio, though that deal ultimately fell through.
Testing the limitsBut the FDA's tests could be the most problematic. According to Newsweek, the agency confirmed it will begin testing certain foods for any legacy presence of glyphosate. The General Accounting Office criticized the agency for neglecting to do so, and while the FDA defended itself by saying it was too difficult to do beforehand, it now has the capabilities to start the process this year.
Monsanto acknowledges that Roundup chemicals are taken up by plants and remain in them after harvesting. When we eat our vegetables we're also consuming some glyphosate, but Monsanto maintains whatever residue remains is but a fraction of what the FDA considers safe.
"No data have ever indicated residue levels [on food] of more than a fraction of EPA's very conservative Allowable Daily Intake or any level of concern," the chemical company said in an email to the news magazine.
Yet even if it's trace amounts, the consuming public likely never even thinks about it. But after the FDA finally publicizes the fact that yes, you're eating a little bit of Roundup in every bite, the backlash from it is bound to be significant because it won't be an issue that can remain hiding in plain sight.
It's why food manufacturers and chemical companies have fought so hard against GMO labeling. Once the public realizes just how pervasive GMOs are -- virtually all corn and soybeans have been genetically altered -- they fear consumers will demand their removal. That Campbell Soup has become the first major food manufacturer to drop its opposition to labeling (it believes GMOs are safe and almost all of its products contain GMOs), it represents the first cracks in what was once a unified wall.
Because Roundup seeps through virtually every part of Monsanto's business, a negative outcome from the FDA tests poses a significant risk for investors. Image source: Mike Mozart.
Pulling on a threadMonsanto faces the very real prospect that its entire business model could become undone. Between labeling which products contain GMOs, identifying foods that still contain its herbicides, and possible pushback from farmers after consumers potentially stop buying such produce, its outlook could be very bleak.
Of course, it's equally possible consumers simply give a collective shrug. While organic food sales have grown 78% between 2007 and 2012, according to the latest data from the USDA, and the Organic Trade Association says sales have grown at a 15% compounded annual rate since 1997 (hitting $39 billion in 2014), such produce still only accounts for 4% of total food sales.
Monsanto continues to put on a brave front, just as it did after its third-quarter results, and even after cutting its outlook. Alas, it hasn't removed the rose-colored glasses. The FDA's tests, though, could very well be the one event that could force all parties to face reality.
The article This FDA Test Could Devastate Monsanto Inc. originally appeared on Fool.com.
Rich Duprey has no position in any stocks mentioned. The Motley Fool has no position in any of the stocks mentioned. Try any of our Foolish newsletter services free for 30 days. We Fools may not all hold the same opinions, but we all believe that considering a diverse range of insights makes us better investors. The Motley Fool has a disclosure policy.
Copyright 1995 - 2016 The Motley Fool, LLC. All rights reserved. The Motley Fool has a disclosure policy.