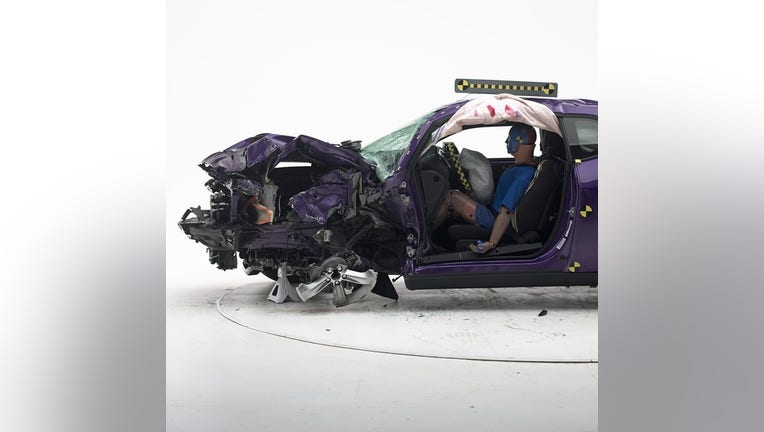 Small overlap frontal test: 2016 Dodge Challenger: rated "marginal." Image source: IIHS.org.
It's a fairly safe assumption, no pun intended, that one of the last things on the minds of car buyers shopping for a sports car or muscle caris its safety rating. After all, what consumer purchasing a sports car is doing so to drive safely and slowly, or transport their kids?
Despite safety ratings likely being on the back burner when it comes to purchasing sports cars, Insurance Institute for Highway Safety president Adrian Lund makes a great point in a recent IIHS crash test study: "Given that sports cars have high crash rates, it's especially important that they offer the best occupant protection possible in a crash."
Let's take a look at how the test works, and how Ford Motor Company's Mustang, General Motors' Camaro, and Fiat Chrysler Automobiles' Challenger ranked.
Winners and losers
When IIHS evaluates vehicles in its crash tests, a "Top Safety Pick" rating means the vehicle scores "good" in the small overlap front, moderate overlap front, side, roof strength, and head restraint evaluations, as well as having a basic-rated front crash prevention system. The four ratings possible are: good, acceptable, marginal, and poor.
Even higher is the "Top Safety Pick+," which mandates vehicles score "good" in the five previously mentioned categories and get an "advanced" or "superior" rating for front crash prevention. So, how did the sports cars do?
The Mustang was the closest to earning a Top Safety Pick, with the Camaro only slightly behind, and the Challenger was a distant third.
Image source: IIHS.org.
"During the crash, the Challenger's front wheel was forced rearward into the occupant compartment, and the footwell intrusion trapped the dummy's left foot and deformed its ankle," Lund said. "Our technicians had to unbolt the dummy's foot from its leg in order to free it. Entrapment is pretty rare. That's only happened five other times in a small overlap test."
Small overlap frontal test: 2016 Dodge Challenger: rated marginal. Image source: IIHS.org.
Detroit's muscle/sports cars likely won't be the only models to face scrutiny from these crash tests, although they are some of the first vehicles to endure the test this year. IIHS has yet to test the Nissan 370Z, Audi TT, Infinity Q60, or even the Hyundai Genesis Coupe; however, the BMW 2-series, Volkswagen GTI, and Lexus RC all earned the 2016 Top Safety Pick+ rating.
Now, while it isn't the easiest job in the world to defend FCA's Challenger, there are a couple of things to consider.
The Challenger's worst score was on the small overlap front crash test, a test that was developed by IIHS in 2012, four years after this Challenger generation went on sale. Now, that doesn't totally absolve FCA of blame, because if an automaker doesn't update its vehicles within that amount of time, it's taking the risk of being outdated for crash tests or other judging factors. Also, consider that while lagging in IIHS' test, the vehicle meets or exceeds all applicable government safety requirements.
Ultimately, while FCA has made huge strides in becoming a more efficient automaker and better investment since it was bailed out during the recent recession, it still has a long way to go -- and this is yet another example.
The article This Detroit Muscle Car Lagged the Competition in IIHS' Crash Test originally appeared on Fool.com.
Daniel Miller owns shares of Ford and General Motors. The Motley Fool owns shares of and recommends Ford. The Motley Fool recommends General Motors. Try any of our Foolish newsletter services free for 30 days. We Fools may not all hold the same opinions, but we all believe that considering a diverse range of insights makes us better investors. The Motley Fool has a disclosure policy.
Copyright 1995 - 2016 The Motley Fool, LLC. All rights reserved. The Motley Fool has a disclosure policy.