This Could Be the Killer New Feature for GoPro Inc's Karma Drone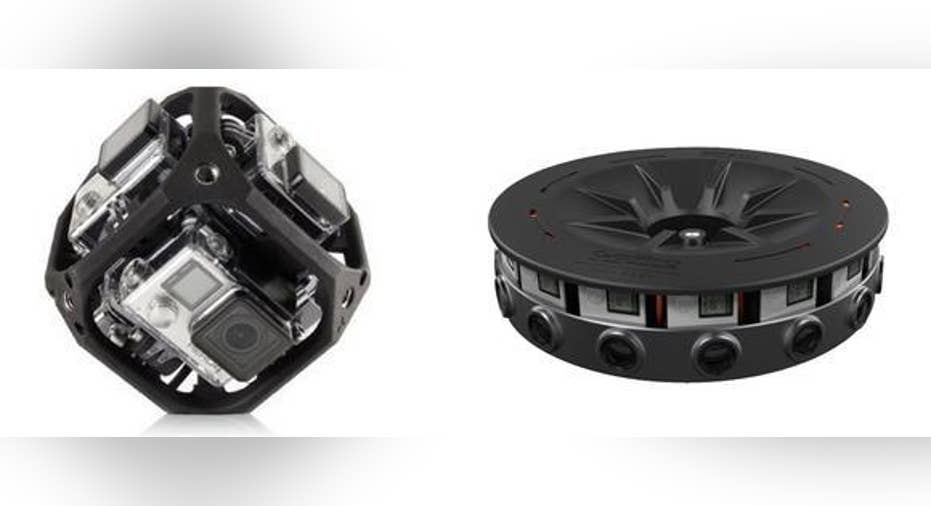 GoPro 's most anticipated product in the first half of 2016 is the Karma, a drone that could finally diversify its top line away from action cameras. Yet GoPro has only released a single video shot with the Karma so far, and it hasn't revealed any details about its hardware. That secrecy has fueled rampant speculation about how the Karma can stand out in the increasingly crowded drone market.
The Verge's Sean O'Kane recently suggestedthat the Karma might sport a 360-degree camera, based on GoPro's previous partnerships and investments in virtual reality. Such a device could also counter Kodak's 360-degree PixPro cameras, which can also be installed in drones. Could a high-end, 360-degree camera be the Karma's new killer feature? Let's review the key facts and decide.
Why VR videos matter to GoProGoPro's Hero 4 Silver and Black cameras have arguably reached a near-term tech peak with their 4K recording capabilities. Without being bound to smartphone-like contracts, it's likely many existing GoPro users will stick with "good enough" devices, while other potential customers might use smartphone cameras or cheaper action cameras instead. GoPro tried to reach more mainstream customers with the ice-cube-sized Hero 4 Session this year, but the device's initial price tag of $400 curbed demand.
To sell more cameras, GoPro partnered with Alphabet to create Odyssey, a 16-camera rig for virtual reality filmmaking. It also announced the smaller six-camera Spherical rig as a more affordable option. To host these videos, Google launched Jump, a platform that sends VR films to YouTube as interactive videos. GoPro also partnered with Facebook to create 360-degree videos for its News Feed. Facebook is using these interactive videos to boost mainstream awareness for VR videos, which could increase demand for its upcoming Oculus VR headset. GoPro's fledgling content licensing portal could also gain more business from marketers seeking 360-degree content.
GoPro's Spherical (L) and Odyssey (R) rigs. Image source: GoPro.
In addition to striking key partnerships with Alphabet and Facebook, GoPro expanded its own 360-degree video-making abilities by acquiring French start-up Kolor, which creates software for stitching videos together into 360-degree panoramas. If YouTube and Facebook successfully increase demand for 360-degree video capture devices, demand for GoPro's niche VR rigs could rise.
Why a 360-degree drone would be disruptiveUnlike the action camera market, GoPro won't enjoy a first mover's advantage in drones. DJI Innovations, the biggest drone maker in the world,is already expected to double its annual revenue from $500 million in 2014 to $1 billion in 2015. Many of DJI's older drones are compatible with GoPro cameras, but newer ones use its own wide-angle cameras. However, DJI doesn't offer any first-party spherical video solutions yet. Many third-party accessories, like the Freedom360 Mount, connect multiple GoPro cameras on a spherical rig to a drone.
If GoPro equips the Karma with a 360-degree camera that captures better video than single spherical cameras like Kodak's PixPro SP360 4K, it could be a great all-in-one product for capturing aerial 360-degree videos. It would also stand out from DJI's standard drones and cheaper entry-level drones with lower-end cameras. Moreover, GoPro's existing partnerships with YouTube and Facebook could also give the 360-degree Karma much more mainstream publicity than comparable drones. As of this writing, YouTube's #360Video channel has nearly 720,000 subscribers, and Facebook's 360-degree promo video for Star Wars: The Force Awakenshas been viewed over seven million times.
Let's not jump to conclusionsIt would certainly be a gutsy and game-changing move for GoPro to launch a 360-degree drone, but investors shouldn't jump to conclusions yet. The Karma's debut video only consists of regular wide-angle shots instead of interactive spherical ones. Introducing a single 360-degree camera could also cannibalize the Odyssey and Spherical rigs, which were designed to sell more GoPro cameras at once. Lastly, a 360-degree 4K drone could also cost significantly more than DJI's high-end Phantom drones, which already cost over $1,000.
Regardless of whether or not the Karma can film 360 degree video, GoPro needs the drone to turn heads next year. If it can't, GoPro won't be able to diversify away from its slowing action camera business, and year-over-year sales comparisons could continue to weaken.
The article This Could Be the Killer New Feature for GoPro Inc's Karma Drone originally appeared on Fool.com.
Suzanne Frey, an executive at Alphabet, is a member of The Motley Fool's board of directors. Leo Sun owns shares of GoPro. The Motley Fool owns shares of and recommends Alphabet (A and C shares), Facebook, and GoPro. Try any of our Foolish newsletter services free for 30 days. We Fools may not all hold the same opinions, but we all believe that considering a diverse range of insights makes us better investors. The Motley Fool has a disclosure policy.
Copyright 1995 - 2016 The Motley Fool, LLC. All rights reserved. The Motley Fool has a disclosure policy.