This Company Has the Best Dividend Record in Its Industry. Is It a Buy?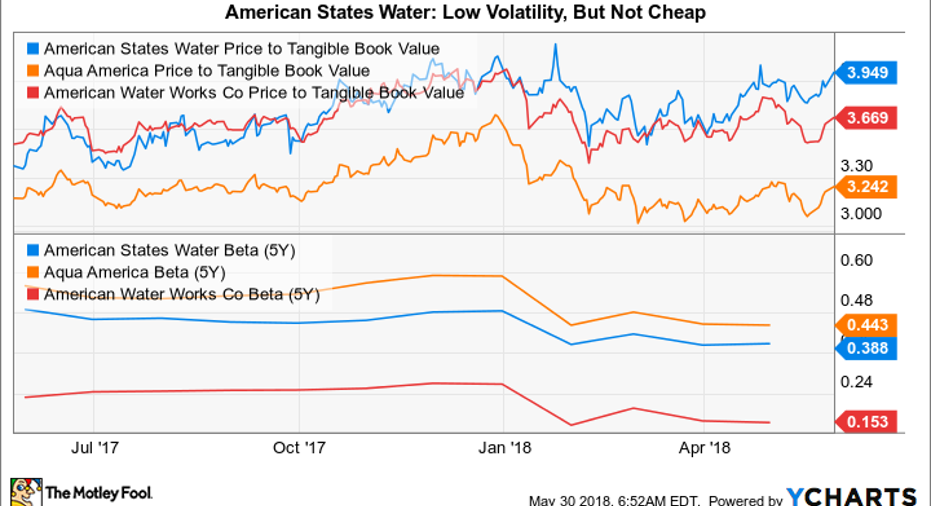 American States Water Company (NYSE: AWR) has increased its dividend each and every year for 63 consecutive years. That's a feat unmatched by its water utility rivals, and most other companies for that matter. But that incredible run of dividend hikes doesn't mean that American States is a good investment. Here's the background you need in order to make a better call here.
The core of the business
American States Water is a relatively small water utility, serving just 259,000 customer in California (roughly 70% of revenue). It also provides electricity to 24,000 customers in the state (8%). These two regulated businesses are the core of the company's business and, for the most part, what that six decade long streak of dividend increases was built on.
Like all regulated utilities, American States gets its rates approved by the government in exchange for a utility monopoly. At this point, American States is targeting "at least" 5% dividend growth in the coming years (more on this in a second). That's backed by a plan to spend roughly three times depreciation expense on capital projects to grow its business and get higher rates approved by regulators.
History suggests that American States can deliver on that plan. However, the current yield on the stock is a tad under 2%. You can get that level of income from an S&P 500 Index fund. And while 5% dividend growth will keep you ahead of the 3% historical rate of inflation, growing your buying power over time, it isn't a huge amount of dividend growth for a company that's starting with such a low yield. For comparison, Magellan Midstream Partners, L.P., which has utility-like characteristics to its pipeline business, offers a very secure 5.3% yield with prospects for 5% to 8% distribution growth.
The growth engine
The core of American States Water is its slow and steady California utility operations. However, the rest of the company's revenue (roughly 23%) comes from an unregulated business that manages water systems on military bases around the country. It currently serves 11 bases in this capacity, a portfolio built up over the past 20 years. Expansion in this division has allowed the utility to push dividend growth up to 7.6% annually over the past decade. The increase over the past year was even higher at 8.8%.
There are a material number of military contracts up for bid in the next five years. If it wins enough contracts it could continue to support dividend growth higher than its 5% target. These contracts, meanwhile, last for up to 50 years, providing decades of cash to American States when it wins a bid. There's even some potential for growth via investment in these water assets, only rate increases have to be approved by the military instead of a utility commission.
This is the exciting part of American States Water's business and the one that investors should be watching if they buy the stock. And with a backstop of 5% dividend growth underpinned by the company's core California water business, conservative investors should like the big picture here. Note that the stock's beta over the trailing five years is an incredibly low 0.15, suggesting it is 85% less volatile than the broader market. The only fly in the ointment is the small starting yield.
In fact, American States Water's yield is lower than larger, more diversified peers Aqua America and American Water Works. (This pair's growth has come from expanding their utility operations via utility acquisitions.) While neither of these water utilities have the dividend streak that American States has amassed, both boast equally impressive dividend growth rates over the past decade and slightly higher starting yields. Meanwhile, American State's price to tangible book value is the highest of the three companies. So it's not exactly cheap, either. That said, American State's beta is less than half that of these two peers, suggesting that it still remains a solid option for the risk averse.
Is American States Water a buy?
It's hard to give a clean yes or no when looking at this water utility. For conservative investors American States Water could be a nice addition to a dividend growth portfolio, so long as you are aware that the unregulated military base operation is going to be the key to pushing dividend growth above the company's 5% target. And you have to accept that you are paying full price for that dividend, which, while low risk, is modest relative to other options. Income focused investors and those that prefer value stocks would probably be better off elsewhere.
10 stocks we like better than American States WaterWhen investing geniuses David and Tom Gardner have a stock tip, it can pay to listen. After all, the newsletter they have run for over a decade, Motley Fool Stock Advisor, has quadrupled the market.*
David and Tom just revealed what they believe are the 10 best stocks for investors to buy right now... and American States Water wasn't one of them! That's right -- they think these 10 stocks are even better buys.
Click here to learn about these picks!
*Stock Advisor returns as of May 8, 2018
Reuben Gregg Brewer has no position in any of the stocks mentioned. The Motley Fool has no position in any of the stocks mentioned. The Motley Fool has a disclosure policy.