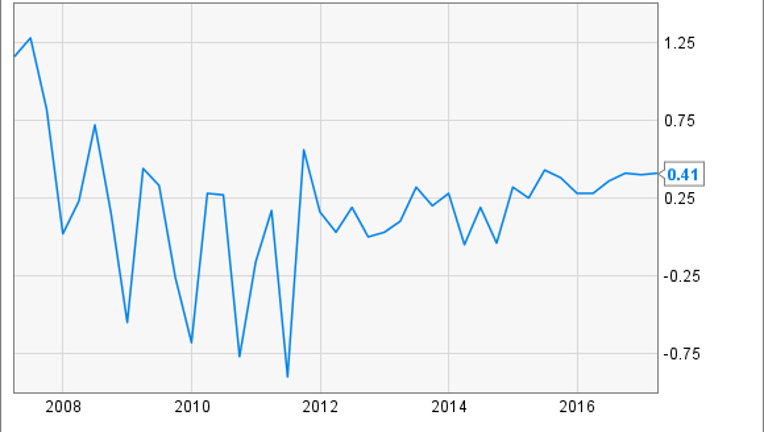 Bank of America (NYSE: BAC) has been the most interesting story in banking over the past decade, as the nation's second-biggest bank by assets worked its way through $200 billion in financial-crisis-related costs.
But while Bank of Americaturned a corner in 2015, it's only now that the bank's progress is being reflected consistently in its results. You can see this in a chart of Bank of America's quarterly earnings per share.
BAC EPS Diluted (Quarterly) data by YCharts.
As you can see, the volatility in Bank of America's earnings per share has declined dramatically over the past two years.
From 2008 to 2012, the bank faced one multibillion-dollar legal settlement after another. The biggest was a $16.65 billion deal with multiple state and federal agencies over the sale of shoddy residential mortgage-backed securities -- principally by Countrywide Financial -- in the lead-up to the financial crisis.
Costs like these caused Bank of America's earnings per share to swing violently from large losses in one quarter to mediocre earnings in another. Thishurts a bank in a number of ways, beyond just giving shareholders heartburn:
It weighs on a bank's valuation, as investors reward certainty.
It hurts a bank's credit rating, which reflects the financial strength of an organization and impacts a bank's cost of funds.
The consistency of earnings is weighed by regulators each year to determine whether to approve a bank's capital return requests as a part of the annual stress test.
Fortunately, Bank of America's earnings should continue only to get better from here.
The Bank of America Corporate Center in Charlotte, North Carolina. Image source: Getty Images.
Its first-quarter performance offers a case in point.Earnings grew 44% through the first three months of the year at the North Carolina-based bank. They were fueled by higher interest rates, which boosted Bank of America's quarterly net interest income by nearly $600 million compared to the year-ago period, as well as higher trading revenues in its investment bank.
The landscape ahead looks even more promising. The Federal Reserve's decision to hike the fed funds rate in March, which marked the second time it had done so in four months, will boost Bank of America's net interest income by $150 million a quarter on a go-ahead basis. And if the central bank follows through on its projected path of interest rates, there could be two more increases in 2017 alone, both of which would bolster Bank of America's profits.
10 stocks we like better than Bank of AmericaWhen investing geniuses David and Tom Gardner have a stock tip, it can pay to listen. After all, the newsletter they have run for over a decade, Motley Fool Stock Advisor, has tripled the market.*
David and Tom just revealed what they believe are the 10 best stocks for investors to buy right now... and Bank of America wasn't one of them! That's right -- they think these 10 stocks are even better buys.
Click here to learn about these picks!
*Stock Advisor returns as of May 1, 2017
John Maxfield owns shares of Bank of America. The Motley Fool has no position in any of the stocks mentioned. The Motley Fool has a disclosure policy.