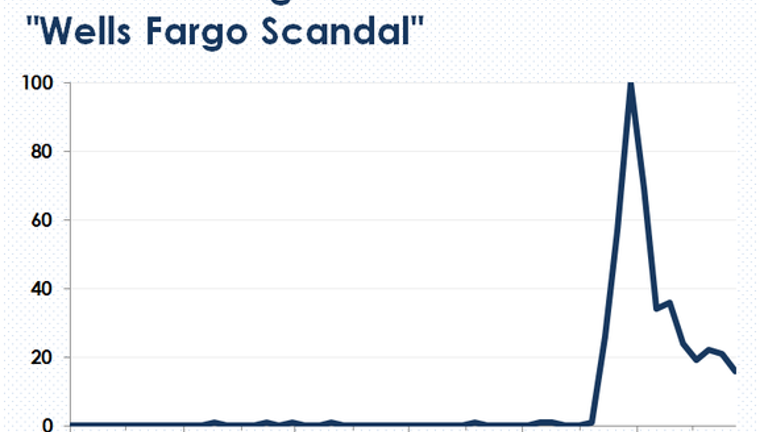 Image source: The Motley Fool.
When the Consumer Financial Protection Bureau announced in September that Wells Fargo (NYSE: WFC) had been caught opening fake accounts for its customers, the California-based bank faced a risk that it has largely avoided for most of its corporate existence: headline risk.
As defined by Investopedia, headline risk is "the possibility that a news story will adversely affect a stock's price."
This is exactly what happened to Wells Fargo in the wake of the CFPB's announcement. Over the next month, shares of the nation's third-biggest bank by assets lost 12% of their value.
Data source: YCharts.com. Chart by author.
How do we know it was headline risk that caused this? We know because the actual damage to Wells Fargo's bottom line was relatively minimal.
The immediate pecuniary impact was so small, in fact, that its executives at the time didn't even believe it represented a material financial event, which would have triggered the duty to disclose it to shareholders prior to the CFPB's announcement.
Wells Fargo ended up paying a $185 million fine, equating to less than 4% of its quarterly earnings, and it's since reported that a handful of institutional customers, principally states and other municipalities, have temporarily suspended their business with the bank.
This isn't to say that Wells Fargo hasn't subsequently disclosed a number of material events related to its fake-account scandal, because it has. On Oct. 12, former chairman and CEO John Stumpf resigned. Two days later, on Oct. 14, the bank reported third-quarter earnings, disclosing a precipitous drop in new account openings.
What's important to appreciate, however, is that all of these events came after Wells Fargo's shares reached their post-scandal low in the first week of October. This suggests that it was headline risk that weighed most heavily on Wells Fargo's shares in the month after its scandal was revealed.
The good news for Wells Fargo and its shareholders is that given the passage of time, as well as Donald Trump's surprising win in last week's presidential election, which has requisitioned the news cycle, this risk is rapidly receding. You can get a sense for this by looking at the trend in Google searches for the term "Wells Fargo Scandal."
Data source: Google. Chart by author.
The trend peaked in the second week of September and has since rapidly declined. A cursory search of The Wall Street Journal and The New York Times forarticles about Wells Fargo confirms this. While both outlets have published pieces about the Wells Fargo scandal since the presidential election, the velocity of the reports has tapered off noticeably.
This, along with the possibility that the incoming Trump administration will dramatically scale back regulations on the banking industry, has fueled a recovery in Wells Fargo's stock, which is now trading at a higher price than it did before the scandal. This serves for investors as a reminder of the maxim: "Time heals all wounds."
10 stocks we like better than Wells Fargo When investing geniuses David and Tom Gardner have a stock tip, it can pay to listen. After all, the newsletter they have run for over a decade, Motley Fool Stock Advisor, has tripled the market.*
David and Tom just revealed what they believe are the ten best stocks for investors to buy right now... and Wells Fargo wasn't one of them! That's right -- they think these 10 stocks are even better buys.
Click here to learn about these picks!
*Stock Advisor returns as of November 7, 2016
Suzanne Frey, an executive at Alphabet, is a member of The Motley Fools board of directors. John Maxfield owns shares of Wells Fargo. The Motley Fool owns shares of and recommends Alphabet (A and C shares). The Motley Fool owns shares of Wells Fargo. Try any of our Foolish newsletter services free for 30 days. We Fools may not all hold the same opinions, but we all believe that considering a diverse range of insights makes us better investors. The Motley Fool has a disclosure policy.