This Automaker Was Left Behind Last Month, but It's No Reason to Panic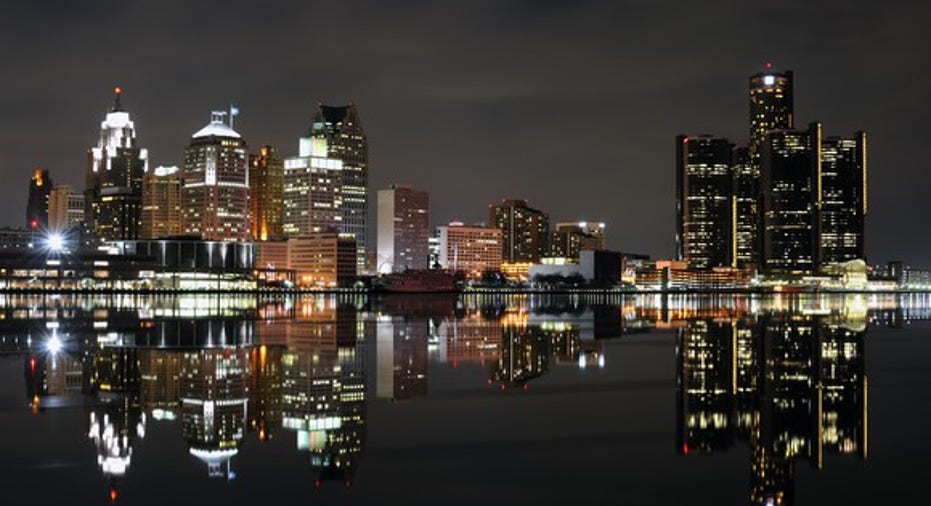 Detroit. Image Source: Getty Images.
For investors and auto analysts alike, the question was simple: How would the Brexit drama impact sales? After all, it doesn't take much to dissuade consumers to hold off on big-ticket purchases, and the Brexit adding economic uncertainty to the global picture wasn't a positive development. Fortunately, the answer to that question was that Americans didn't stop buying vehicles.
"In spite of some severe stock market volatility in June, the American consumer stayed focused on buying new vehicles," Reid Bigland, senior vice president of sales for FCA North America, said in a statement, according to Automotive News.
Management at Ford motor Company went so far as to say that the month was average leading up to the Brexit vote, and that sales actually finished on a strong note. That's all positive news for investors, but let's zoom in on Detroit automakers and look at some key takeaways from June's sales data.
Ford: 240,109 units, 6.4% increase
"Wow, I'm shocked that SUVs and trucks are driving Ford's sales figures," said nobody, ever. Ford's June was a strong month for the automaker and a good way to finish up the second quarter. The F-Series posted an incredible 29% increase in sales last month, topping a crazy-high threshold of 70,000 units. Throughout the first half of the year, Ford sold more than half a million trucks, which was a 13% increase compared to last year's first half.
Ford's story around its SUV segment was similar, as June SUV sales jumped 7% higher to 69,641 units and drove home its all-time record for first-half SUV sales. Escape sales moved 20% higher last month, thanks to the new 2017 model hitting showrooms, and sales of the Edge were up 12% through the first six months of 2016.
There was another positive story for Ford investors from the automaker's luxury brand, Lincoln. While Lincoln's passenger car sales were up only 3%, its SUV sales carried the overall brand to a near 6% gain in June. In fact, through June, Lincoln's SUV sales are up 25% thanks to a 72% surge in the MKX, which is now the brand's best-selling vehicle through the first half of the year.
One knock against Ford's otherwise great sales month was the fact that 37% of its total sales were generated by fleet sales. For comparison, General Motors' fleet mix last month was roughly 18% of total sales. Elevated fleet sales have been the trend thus far into 2016, but Ford's management has repeatedly noted that fleet sales would taper off during the back half of the year.
General Motors: 255,210 units, 1.6% decline
It's been a little more difficult for investors to track General Motors' sales month to month. That's because the automaker has focused on minimizing its fleet sales, and it's done so convincingly. As previously mentioned, GM's fleet sales only represented 18% of total sales, which is below its full-year guidance of 20%. Through June, GM's daily rental fleet sales were down 88,499 units, or 37% from last year's total.
That reduction in rental sales has definitely hindered the company's sales totals, but GM sold nearly 210,000 units to individual retail customers last month, which was a 1% increase compared to the prior year's June.
Similar to Ford, GM is seeing strong demand for its pickups, and that is boosting average transaction prices (ATPs). GM's full-size pickups posted a $3,300 rise in ATPs, compared to last year, and the Silverado recorded its highest monthly ATP in its entire history.
Looking at Chevrolet, GM's best-selling brand in the U.S. market, there were a lot of vehicles posting records. Chevrolet in total had its best June since 2006, and sales of the Colorado, Suburban, Tahoe, and Trax were up 27%, 37%, 25%, and 23%, respectively. The Chevy Impala recorded its best month since September 2008, and the Sonic had its best June ever.
Fiat Chrysler Automobile: 197,073 units, 7% increase
Speaking of impressive records, Fiat Chrysler Automobiles posted its best June sales in 11 years and extended its streak of monthly sales gains to a staggering 75. FCA's Jeep, Dodge, and Ram truck brands posted year-over-year sales gains last month, and Jeep's 17% increase was good enough for its best June ever.
Looking more closely at Jeep, which continues to be the saving grace of FCA, the Wrangler, Patriot, Compass, and Renegade each posted their best June sales ever. It was the 33rdconsecutive month where Jeep logged a sales increase over the prior year's result.
At the risk of sounding repetitive, FCA's Ram truck brand also posted its best June sales in a decade. Sales of the brand were up 14%, and the Ram pickup itself posted its best June sales result since 2004. After you move through FCA's Jeep and Ram sales, though, things get dicey in a hurry.
Sales of the Dodge brand were up only 3% in June, and the only reason the brand has posted a sales increase this year is because the Caravan's sales jumped 94% from 36,876 units to 71,523 year to date. Meanwhile, the automaker's Fiat brand continues to struggle in the U.S. market, posting a sales decline of 19% last month. It's the same song and dance with its Chrysler brand, too, which recorded a 20% drop in sales last month. Both brands are down 19% for year-to-date sales, with little optimism that there will be a rebound in sales during 2016.
Ultimately, with stable fuel prices, rising wages, and historically low interest rates, automakers with a fresh lineup of SUVs and trucks are going to continue doing well. Expect some very profitable second quarters within the automotive industry.
The article This Automaker Was Left Behind Last Month, but It's No Reason to Panic originally appeared on Fool.com.
Daniel Miller owns shares of Ford and General Motors. The Motley Fool owns shares of and recommends Ford. The Motley Fool recommends General Motors. Try any of our Foolish newsletter services free for 30 days. We Fools may not all hold the same opinions, but we all believe that considering a diverse range of insights makes us better investors. The Motley Fool has a disclosure policy.
Copyright 1995 - 2016 The Motley Fool, LLC. All rights reserved. The Motley Fool has a disclosure policy.