This $1.1 Billion Industry Spells Opportunity for Video Game Companies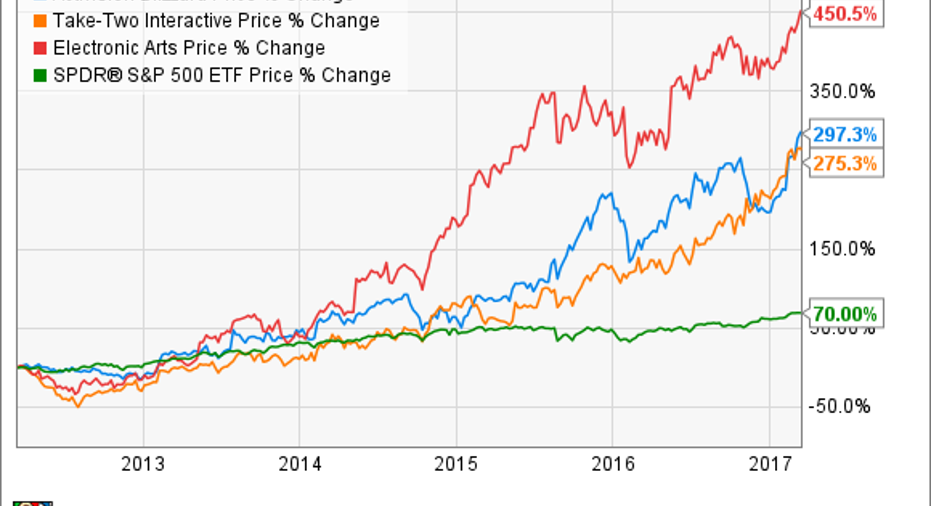 Competitive gaming, or e-sports, is expected to cross $1 billion in revenue by the end of 2018, according to SuperData Research. E-sports is not profitable yet, and is still a relatively small market by revenue ($893 million estimated in 2016), but it's growing fast and promises to be a great marketing tool for video game companies to drive higher sales and engagement with certain franchise titles.
E-sports has gone mainstream
Competitive gaming is big business. IMAGE SOURCE: PIXABAY.
The nature of competitive gaming used to be nothing more than two buddies sitting on a couch battling it out over a match of Mario Kart or Street Fighter. Today, fast internet connections and advancements in graphics technology have created the perfect environment for players from around the world to hook up online over a game console or PC.
The interesting thing is that there are at least as many people who like to watch others play games as there are game participants. Newzoo says the global e-sports audience will hit 385 million this year. This is why e-sports has attracted the attention of companies outside the video game industry to sponsor tournaments.
It's also why Amazon.comspent nearly $1 billion to acquire the game-streaming site Twitch in 2014.The competitive nature of some video games, like Riot Games' League of Legends, can fill entire arenas with spectators who want to watch a small group compete at the highest level for cash prizes that can reach into the millions.
In its 385 million audience count, Newzoo puts the number of "occasional viewers" at 194 million, slightly more than the 191 million who are estimated to be "enthusiasts." Newzoo expects the number of enthusiasts to grow 50%, to 286 million, by 2020.
The opportunity for investors
The three major game publishers -- Activision Blizzard (NASDAQ: ATVI), Electronic Arts (NASDAQ: EA), and Take-Two Interactive Software (NASDAQ: TTWO) -- all have an interest in increasing the audience for games. Publishers see the growing global audience for e-sports as the perfect opportunity to market games to entirely new audiences, as well as increase interest for particular titles among active gamers.
The benefit to investors in video game companies is the prospect for significant growth in engagement with the franchises, especially those games designed with competitive gaming in mind.It's no coincidence that the most competitive games, like Activision's Call of Duty, also generate a lot of profit through in-game content sold to players directly over PC and console. For perspective, in-game content revenue was 55% of Activision Blizzard's total revenue for 2016.
Activision Blizzard created its new franchise, Overwatch, "to be the definitive competitive game," according to the CEO during the third-quarter conference call in November. CEO Bobby Kotick said on the February recent conference call, "Our ambition is to create nothing less than the e-sports equivalent of the world's established major professional leagues." (Transcript via Seeking Alpha.)
The game has been a tremendous success, registering 25 million players as of the most recent quarter. Depending on the level of interest in the upcoming Overwatch League, there could be an increase in Overwatch player registrations and higher sales of in-game content.
Other publishers are getting in on the action, as well. The NBA and Take-Two recently teamed up to start the NBA 2K eLeague. Take-Two's NBA 2K franchise has sold more than 60 million units since its debut in 1999. Along with EA's FIFA and Madden franchises, NBA 2K is one of the most popular sports franchises available.
Electronic Arts created its Competitive Gaming Division to oversee e-sports events for its Battlefield, Madden, and FIFA franchises. EA plans to expand the division even further in fiscal 2018.CEO Andrew Wilson said on a recent conference call, transcript via Seeking Alpha: "Our focus for EA's Competitive Gaming Division is to grow engagement in some of our biggest global franchises. With strong results to date, we will now expand EA Competitive Gaming even further in FY 2018, fueled by more competitions, new sponsors and broadcast partners and original programming."
E-sports is a marketing tool
At this early stage in its development, e-sports is not profitable because the revenue derived from advertising, tickets, merchandise, etc. is being reinvested in the e-sports economy. Right now, the main interest in e-sports for publishers is to reach new audiences and drive higher interest in games.
However, investors should pay attention to developments with Activision Blizzard's Overwatch League. CEO Bobby Kotick is a great businessman and there can be little doubt he wants Overwatch League to be a profitable business in the long run for shareholders.
In the long run, Activision Blizzard, Electronic Arts, and Take-Two stand to benefit the most as these companies design games targeting competitive gamers and start professional gaming leagues to capitalize on the growing popularity of e-sports.
10 stocks we like better than Electronic ArtsWhen investing geniuses David and Tom Gardner have a stock tip, it can pay to listen. After all, the newsletter they have run for over a decade, Motley Fool Stock Advisor, has tripled the market.*
David and Tom just revealed what they believe are the 10 best stocks for investors to buy right now... and Electronic Arts wasn't one of them! That's right -- they think these 10 stocks are even better buys.
Click here to learn about these picks!
*Stock Advisor returns as of February 6, 2017
John Ballard owns shares of Activision Blizzard. The Motley Fool owns shares of and recommends Activision Blizzard, Amazon, and Take-Two Interactive. The Motley Fool recommends Electronic Arts. The Motley Fool has a disclosure policy.