Third Time Is Not the Charm for PPG as Azko Nobel Rejects Another Offer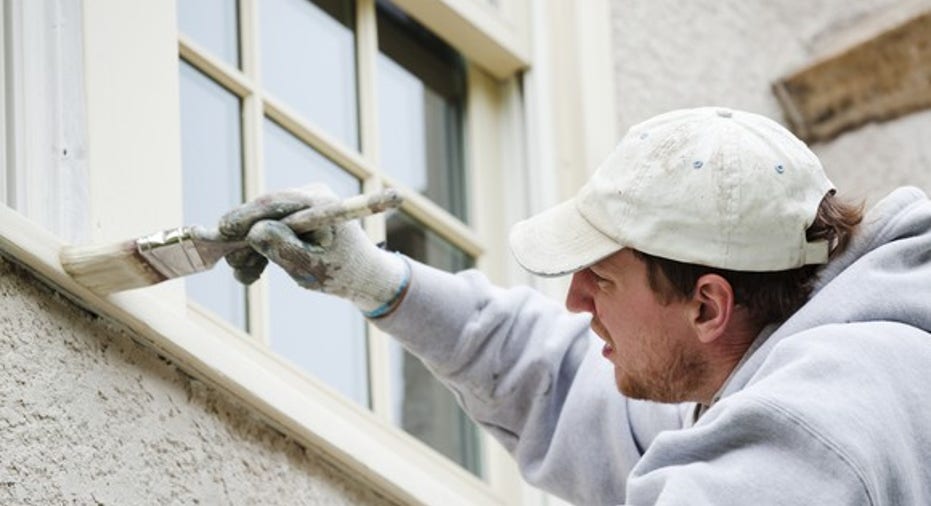 PPG Industries (NYSE: PPG) has apparently taken to heart the old saying "If at first you don't succeed try, try again" in its pursuit of coatings specialist Akzo Nobel (NASDAQOTH: AKZOY). The suitor has now made three offers to acquire its rival, the most recent for $28 billion.
Equally applicable would be the retort "What part of the word 'no' don't you understand?" Akzo Nobel has rejected each and every overture as too low and not in the interest of its shareholders -- but now a hedge fund thinks the company's chairman needs to go due to that refusal to entertain PPG's offers.
Image source: Getty Images.
Covering the world
PPG Industries has been pursuing a growth-by-acquisition strategy. In just the past year, it has purchased companies in China, Italy, Romania, and the U.S., building on previous acquisitions,such as its acquisition of Mexican paint giant Comex and Dutch paint producer SigmaKalon.
The coatings industry is undergoing a bit of consolidation. Sherwin-Williams is attempting to buy Valspar, and previously attempted to buy Comex before getting rejected over antitrust concerns, which led to PPG stepping in. A number of European paint companies have also been buying each other out.
If its purchase of Valspar is completed, the deal will catapult Sherwin-Williams from the third-largest coatings company to first place, with combined revenues of around $16 billion annually. That would put it just ahead of No. 2 PPG, and comfortably in front of current No. 4 Azko. However, if PPG and Akzo merged, they would be the global leader.
It's not me, it's you
The first public indication PPG was interested in Akzo Nobel came in early March, when it was revealed the latter had rejected an unsolicited $22 billion as too low. Akzo said instead it would consider spinning off its chemicals business and increase its dividend and boost shareholder value.
Image source: Getty Images.
However, because many analysts saw the businesses as highly complementary and a good fit for each other, they expected PPG to come back with a higher offer, which it did a few weeks later, raising its bid to $24 billion, though Akzo rejected it almost immediately again saying it was too low. The target company also said it believes there would be significant antitrust objections, and doubts PPG's ability to complete such a large transaction since it has never closed a deal this big.
However, Akzo Nobel's apparent refusal to seriously entertain PPG Industries' offers has riled some of its shareholders who, when PPG returned with its third (and what it said was itsfinal) offer, demanded it at least meet with PPG to discuss the union. While those meetings reportedly occurred, the outcome was the same. So hedge fund Elliott Advisors announced it was taking Akzo to court to force it to hold an extraordinary shareholders meeting to discuss toppling its chairman. Elliott has a 3.25% stake in Akzo Nobel, but it has gathered enough support from other investors to meet the 10% threshold that, under Dutch law, gives them the right to insist the company call such a meeting.
It is still possible that PPG Industries will launch a hostile takeover attempt of its rival, but that option comes with the highest hurdles because of general opposition in the Netherlands toward them. Moreover, Akzo Nobel has in place what is known as a stichting -- a once-obscure Dutch business structure that has come back into use in recent years due to its suitability as a poison-pill defense against hostile takeovers.
A Dutch poison pill
Stichtings are legal entities that have no members or capital. Unlike some other poison pill tactics, instead of diluting shareholders, they prevent would-be acquirers from gaining a majority of voting shares or electing people to the board of directors. The structure gained a bit of notoriety when Mylan used one to parry a takeover by Teva Pharmaceutical two years ago.
Image source: PPG Industries.
Also under Dutch law, PPG has only until June 1 to make another attempt before it would be blocked from doing so for a period of six months. It may instead choose to wait until after Akzo Nobel divests itself of its chemicals business, which the paint specialist said it was contemplating as a means of returning value to shareholders instead of allowing itself to be acquired.
The risk for both parties is that a slimmed-down Akzo Nobel could prove a more appealing target that attracts competing bids from other companies.
Currently, Azko Nobel doesn't look like it wants to be a part of the consolidation underway in its industry -- unless, perhaps, it is the one doing the acquiring. While its hedge fund shareholders may hope to oust the coatings company's chairman, given that the Netherlands' political establishment largely backs Akzo, that effort may be as successful as PPG Industries' three bites at the apple.
10 stocks we like better than PPG IndustriesWhen investing geniuses David and Tom Gardner have a stock tip, it can pay to listen. After all, the newsletter they have run for over a decade, Motley Fool Stock Advisor, has tripled the market.*
David and Tom just revealed what they believe are the 10 best stocks for investors to buy right now... and PPG Industries wasn't one of them! That's right -- they think these 10 stocks are even better buys.
Click here to learn about these picks!
*Stock Advisor returns as of May 1, 2017
Rich Duprey has no position in any stocks mentioned. The Motley Fool recommends Sherwin-Williams and Teva Pharmaceutical Industries. The Motley Fool has a disclosure policy.