Think Caterpillar Inc.'s Stock Will Soar After Its Fantastic Run in 2016? Read This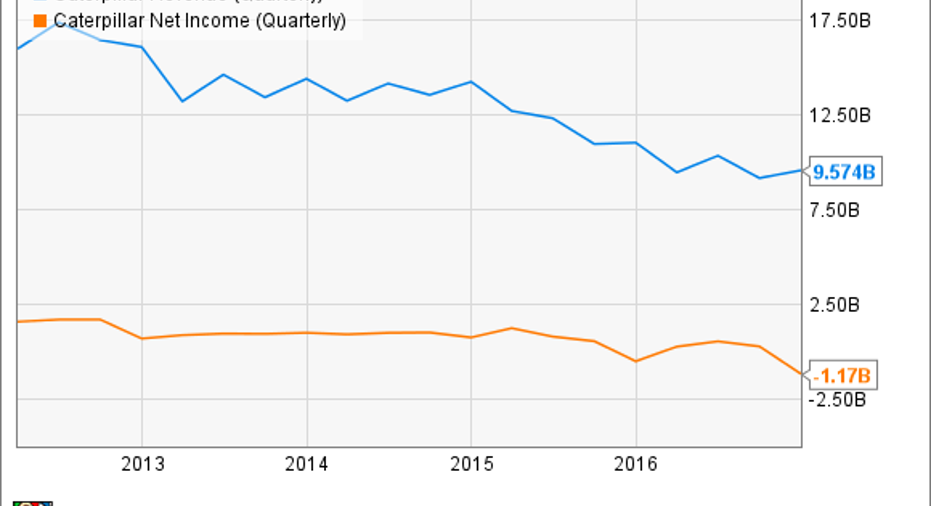 Caterpillar Inc.'s (NYSE:CAT)sales and profits may still be falling, but none of it is discouraging investors. As prices of key commodities bottomed out, Caterpillar stock made a dramatic recovery in 2016 after a long lull, ending the year up 37%. Shares inched even higher to hit a 52-week high last month after President Donald Trump restated his campaign promise to prioritize America's infrastructure during his inauguration speech:
Sure, those words hold a lot of meaning for Caterpillar, as there's a strong chance the leading construction equipment manufacturer's machines will be put to use to restore the nation's crumbling infrastructure. But given its stunning recent rally and the exorbitant premium that it's commanding without any growth in earnings, Caterpillar stock will need more than just expectations to maintain its momentum in 2017.
Image source: Getty Images.
One Chart Reveals Caterpillar's Woes
Caterpillar's recently released fourth-quarter numbers confirm that the company's woes are far from over yet. Caterpillar's sales slumped 13% year over year and its net loss jumped manifold to $2 per share in Q4. Its adjusted profit came in flat at around $0.83 per share, but you just need to see one chart to understand how terrible things are at Caterpillar.
CAT Revenue (Quarterly) data by YCharts.
Have you guessed what I'm trying to point out? Caterpillar's Q4 sales and profits were at multiyear lows, which is as bad as it can get at a time when investors are betting on a potential turnaround.
On a positive note, Caterpillar ended the fourth quarter with $12.1 billion in backlog, up almost $500 million sequentially. I don't remember the last time Caterpillar reported positive backlog numbers. Management didn't sound excited, though, and all it said was that orders were "decent" in Q4 and the rise in backlog was divided between its resource industries (mining) and construction industries segments. Energy and transportation -- Caterpillar's largest segment by sales -- remains under pressure. Simply put,don't read much into that rise in backlog yet, as Caterpillar's challenges clearly outweigh its growth catalysts.
Why 2017 Could Still be One of Caterpillar's Worst Years Yet
Caterpillar bulls are primarily betting on higher infrastructure spending in the U.S. The optimism, if not out of place, is mistimed, as there's no clarity yet about what Trump plans to do and how. Moreover, when the projects start, the construction industry will have to work through the existing stockpiles of new and used equipment before orders can flow in to Caterpillar's top line. The world's largest heavy-equipment auctioneer and leading used-equipment seller, Ritchie Bros. Auctioneers just confirmed how strong the secondhand market is when it sold equipment worth a record $4.3 billion in 2016.
Caterpillar knows the road ahead isn't easy, which is why it doesn't expect to see any impact of infrastructure spending until at least 2018. If that isn't worrisome enough, Caterpillar's outlook for key markets for 2017 should make investors tread with caution.
Segment
Positives
Concerns
Resource industries
Bottoming of commodity prices
Miners' capital spending flat,
sales of large equipment to fall further
Construction industries
Recovery in China,
Europe stabilizing
Used equipment supply glut in North America,
deteriorating sales in the Middle East/Africa,
Brexit
Energy and transportation
Strong demand for turbines
Weak demand from rail, marine, power generation, and industrial engines markets
With challenges aplenty, Caterpillar even lowered its 2017 guidance last quarter to earnings of about $2.3 per share on revenue worth $37.5 billion at the midpoint. The good news is that it compares to a loss of $0.11 per share that the company incurred in 2016 as goodwill impairment and restructuring costs swelled up. It's worth mentioning here that Caterpillar's aggressive restructuring efforts -- which included the closure or consolidation of at least 30 facilities and a head-count reduction of more than 16,000 since Q3 2015 -- have cost the company almost $1.9 billion in restructuring costs. Caterpillar expects to incur another $500 million or more each in 2017 and 2018.
The bad news is that Caterpillar stock already appears priced as if a turnaround this year is a given, which clearly isn't the case. Caterpillar may still have a long road to recovery, so if you're betting on the stock at current prices, beware of the risks.
10 stocks we like better than Caterpillar When investing geniuses David and Tom Gardner have a stock tip, it can pay to listen. After all, the newsletter they have run for over a decade, Motley Fool Stock Advisor, has tripled the market.*
David and Tom just revealed what they believe are the 10 best stocks for investors to buy right now... and Caterpillar wasn't one of them! That's right -- they think these 10 stocks are even better buys.
Click here to learn about these picks!
*Stock Advisor returns as of February 6, 2017
Neha Chamaria has no position in any stocks mentioned. The Motley Fool has no position in any of the stocks mentioned. The Motley Fool has a disclosure policy.