Things Could Get Even Worse for Fitbit Stock If Apple Makes This Move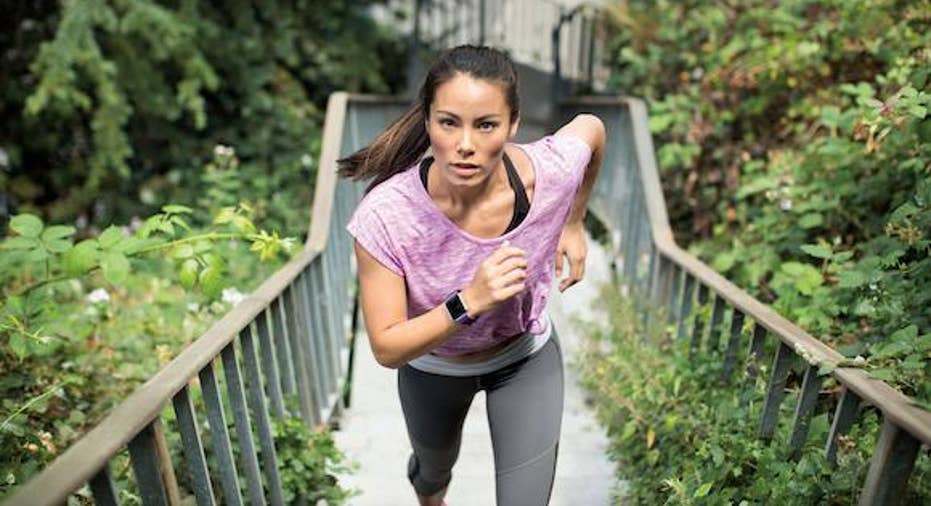 Image source: Fitbit.
As if things weren't already looking bleak for Fitbit -- it's stock is down more than 40% over the past 12 months --it appears they could get even worse if Apple starts moving down-market to more basic wearable devices.
That's what analysts from Pacific Crest believe will happen (first reported on Barron's), and there's some sound logic behind their speculation. Firstly, the analysts argue that Apple is already deeply committed to the wearable technology market, and for that very reason it's likely Apple will eventually release different types of wearable devices -- just as there are different iPads, Macs, and iPhones.
Secondly, they say there's a definite demand for wearable tech, but not necessarily for the features of the Apple Watch. They said that"... consumers appear to prefer a simplified and relatively inconspicuous version of technology that collects information while leaving complex interactions to devices that are better suited for the task."
The evidence of this comes from sales of the Apple Watch in 2015, which were estimated at 10 million. Meanwhile, Fitbit sold 21 million fitness trackers, and total wearable sales were 78 million in the same year. That shows that despite Apple's large user base, branding, and marketing, it still doesn't grab the lion's share of the wearables market.
But that could change soon.
Apple unlikely to stopHow about the Apple iTracker?OK, I just made that name up, but the idea is that Apple could add another wearable tech device into the mix, and clobber the competition.
Already, the Apple Watch made some huge gains on Fitbit in the eight months after it launched, and the iMaker could bring down Fitbit even further if it decidedly entered the basic fitness tracker market.
A cheaper Apple wearable device would put it in even more direct competition with Fitbit's more basic offerings, and allow Apple the opportunity to target users who want a fitness tracker or basic wearable, without shelling out $300 (or more) for a high-end Apple Watch.
And at this point it seems nearly inevitable that Apple will move in this direction. Using Fitbit as an example, the company recently tried to expand its own wearable market share by releasing the Blaze smartwatch. That gives Fitbit a bigger wearable footprint than Apple.Samsunghas made a similar move to expand its wearable reach across multiple price segments.
Grabbing a $40 billion market Apple doesn't want to leave any money on the table in the wearables market, and stubbornly staying in just the high-end smartwatch segment would do that.
The overall wearables market will be worth $40 billion by 2020, and 320 million units are forecast to be shipped that year, according to IHS. That's simply too big of a market for Apple to limit itself to just smartwatches.
Research firm IDC recently wrote that there's room in the wearable space for both smartwatches and fitness trackers:
And this leaves plenty of room for Apple to enter the market without hurting sales of its smartwatch.
A new, cheaper Apple fitness tracker could act as an introductory device to get Apple users who aren't already into wearable tech hooked on the concept. This would give Apple the opportunity to later convince them to spend more and get an Apple Watch further down the road. And if it can do that, then it could truly own the wearable tech market, and largely at Fitbit's expense.
The article Things Could Get Even Worse for Fitbit Stock If Apple Makes This Move originally appeared on Fool.com.
Chris Neiger has no position in any stocks mentioned. The Motley Fool owns shares of and recommends Apple. Try any of our Foolish newsletter services free for 30 days. We Fools may not all hold the same opinions, but we all believe that considering a diverse range of insights makes us better investors. The Motley Fool has a disclosure policy.
Copyright 1995 - 2016 The Motley Fool, LLC. All rights reserved. The Motley Fool has a disclosure policy.