These Offshore Drilling Stocks Got Killed in December: Here's What You Need to Know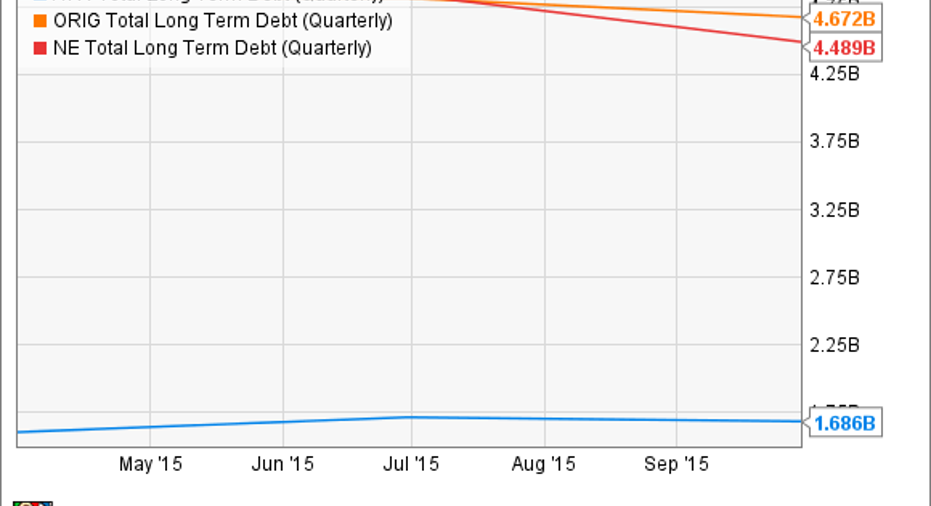 What:Shares of offshore oil drillersOcean Rig UDW Inc,Noble Corporation, andAtwood Oceanics, all sank by double-digit amounts in December, and largely because of another sharp decline in crude oil prices in the month:
For offshore drilling investors, it was just another bad month in an awful year:
So what:Oil prices were certainly the key driver behind the share price drop for all three companies, but does this further decline in oil prices really spell doom for the industry in general and these three drillers in particular?
While a drop in oil prices over a one-month period certainly drove the market's sell-off of these stocks, it's more important to have an idea of the underlying strength of each company as a business, with regards to its fleet, its balance sheet, and its backlog of contracted business.
A closer look at the numbersBelow is a summary of the fleet status and backlog of all three companies:
| Company | Number of Working Vessels | Vessels off Contract | Contracts Expiring in 2016 | Total Backlog | Newbuilds |
| --- | --- | --- | --- | --- | --- |
| Atwood | 11 | 2 | 7 | $1.6B | 2 |
| Noble | 32 | 7 | 7 | $8.1B | 1 |
| Ocean Rig | 10 | 1 | 3 | $3.8B | 3 |
Source: Corporate SEC Filings
Let's take a look at fleet and contract specifics in detail below. First, total long-term debt:
ATW Total Long Term Debt (Quarterly) data by YCharts
Noble Corp paid $54.7 million in interest last quarter, while Ocean Rig paid $67.2 million. Atwood Oceanics, on the other hand, paid $52.6 million for all of fiscal 2015. In other words, it's not just the total amount of debt, but also the cost of servicing that debt that matters. Debt must be considered within the context of each company's size as well.
Atwood Oceanics and Ocean Rig UDW are similar in fleet size, but Ocean Rig carries more debt than Noble Corp, which has three-times as many vessels. Fleet mix must also be considered. Noble's fleet is made up of more jackup rigs and older, less capable vessels, while Ocean Rig's fleet is primarily newer, high-spec drillships and semisubmersibles. Atwood also has a number of jackups, though they are newer than most of those operated by Noble. This matters because jackups are one of the most oversupplied segments of offshore drilling, and command by far the lowest day rates.
What do we learn when we consider the fleet makeup, contract status and backlog, and debt profile of each of these companies? Here's what I see.
Noble: The strongest backlog of the three, only one newbuild on order, and that newbuild is under contract. But it also has a lot of vessels not working, and another seven coming off contract this year. And while it has a relatively low debt level for its size, the majority of vessels with contracts expiring within a year are semisubmersibles and drillships, which command the highest day rates. In other words, a lot of Noble's cash flow is at risk if the current downturn in offshore exploration continues, though its lower debt level means the company could afford to idle or even scrap some of its older vessels, lowering operating costs and giving it more leeway to ride out the downturn.
Ocean Rig: A relatively strong backlog and won't have any of its three newbuilds delivered before Q2 of 2017, but the company's large debt load and expense means it has a narrower margin of error. Of its three vessels with expiring contracts, the first ends in Q1, and the other two in the second half of the year. In other words, the company has some breathing room, but if the downturn doesn't reverse this year, it could get ugly because of the company's high leverage.
Atwood Oceanics: The weakest backlog, but also the most financial flexibility and by far the lowest operating costs of the group. Furthermore, the vast majority of its contracts ending in 2016 expire in September or later. It may not seem like much, but at this stage of the downturn a few months can make a big difference.
Now whatFrankly, none of these three companies seem to really be at risk of not making it through the downturn. That's not to say, however, that uncertainty and oil price volatility won't continue to wreak havoc with their share prices. Furthermore, as long as oil prices stay down, expensive offshore oil development will be a back-burner priority for most oil companies. Add in the glut of vessels competing for work, and it's likely that the few new contracts awarded this year will pay significantly lower day rates than those set to expire.
As things stand today, I'm more likely to remain on the sidelines and let things shake out, but of the three, Atwood Oceanics is probably the only one I'd invest in today. Ocean Rig's debt load creates a lot of risk, while Noble Corp's older fleet may force the company to get smaller before things turn around. Atwood's backlog is not pretty, but its low debt load and operating costs give it flexibility that the other two just can't match. And that flexibility could make all the difference over the next couple of years.
The article These Offshore Drilling Stocks Got Killed in December: Here's What You Need to Know originally appeared on Fool.com.
Jason Hall has no position in any stocks mentioned. The Motley Fool owns shares of and recommends Atwood Oceanics. Try any of our Foolish newsletter services free for 30 days. We Fools may not all hold the same opinions, but we all believe that considering a diverse range of insights makes us better investors. The Motley Fool has a disclosure policy.
Copyright 1995 - 2016 The Motley Fool, LLC. All rights reserved. The Motley Fool has a disclosure policy.