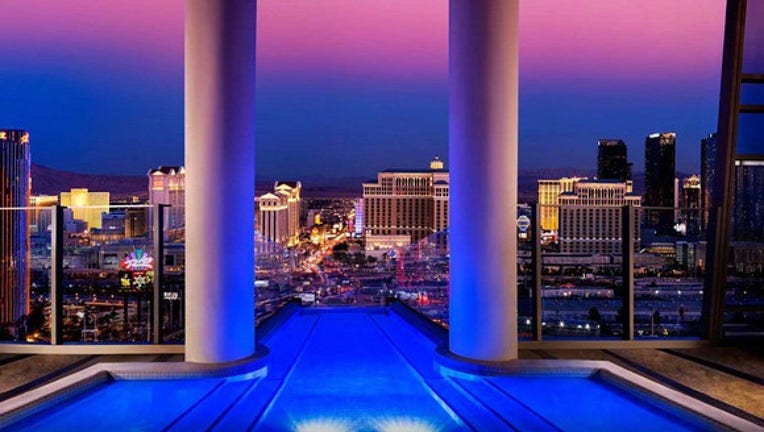 There are some extremely lavish hotel rooms in Las Vegas, some of which regularly host major celebrities and world leaders when they visit the iconic city.The Las Vegas Strip is constantly evolving as more and more resorts open along the 4-mile corridor of neon lights and street performers, which already hosts half of the world's 10 largest hotels.
Some of the most expensive hotels in Las Vegas
As an average Las Vegas visitor -- i.e. those without access to special high-roller perks -- one still has access to some remarkable hotels. However, for VIP clientele, the options get far more extravagant. Take the Caesars Palace and its Titus Villa, for example. This 11,200-square-foot villa offers three bedrooms, complete with a billiard room and media room, with silk-upholstered walls. Guests also have access to the villa's private garden and spa. All of this starts at a cool $25,000 for one night.
Image source: Caesars Entertainment.
Even more grandiose is theThe Mansion at MGM Grand, an expansive, Tuscany-inspired private estate with 24/7 butler service. The variousuniquely designed Mediterranean villas come in one- to four-bedroom options, and the most impressive have their own indoor swimming pool. Prices for the resort aren't listed, but "qualified guests only" can call for reservations.
Image source: MGM Resorts.
The Sky Villa at the Palms Casino Resort, a two-story suite with five and a half bathrooms, a personal glass elevator, and massage rooms in the suite, will run guests up to a whopping $35,000. The Palms is just off of the strip, and the room offers a "cantilevered pool," meaning that the glass-enclosed pool extends off of the balcony so that guests can look through the water and glass to the city they are lounging above.
Image source: Palms Resort.
Then, there's the Nobu Villa at Caesars Palace, which itself starts at $35,000 per night. This 10,300-square-foot rooftop Japanese-inspired palace comes complete with custom music, spa services, and private Zen garden. The villa offers a sky deck with fire and water features, bar, and outdoor dining area that overlooks the Strip.
Image source: Caesars Palace.
The few operators that control most of the market
When it comes to the companies that own the 87,000 hotel rooms on the Las Vegas strip, there are only a few that control most of the supply.Wynn Resorts (NASDAQ: WYNN), Caesars Entertainment (NASDAQ: CZR), Las Vegas Sands (NYSE: LVS), and MGM Resorts International (NYSE: MGM) collectively control the majority.
Of those, MGM resorts is the biggest in terms of supply, controlling about half of all rooms on the Strip across its 11 major properties there. MGM Resorts is the parent company of some of the most luxurious resorts in Las Vegas, such as MGM Grand with the Mansion showcased above, as well as many midlevel resorts on the Strip like the Luxor and New York, New York.
Caesars is the parent of Caesars Palace, which is host to the Nobu hotel, as well as the Paris Las Vegas and seven other resorts nearby for a total of over 23,000 rooms. Las Vegas Sands boasts the largest hotel in the city, the second-largest in the world, with The Venetian (and adjacent Palazzo) at about 7,200 rooms total. However, since Las Vegas Sands lacks many other resorts it still has far fewer total rooms in Vegas than MGM or Caesars.
When it comes to some of the most profitable rooms, however,Wynn is the leading large-scale hotelier in the city. An important metric for gauging hotel success at these resorts is revenue per available room, or RevPAR -- a measure that accounts for average daily room rate (ADR) multiplied by total occupancy.Though Wynn is the smallest player here in terms of total number of rooms on the Las Vegas strip, the company reported the highest ADR among its Las Vegas operations of any of the companies listed above, with an average room rate of $296 for full year 2016. With an occupancy of 85.3%, Wynn's Las Vegas RevPAR during the year was $252. Compare that with $230 for Las Vegas Sands, and $140 for MGM Resorts.
Wynn has big plans for its next phase of hotel development in Las Vegas, including another 1,000-room hotel overlooking a new on-property development calledParadise Park,which will feature a 38-acre clear water lagoon surrounded by white-sand beaches. With a record 43 million visitors to Las Vegas in 2016, and more anticipated in the years ahead, expect the hotel market there to continue expanding.
10 stocks we like better than Wynn ResortsWhen investing geniuses David and Tom Gardner have a stock tip, it can pay to listen. After all, the newsletter they have run for over a decade, Motley Fool Stock Advisor, has tripled the market.*
David and Tom just revealed what they believe are the 10 best stocks for investors to buy right now... and Wynn Resorts wasn't one of them! That's right -- they think these 10 stocks are even better buys.
Click here to learn about these picks!
*Stock Advisor returns as of February 6, 2017
Seth McNew owns shares of Las Vegas Sands. The Motley Fool is short Caesars Entertainment. The Motley Fool has a disclosure policy.