These 8 Apps Can Help Your Kids Be Better With Money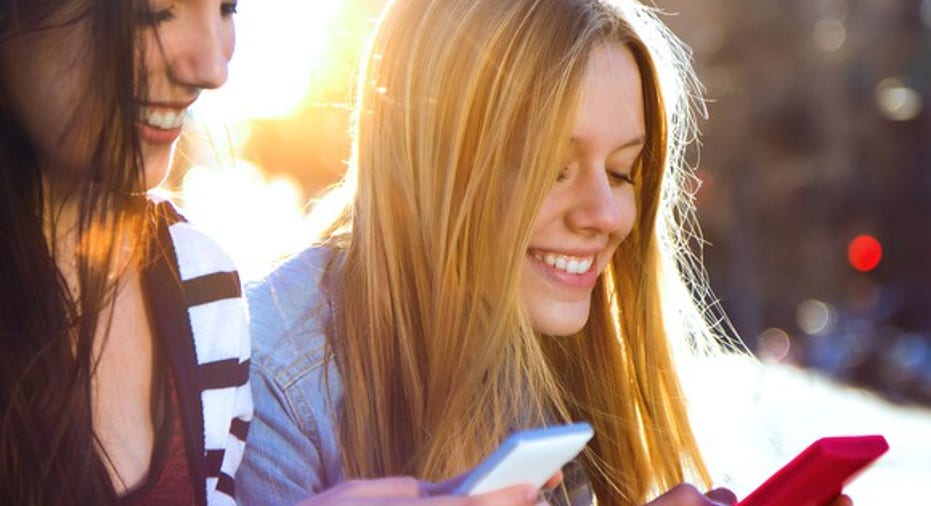 Image source: Getty Images.
Every parent is concerned with their kids' financial well being. However, once they're on their own, young adults struggle with money habits. Only 34% of four-year college students create a budget, and 50% don't check their account balance, according to a report. Even worse, 46% stop spending when resources are low. And things look worse for students when they graduate, as a 2016 survey by Citizens Banks shows that millennial graduates with student loans spend an average of 18% of their salary on student loan payments.
Too many young adults are learning fiscal responsibility the hard way. That's why it's vital for parents to teach their kids good financial habits like budgeting, saving, and investing. But how can you effectively ingrain those habits? One creative approach involves letting your kids use what they know: technology.
Here are eight apps that can help your children take control of their finances. We'll even tell you how they work so you can pitch them to your kid.
If your child doesn't have a budget
1.MintAt the core of any financially healthy lifestyle is a budget, and Mint is one of the most popular apps to help people create one. The service allows users to input their income and expenses and create a budget tailored to their goals and priorities. The service then connects to their accounts and monitors their spending. Mint users can also check their credit score and categorize spending.
2.LevelIf your kid's on a really tight budget and trying to monitor every penny, then additional budgeting with Level could prove useful. The app calculates and monitors your "Spendable" money, which is money remaining after bills have been paid and money has been saved. It can show your kid how much they have left to purchase Pumpkin Spice Lattes, tickets to the next Zac Efron thriller, or special "beverages."This will help them spend below their means.
If your child has a budget and is looking to cut corners and save money
3.ShopkickOnce your child sets up a budget, now it's time for them to start saving money. For necessary shopping trips, they can use Shopkick, an app where users acquire points that they can use to purchase gift cards. Users can earn points by entering stores, scanning select items, making purchases, and taking pictures of receipts. Users who rack up 300 points a week can earn about $100 per year in gift cards.
4.GrouponGroupon partners with all kinds of businesses to provide discounted prices on goods and services. Users purchase "groupons" within the app and then use them at checkout to redeem their savings. The deals cover everything from meals to umbrellas to eye exams. The app is especially popular for buying classes, like cooking, self-defense, exercise, art, and more.
Note that when considering a purchase, it's important to read the fine print and understand each deal's unique restrictions, such as expiration dates and number of purchases per person. Also be sure to use the app for items you already intended to purchase, rather than spending money on unintended purchases (like half-off massages that still cost $50).
5.Gas BuddyGas Buddy lets you enter your city or zip code and then shows you the cheapest gas options within your area. Given that the average 20- to 34-year-old travels about 15,000 miles per year, if you travel at 25 miles per gallon and save $0.15 per gallon via the app, then you're saving $90 each year. Just make sure that the extra gas used traveling to the deal doesn't cost more than the savings.
6.DigitIf you're constantly forgetting to save money, Digit does it for you. Every two or three days, the app checks your account to analyze what amount of money can be safely set into your savings account (typically $5 to $50,per the website) and puts it in your savings account. Digit also has a "no overdraft fee" policy, so you don't have to worry about unexpected charges. If the app puts just $10 into your savings account twice a week, then you'll save $1,040 a year.
If your child is financially proficient and ready to take the steps into investing
7.AcornsThose who are financially thriving and looking to invest for the future can start with some low-stakes investing through Acorns. The app connects to the user's card, and when they make purchases, Acorns rounds the purchase up to the nearest dollar. Then, that change is invested into a diversified portfolio of low-cost exchange traded-funds.The portfolio is managed by engineers, mathematicians, and a Nobel Prize-winning economist, according to the website. If a 25-year-old placed $10 a week into the service for just one year, and that money earned a 7% return (a realistic long-term return for the stock market), then that user would have almost $4,000 by age 55.
8. The Motley Fool appFinally, if your child is in a great financial situation and looking to make heavier investments in the stock market, using The Motley Fool app can provide the tools to invest in the market. Users can read our articles and watch podcasts, in addition to using our premium content if they have subscriptions. If your child habitually places $50 in the stock market each month starting at age 20, earning 7% per year, then by age 50 they'll have $58,473 in savings.
Whether your child is a Warren Buffet in the making or is getting their debit card declined at Trader Joe's, there's always room to be better with money, and now you can give them the tools to do it. That is, if you can figure out what an app is or how to download it.
The article These 8 Apps Can Help Your Kids Be Better With Money originally appeared on Fool.com.
Try any of our Foolish newsletter services free for 30 days. We Fools may not all hold the same opinions, but we all believe that considering a diverse range of insights makes us better investors. The Motley Fool has a disclosure policy.
Copyright 1995 - 2016 The Motley Fool, LLC. All rights reserved. The Motley Fool has a disclosure policy.