These 5 Vehicles Have the Best Resale Value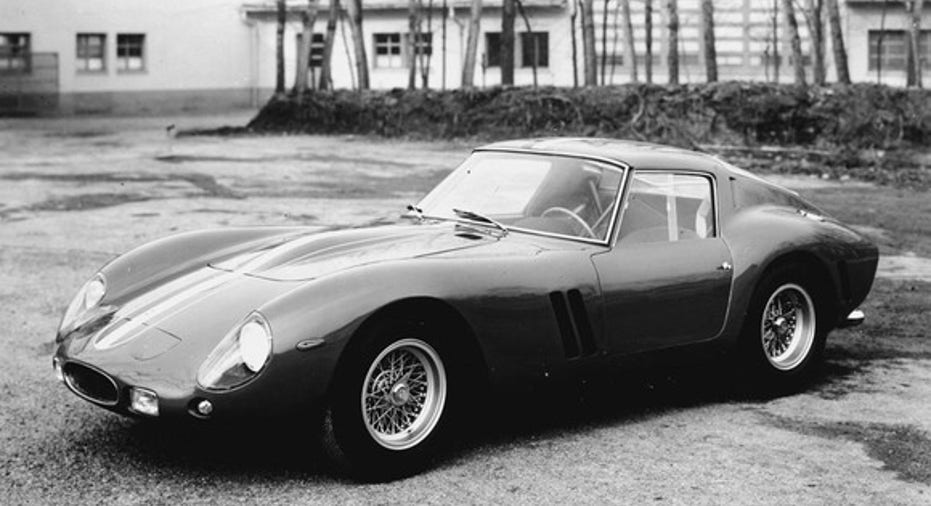 There's a reason cars aren't considered an investment: As soon as you drive them off the dealer lot, they begin depreciating in value. Precious metals, art, and real estate can all appreciate once you take ownership, but unless you're bidding on a 1962 Ferrari 250 GTO (it sold in 2014 for more than $34.6 million, making it the most expensive car sold at auction), you should consider the car you're thinking about buying a depreciating asset and weigh its utilitarian value more heavily.
Few cars appreciate in value like this 1962 Ferrari 250 GTO, so car buyers should take note of those that retain as much of their value as possible. Image source: Ferrari.
That means car buyers should compare an auto's estimated resale or residual values so that when they go to trade it in later on, or sell it privately, they'll get the biggest return for their money.
Recently, Kelley Blue Book released its third-quarter 2016 survey on retention values for manufacturer-suggested retail prices when a car that's anywhere from one to three years old goes to auction. It found that while the cost of such vehicles has remained relatively stable over the past few years, their retention value has fallen by $807 on average, or some 4.6% in the third quarter. Despite vehicles coming equipped with better, pricier option packages than ever, vehicle prices are still falling, suggesting there are too many cars available in the market and one doesn't need to pay up for all the bells and whistles.
While 4% or so is the average decline in MSRP at auction, some cars actually performed much better than average. Here are the five best vehicles for model years 2013 to 2015 for retained value in the third quarter, as compiled by KBB.
5. Mazda 2 (+2.3%)
Mazda's (NASDAQOTH: MZDAF) Mazda 2 was introduced in the U.S. in 2011 and has remained largely unchanged since, though later models of the subcompact four-door hatchback have seen their option packages upgraded to include Bluetooth, navigation systems, and USB inputs. Considering KBB is finding buyers generally not willing to pay up for extras, the Mazda 2's performance may be seen as counterintuitive, then, though a USB input is almost de rigueur these days. The popularity of the vehicle, though, may be due to its thriftiness in gas consumption and price, which car-rating service Edmunds.com says it "addresses both of these realities head-on," even if creature comforts aren't extant in the car.
Image source: Nissan.
4. Nissan Xterra (+2.5%)
The traditional midsize SUV Xterra from Nissan (NASDAQOTH: NSANY) is getting a bit long in the tooth, having been introduced back in 2000, though the wheelbase has grown somewhat over time and the interiors have gotten a bit roomier. Perhaps unlike some other SUVs that are really geared toward on-road use, the Xterra has been commended for its off-road chops that make it a treat to drive on trails. However, that seems to have come at the expense of around-town comforts and polish, but with a reasonable price it has seemingly retained its value.
3. Chevrolet Silverado 1500 Extended Cab (+2.8%)
While the Ford (NYSE: F) F-series pickup remains the best-selling vehicle in the country -- through November, more than 733,000 F-series trucks have been sold-- the Chevrolet Silverado from General Motors (NYSE: GM) is the second most popular vehicle, though it has sold 40% fewer pickups so far this year. Still, it remains an exceptionally popular truck because of its muscular build that makes it a tough workhorse. From towing capacity to bed strength, and even fuel economy (though that tends to be a lesser consideration among full-size pickup truck buyers), the Silverado 1500 is a top all-around vehicle, and its ability to retain value shouldn't be surprising.
2. GMC Sierra 1500 Extended Cab (+2.8%)
When coupled with the Silverado, GM's sister truck, the Sierra model, combines to almost match Ford F-series pickup sales (together they total more than 718,000 vehicles so far this year).
The differences between the two are really cosmetic, with more chrome, style options, and trim packages that upgrade its look. Even so, despite its more upscale appearance, like the Silverado, the Sierra remains a tough work vehicle at heart, with effective tow capacity up to 10,000 pounds and a powerful V8 engine. It may appear luxurious, particularly when put up against the Silverado, but it's also a truck that doesn't mind getting its fingernails dirty.
1. GMC Canyon Crew Cab (3.2%)
The midsize GMC Canyon pickup may not be one of the top-selling trucks on the market -- it doesn't make the top 20 list from Motor Intelligence -- but like its twin the Chevy Colorado, the Canyon is a good all-around pickup that has a best-in-class 7,000-pound tow capacity and a better than 1,600-pound payload. And like the Sierra, it's also a more upscale version of the more downmarket Colorado.
That probably puts it in a sweet spot for demand that gives buyers comfort and utility, serving to bolster any residual value the vehicle may hold. Indeed, according to the KBB analysis, the midsize pickup for the 2015 model year retained value better than any other segment, with 87% of the MSRP being kept, substantially better than the 77% retained by high-performance cars, and far and away ahead of full-sized pickups, which retained only 64% of their values.
10 stocks we like better than General Motors When investing geniuses David and Tom Gardner have a stock tip, it can pay to listen. After all, the newsletter they have run for over a decade, Motley Fool Stock Advisor, has tripled the market.*
David and Tom just revealed what they believe are the 10 best stocks for investors to buy right now... and General Motors wasn't one of them! That's right -- they think these 10 stocks are even better buys.
Click here to learn about these picks!
*Stock Advisor returns as of Nov. 7, 2016
Rich Duprey has no position in any stocks mentioned. The Motley Fool owns shares of and recommends Ford. The Motley Fool recommends General Motors. Try any of our Foolish newsletter services free for 30 days. We Fools may not all hold the same opinions, but we all believe that considering a diverse range of insights makes us better investors. The Motley Fool has a disclosure policy.