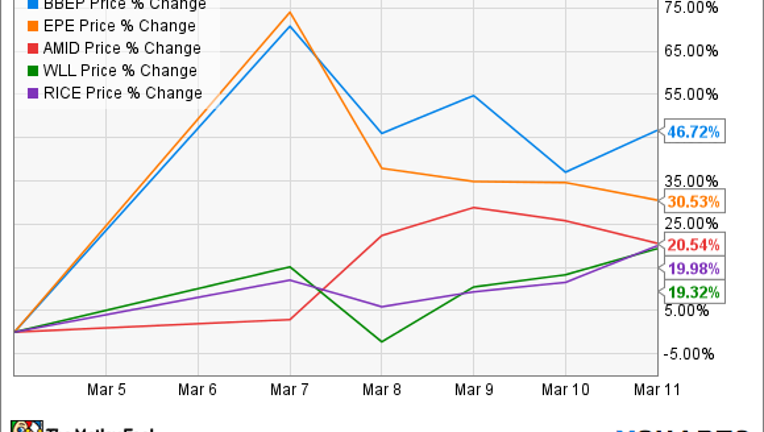 These oil stocks were all up this week, but the pressure is still on. Source: Rice Energy.
While the week of March 7-11 didn't give us five energy stocks that doubled as we saw one week ago, we did get some continuing optimism from investors, with dozens of oil and gas-related stocks finishing the week higher than they started. Of that group, these five stood out with the biggest gains: Oil and gas producersBreitburn Energy Partners LP,EP Energy Corp,Whiting Petroleum Corp, andRice Energy Inc, and midstream operatorAmerican Midstream Partners LP. Here's how these companies' stocks performed this week:
American Midstream reports earningsLet's start with American Midstream, as easily the best-performing midstream stock of the week. The main reason? American Midstream reported earnings on March 7, reporting a massive loss on a GAAP basis, tied to non-cash impairments of $118.6 million, which is equal to about half of the partnership's annual revenues. From an operating perspective, the results weren't as bad, with management saying that the partnership generated $46 million in distributable cash flows, meaning cash over and above its operating needs.
Furthermore, American Midstream's guidance for 2016 seems to have elicited some excitement, with management projecting a 66% increase in distributable cash flow in 2016 at the midpoint of its guidance. The company also said that it expects to generate more than 90% of its cash flow from fee-based business, further insulating it from oil and gas prices.
Downgrades and upgradesEP Energy's stock was downgraded by aGoldman Sachsanalyst to "sell" on Friday, pushing its stock down 3%, while Whiting shares were upgraded by another analyst to "outperform," sending them up 5%. Frankly, analyst ratings aren't really news, nor are they particularly insightful. They're also far from consistently dependable advice, no better than a coin flip on the average in their accuracy.
Whiting's potential credit cut good news in disguiseWhiting did have something important to say this week, with CEO Jim Volker saying at a conference that management was expecting the company's line of credit to be cut by $1 billion in May, when the company's next credit redetermination is takes place. Why didn't shares tank on the announcement? Because it could be much, much worse. As things stood at the end of last quarter, Whiting had $2.7 billion available on its revolver, meaning that it would have $1.7 billion left if the redetermination were done today.
In other words, Whiting is expecting it will still have some breathing room for oil prices to continue recovering.
Oil and gas prices are up (or at least holding their ground), and that's keeping the market optimisticFor Breitburn and Rice Energy, there wasn't anything new reported, and simply a product of a much more generally optimistic sentiment from energy investors, with oil prices showing resilient over the week. Brent crude finished the week over $40 for the first time since early December. West Texas intermediate also closed the week at three-month highs.
Natural gas prices, however, remain near the lowest price in almost 20 years. This situation isn't expected to reverse course overnight, either, barring a late-winter surge of cold weather in the Northeast, consuming more gas from storage in what has been one of the lowest draw-down winters in decades. That means producers can expect to continue realizing very low gas prices for potentially months to come, until the summer power generation season ramps up consumption.
Investor takeaway: Don't lose the forest for the treesAny week where oil and gas prices finish higher than where they started -- much less higher than where they have been for months -- is a good week. But at the same time, it's important for investors to take a step back, and not lose context with where things are.
Oil prices remain at very low levels, even after the strong run-up since the end of January, and it must be acknowledged that much of the run-up is optimism on whatcouldhappen, and not as much based on the data. Yes, oil production has fallen in the U.S., as capital spending cuts on drilling activity has finally worked through the system enough to impact actual output.
But at the same time, the words coming out of Russia and major OPEC players like Saudi Arabia -- particularly commitments to cap output at January levels -- is all well and good, butonlyif we look back in the months ahead and see those words were tied to production actions. Factor in a wildcard like Iran, which seems likely to increase output after years of sanctions, and I'm not willing to bet on what global production will actually look like. Call me a pessimist.
Lastly, while the producers above will certainly benefit from every dollar prices go up, oil continues to sell at levels that won't pay the bills for many, and at this point, nearly every independent producer with a debt-heavy balance sheet is operating on borrowed time.
So far, the oil price recovery isn't about what's happened as much as what people are anticipating will happen. And that's a dangerous bet right now. Invest accordingly.
The article These 5 Oil Stocks Pumped Up 19% or More This Week originally appeared on Fool.com.
Jason Hall has the following options: long January 2017 $1.5 calls on BreitBurn Energy Partners. The Motley Fool has no position in any of the stocks mentioned. Try any of our Foolish newsletter services free for 30 days. We Fools may not all hold the same opinions, but we all believe that considering a diverse range of insights makes us better investors. The Motley Fool has a disclosure policy.
Copyright 1995 - 2016 The Motley Fool, LLC. All rights reserved. The Motley Fool has a disclosure policy.