These 4 Gold Stocks Are Ridiculously Cheap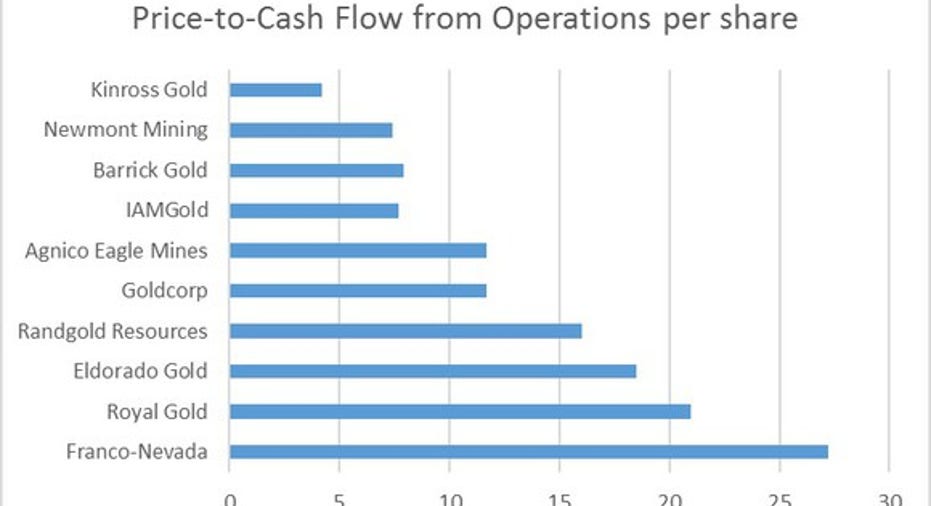 Image source: Getty Images.
Most gold investors don't pay too much attention to the underlying valuation of a gold stock, because they're primarily betting on higher gold prices to make the investment pay off. While that philosophy can work in a rising-gold-price environment, it can also fail miserably if gold prices sputter, which has been the case in recent weeks.
One way to mute the downside risk is to buy stocks trading for a cheaper value than their peers, because these stocks theoretically have a larger margin of safety. For gold stocks, the best metric to compare valuations is price-to-cash-flow from operations per share. The reason this metric is better than other approaches is that it measures what matters most to gold producers, which is cash flow.
Here's how 10 of the largest gold producers stack up:
Data source: YCharts. Chart by author.
Of that group, four gold stocks stand out as the cheapest:Kinross Gold (NYSE: KCG), Newmont Mining (NYSE: NEM), Barrick Gold (NYSE: ABX), and IAMGold (NYSE: IAG). All four trade at less than 10 times cash flow from operations per share, which is dirt cheap compared with rival gold producers, especially Franco-Nevada (NYSE: FNV), which trades at a pricey premium to its peers.
Digging into why these gold stocks are so cheap
One common factor among the cheapest gold stocks is that they're some of the largest gold miners in the world. In fact, Barrick Gold and Newmont Mining currently rank as the first and second largest gold producers by volume, at more than 5 million ounces per year. Because of their larger size, these companies don't have quite the upside as smaller peers because they simply can't grow production at high rates. In fact, Barrick Gold's production is declining because of its focus on increasing value instead of output.
Another commonality among the cheapest gold stocks is their elevated debt levels. As the following chart shows, these gold stocks tend to have more debt on a relative basis than their peers:
Data source: YCharts. Chart by author.
Debt makes up more than 30% of the enterprise value of IAMGold, Kinross Gold, and Barrick Gold, which is well above the levels of most other mining stocks. Because of that, those elevated debt levels are acting as a weight and pushing down the value of these companies. That is evident when looking at the debt-free Franco-Nevada, which trades at a rich premium to other gold producers and shows that investors are penalizing companies with substantial debt.
Barrick Gold is working on lifting this weight by selling assets and generating free cash flow to repay debt. For example, earlier this year it sold two non-core assets to Kinross Gold in a $610 million transaction. Meanwhile, it is exploring the sale of its interest in an Australian super-pit joint venture, which it co-owns with Newmont Mining. This combination of asset sales, as well as Barrick's ability to generate free cash flow, enabled the company to take significant steps forward as it marches toward becoming debt-free within a decade.
Kinross Gold, meanwhile, is working to grow its way out of debt. The company has more than $750 million of cash on its balance sheet, which gives it the financial strength and flexibility to invest in its robust pipeline of organic developments. IAMGold, likewise, has roughly $750 million of cash on the balance sheet, thanks in part to a recent equity issuance. That solid cash position enabled the company to pay down more than $200 million in debt last quarter as it works to reduce total leverage. In both cases, these companies are taking the necessary steps to remove debt that's been weighing down their stock prices.
Investor takeaway
More often than not, there's a valid reason stocks trade at ridiculously cheap valuations compared with their peers. In the case of these gold stocks, the most inexpensive ones are some of the largest producers, as well as those with elevated debt levels. That said, all four of these miners are working to lift these weights by getting their debt down and focusing their efforts on growing shareholder value. Those efforts could help these companies outperform their more expensive rivals in a modestly rising gold-price environment.
10 stocks we like better than Barrick Gold When investing geniuses David and Tom Gardner have a stock tip, it can pay to listen. After all, the newsletter they have run for over a decade, Motley Fool Stock Advisor, has tripled the market.*
David and Tom just revealed what they believe are the 10 best stocks for investors to buy right now... and Barrick Gold wasn't one of them! That's right -- they think these 10 stocks are even better buys.
Click here to learn about these picks!
*Stock Advisor returns as of November 7, 2016
Matt DiLallo has no position in any stocks mentioned. The Motley Fool has no position in any of the stocks mentioned. Try any of our Foolish newsletter services free for 30 days. We Fools may not all hold the same opinions, but we all believe that considering a diverse range of insights makes us better investors. The Motley Fool has a disclosure policy.