These 4 Banks Paid $33 Billion in Taxes Over the Past Year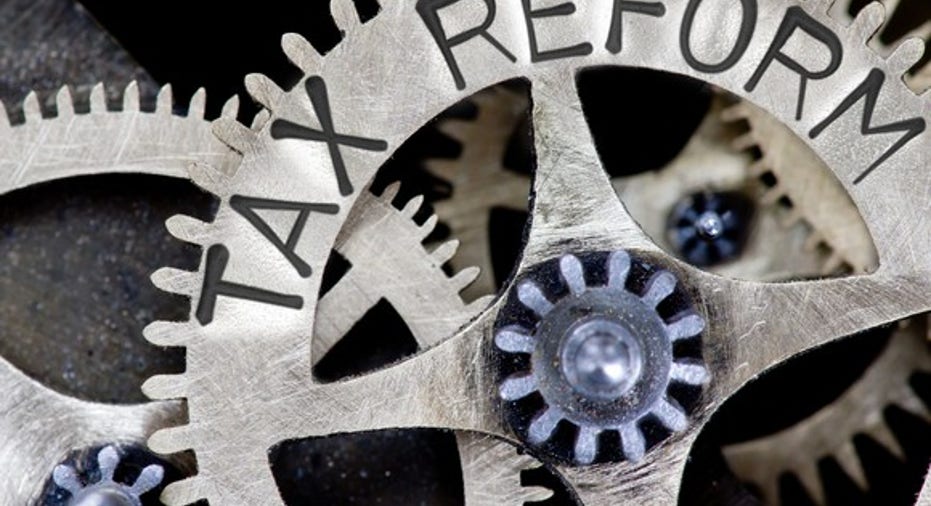 Bank stocks have been surging again over the past few days, as the outcome of the presidential election in France, as well as Donald Trump's vow to lower the corporate tax rate, is buoying investor sentiment toward the sector. Most recently, Trump reiterated his support earlier this week for lowering the corporate income tax rate from a high of 35% down to only 15%.
Given that taxes impact a bank's net income in the same way operating expenses do, a substantial drop in the top rate as envisioned by Trump would translate into a meaningful increase in most banks' bottom lines. That said, some banks stand to benefit more than others. At the top of the list are JPMorgan Chase (NYSE: JPM), Bank of America (NYSE: BAC), Wells Fargo (NYSE: WFC), and Citigroup (NYSE: C).
Data source: YCharts.com. Chart by author.
These are the nation's four biggest banks, with assets ranging from $1.8 trillion in Citigroup's case up to $2.6 trillion at JPMorgan Chase. Not surprisingly, these banks also outearn their peers, with net incomes over the trailing 12 months ranging from $15 billion to $26 billion.
Those aren't just big numbers in the bank industry, either. Aside from Apple, no other company on the S&P 500 generated more earnings than JPMorgan Chase did over the past year. And Wells Fargo and Bank of America aren't far behind, ranking fourth and sixth, respectively, on the large-cap stock index.
Image source: Getty Images.
But there's a downside to massive profitability: corporate income taxes. All told, these four banks paid $33 billion in taxes since this time last year. That's a lot of mullah that, under Trump's tax proposal, could be redirected toward dividends and stock buybacks.
Wells Fargo would see the biggest benefit. According to data from YCharts.com, the California-based bank would see its annual tax liability drop by $4.8 billion if it was taxed at 15% as opposed to the 30% effective tax rate it paid over the last 12 months. JPMorgan Chase would come in second, realizing a $4.3 billion benefit. And Bank of America and Citigroup round out the top four; they would save around $3.2 billion each.
ttm = trailing 12 months.Data source: YCharts.com.
There's no getting around the fact that this would be good news for these banks, as well as their shareholders. At the same time, however, the expectation that the corporate income tax rate will in fact fall already appears to be priced into these banks' stock. This helps to explain why their shares are up between 18% and 44% since the beginning of November. To put that in perspective, the S&P 500 is up 13% over the same stretch, while the KBW Bank Index, which tracks two dozen large-cap bank stocks, has climbed 24%.
The net result is that, if Trump's tax plans don't come to fruition, which doesn't seem entirely unlikely given the impact of the cuts on the federal deficit, these four bank stocks and others could be in for a correction.
10 stocks we like better than Bank of AmericaWhen investing geniuses David and Tom Gardner have a stock tip, it can pay to listen. After all, the newsletter they have run for over a decade, Motley Fool Stock Advisor, has tripled the market.*
David and Tom just revealed what they believe are the 10 best stocks for investors to buy right now... and Bank of America wasn't one of them! That's right -- they think these 10 stocks are even better buys.
Click here to learn about these picks!
*Stock Advisor returns as of April 3, 2017
John Maxfield owns shares of Bank of America and Wells Fargo. The Motley Fool owns shares of and recommends Apple. The Motley Fool has a disclosure policy.