These 3 Specialty Chemical Stocks Beat the Market in 2016. Should You Buy in 2017?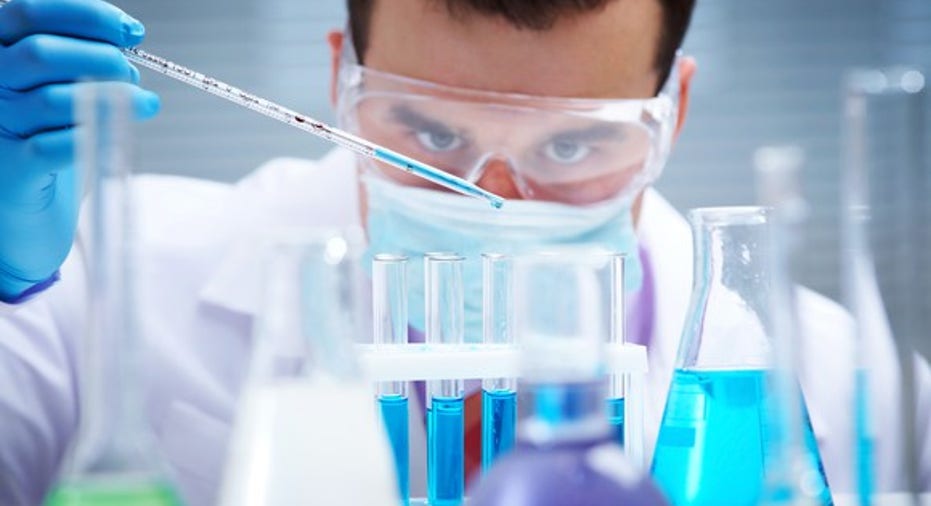 WatchingSaturday Night Livegrowing up, I remember how Mike Myers' "Middle-Aged Man" character was always "caught between 40 and 55." Well, in 2016, specialty chemicals companiesAlbemarle Corporation(NYSE: ALB),FMC Corporation(NYSE: FMC), andNewpark Resources(NYSE: NR) were likewise caught between 40 and 55 -- 40% and 55% gains in their stocks, that is. And that was good news. All three handily beat the S&P 500's 11.2% gain.
But will these companies, like Middle-Aged Man, fizzle out this year? Or will they keep on going strong? First, let's examine why they performed so well in the first place.
The chemicals manufactured by these three companies are used in a variety of industries. Image source: Getty Images.
The bumpy road
Although all of these companies manufacture specialty chemicals, each one offers different products than the others. Albemarle specializes in bromine- and lithium-based chemicals; its products are used in a wide range of industries, including oil drilling, refining, fire safety, and agriculture.Newpark, meanwhile, is almost exclusively focused on the oil and gas industry, providing drilling fluids and composite mats that allow heavy equipment to move and work safely. FMC, like Albemarle, has a large lithium division, but it also concentrates on agriculture and on health and nutrition.
All three companies' stocks performed erratically throughout the year, with a mix of pops and drops. Newpark's performance was the bumpiest:
And all three companies were coming off a couple of rocky years in 2014 and 2015, which makes their 2016 gains look more impressive than they should. In fact, only Albemarle has beaten the market and remained in positive territory over the past three years:
So maybe this is just a case of three stocks that got lucky and hit a low point around the first of last year. But let's not jump to conclusions. Instead, let's look at the events that popped the stocks throughout the year and see whether they look like positive indicators for the companies.
Earnings are everything
Unsurprisingly, the stocks' biggest pops came -- for the most part -- on the heels of good earnings reports. For both Albemarle and FMC, lithium was a big driver of earnings. In Albemarle's first quarter, higher lithium sales volume and favorable pricing led to an 8.8% revenue increase and an 11.4% bump in adjusted EBITDA in its lithium and advanced materials division.In FMC's third quarter, higher lithium prices and lower costs led to a 22% year-over-year increase in revenue and an astonishing 900% year-over-year increase in earnings, from $2 million to $18 million.
For Newpark, which is more closely tied to the oil industry, a midyear rally in oil prices probably had more to do with the stock's rise than the company's performance did.Still, after Newpark's second-quarter earnings report in late July, its stock price rallied despite a $0.06 loss per share, because that wasn't as bad as analysts had projected. Analysts were expecting negative $0.15, in line with the negative $0.16 the company posted in Q1. But in Q3, the company was back to negative $0.13 as it continued to suffer from decreased North American drilling activity, even as its stock price continued to climb.
The oil market was kinder to Albemarle, which saw its refining-solutions earnings increase even as sales flagged, particularly in the first quarter. The company credited higher sales volume in its heavy oil upgrading segment as the cause.
But if the oil market was good to Albemarle, the election of Donald Trump was fantastic to Newpark, which saw its stock jump along with other U.S. oil drillers as a result.
The balance sheet
Albemarle and FMC have something in common besides a lithium business and a market-beating return in 2016: mountains of long-term debt. FMC has $1.9 billion in long-term debt, compared with just $130.7 million in cash on hand, while Albemarle has a staggering $3 billion in long-term debt with $233.6 million in cash on hand. Worse, Albemarle's current portion of its long-term debt, $400.9 million, well exceeds its available cash.
To each company's credit, the current portion of its long-term debt has decreased substantially since the end of 2015. Albemarle's has dropped by 40.6% and FMC's is down 43.8%, so at least their current financial pictures are somewhat improved. But such a high debt load isn't going to be erased anytime soon and could cause problems for the companies as interest rates continue to rise from their historic lows.
By comparison, Newpark's balance sheet looks pretty good. The company has $91.9 million in cash and just $160.6 million in debt. Since then, it has announced the retirement of an additional $78 million in debt through the issuance of new 4% notes that don't mature until 2021 and can be paid off in stock instead of cash.
Investor takeaway
All three of these companies are facing significant challenges and uncertainty in 2017. If lithium prices continue to rise, Albemarle and FMC will benefit, but rising interest rates coupled with their high debt loads make their financial positions fragile, and it's dangerous to bet on a company on the basis of a single commodity.
Albemarle and Newpark will benefit from the continuing recovery in the energy sector, assuming it continues -- which may be a big assumption. Newpark has the best balance sheet of the three companies, but remember that it's also the one suffering from negative earnings, which doesn't exactly bode well.
The bottom line is, there are plenty of companies better positioned going into 2017 than these three. None of their fundamentals seem to justify a repeat of their 2016 stock pops.
10 stocks we like better than Albemarle When investing geniuses David and Tom Gardner have a stock tip, it can pay to listen. After all, the newsletter they have run for over a decade, Motley Fool Stock Advisor, has tripled the market.*
David and Tom just revealed what they believe are the 10 best stocks for investors to buy right now... and Albemarle wasn't one of them! That's right -- they think these 10 stocks are even better buys.
Click here to learn about these picks!
*Stock Advisor returns as of January 4, 2017
John Bromels has no position in any stocks mentioned. The Motley Fool owns shares of Albemarle. The Motley Fool has a disclosure policy.