These 3 Little Biotechs Just Scored Big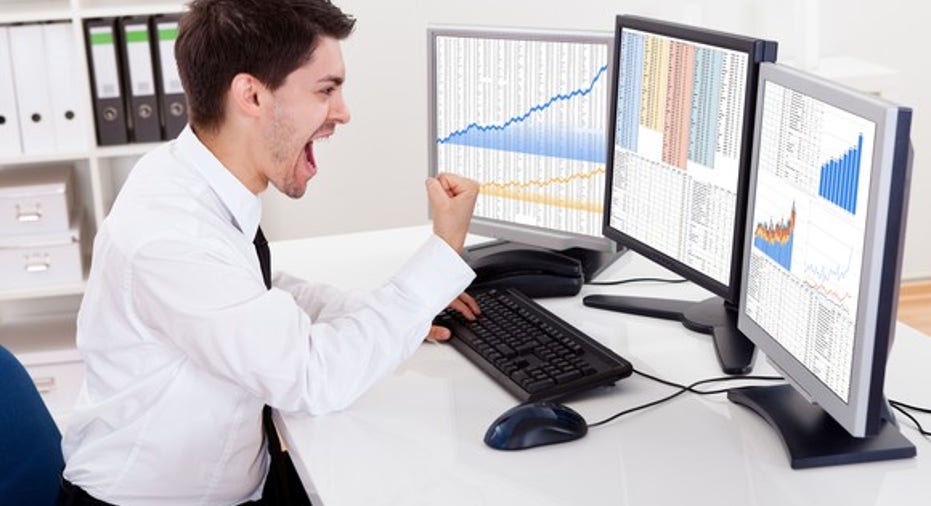 Image source: Getty Images.
Last weekend was more exciting than most for the medical community. This year's European Society for Medical Oncology meeting contained a deluge of data from biopharmas both big and small.
While surprising developments from the industry's biggest players dominated the headlines, presentations from Celldex Therapeutics, Inc. (NASDAQ: CLDX),Exelixis, Inc. (NASDAQ: EXEL), andTesaro, Inc. (NASDAQ: TSRO)flew under the radar. Here's a breakdown of key takeaways with big implications for these relatively small companies.
Celldex Therapeutics: melanoma
Celldex Therapeutics shared fairly encouraging news for its lead candidate glembatumumab vedotin, known as just glemba, as a single agent for the treatment of advanced skin cancer patients. The main goal of the single-arm trial was to show confirmed responses in at least six of the first 52 patients treated. Glemba produced seven confirmed responses among 62 patients, meeting the goal.
On the surface, the results aren't thrilling, but it's important to understand the severity of the patients involved. All of those enrolled had progressed following, or during, treatment with one or more checkpoint inhibitors -- groundbreaking new therapies that disable a cloaking device cancer cells use to hide from the immune system -- and had few options remaining. In fact, the majority of patients had received at least three prior lines of therapy, and all but one patient was in stage four of the disease.
Image source: Celldex therapeutics.
Glemba's ability to produce any responses in these advanced skin cancer patients is an accomplishment in itself, and the results have has emboldened the company to add a second group of patients to the study. They'll receive a combination of glemba and varlilumab, another Celldex candidate that stimulates the immune system in a different manner than the therapies these skin cancer patients previously received.
Although a possible combination therapy for melanoma might be far off, the positive results bode well for a separate glemba trial currently enrollinga well-defined, difficult-to-treat group of breast cancer patients. In a previous study, a small group of similar patients benefited significantly from treatment with the drug. The breast cancer trial is designed to support applications, and its success would propel Celldex's modest $425 million market cap much higher.
Exelixis: renal cell carcinoma
In a head-to-head comparison, Exelixis showed that its Cabometyx (cabozantinib) outperformed a standard-of-care (Sutent fromPfizer) for untreated patients in advanced stages of the most common form of kidney cancer. The majority of patients receiving Cabometyx survived without disease progression for 8.2 months, versus just 5.6 months in the Sutent group. Also encouraging was an objective response rate of 46% in the Cabometyx group, compared to an 18% response rate for Sutent patients.
Earlier this year, Cabometyx earned approval for similar patients that progressedafter treatment with Sutent and similar therapies. This sent Exelixis stock rocketing upwards, despite some fierce competition for a somewhat limited patient population.An approval for the first-line setting would significantly expand Cabometyx's addressable population -- and probably lift the stock even further.
The chances of such an expansion look pretty good so far. The gold standard for cancer trials is increased overall survival benefit, and it looks like Cabometyx has Sutent beaten on this metric as well. So far, median overall survival for patients receiving Cabometyx is 30.3 months, against 21.8 months in the Sutent group. Half of the patients have been observed for 22.8 months or less, which means the overall survival benefit could improve further.
Whatever the case, it looks like Exelixis has enough to support the application it intends to submit for the first-line advanced kidney cancer setting based on these encouraging results.
Tesaro: ovarian cancer
In a phase 3 trial involving 553 ovarian cancer patients with recurrent disease following standard, platinum-based chemotherapy, treatment with Tesaro's niraparib blew the doors off of a placebo. Tesaro tested patients both with and without BRCA mutations. Among recurrent patients with a gBRCA mutation, those treated with niraparibsurvived without disease progression for 21.0 months, versus just 5.5 months observed in the placebo group. For those without the mutation, progression-free survival was 9.3 months in the niraparibgroup, compared to 3.9 months for those receiving a placebo.
The highly significant benefits observed across groupssuggests niraparibcould become a standard treatment for all recurrent ovarian cancer patients, which is a big population.About 22,000 women in the U.S. and more than 65,000 women in Europe receive ovarian cancer diagnoses each year. Platinum-based chemotherapy is generally effective at sending the disease into remission, but within two years, about 85% of patients experience a recurrence.
Image source: Getty Images.
Tesaro's only commercial-stage drug at the moment, Varubi, earned FDA approval for prevention of delayed chemotherapy-induced nausea and vomiting last September. It needs to be given in combination with two other drugs, and so far, its sales are just beginning to trickle in. The company finished the second quarter with $320 million in cash and cash equivalents, and it burned through about $58 million during the three-month period.
At this pace, it looks like Tesaro might be able to see niraparib reach pharmacy shelves before it needs to raise more capital. The FDA granted the candidate fast-track status, and Tesaro began submitting data for niraparib's application in September.Tesaro stock has already gained about 128% this year, inflating its market cap to about $6.1 billion at recent prices. A speedy approval of niraparib for all recurrent ovarian cancer patients could send it even higher.
A secret billion-dollar stock opportunity The world's biggest tech company forgot to show you something, but a few Wall Street analysts and the Fool didn't miss a beat: There's a small company that's powering their brand-new gadgets and the coming revolution in technology. And we think its stock price has nearly unlimited room to run for early, in-the-know investors! To be one of them, just click here.
Cory Renauer has no position in any stocks mentioned. You can follow Cory on Twitter @TMFang4apples or connect with him on LinkedIn for more healthcare industry insight.
The Motley Fool owns shares of and recommends Exelixis. The Motley Fool recommends Celldex Therapeutics. Try any of our Foolish newsletter services free for 30 days. We Fools may not all hold the same opinions, but we all believe that considering a diverse range of insights makes us better investors. The Motley Fool has a disclosure policy.