These 3 Driverless Cars Stocks Are Ridiculously Cheap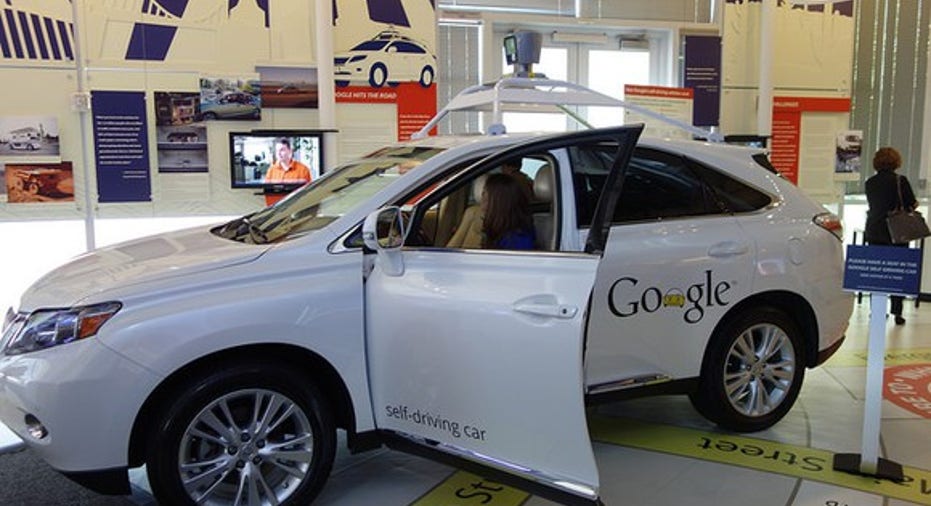 Google has been one of the pioneers in driverless cars. Image Source: Fool Flickr.
Driverless cars are coming. A raft of companies, from Google to Uber toTeslaand others, are hard at work developing the technology to put self-driving cars on the road. If successful, the self-driving car revolution could upend the auto and transportation industry, as well as transform the way Americans commute and travel, eliminating millions of driving jobs.
Considering the global auto market is worth more than $1 trillion, it's no wonder that so many companies are betting on the disruptive technology. A company like ride-hailing service Uber, for example, would potentially be able to cut a majority of its expenses with a driverless car network since the only labor needed is the drivers of its vehicles.
For investors looking for a piece of the action, the closest thing to a pure play in the industry isMobileye, a company developing computer vision, machine learning, mapping technology, and other such features for driverless cars. With a P/E in the triple digits, however, investors will have to pay up for such a stock.
If you're looking for a value play as a way to enter the driverless car industry, your best bets are bigger companies with divisions dedicated to driverless cars. Let's take a look at a few picks that may be hiding in plain sight.
1. Apple
Apple is one of the most attractive value plays on the market, with a P/E of under 11, or less than 8 when its cash hoard is backed out. What's more, investors seem to be ignoring the company's ambitions in the auto market.
The iPhone-maker has been secretive about its auto project, but the company has taken a number of steps toward developing a car. Last year, it hired a slew of auto industry veterans, and has brought on hundreds of new employees, including some from Tesla, to work on an electric-car project code named Titan.
Apple has not made any public announcement on the car yet, and CEO Tim Cook has played coy in interviews, at one point comparing his anticipation for the car project to Christmas Eve. According to various sources, the target date for an Apple Car release is 2019 or 2020. While the car is said to be electric, it's unclear if it will be autonomous. Still, considering Apple is the world's largest tech company and the auto industry is headed toward self-driving, it figures that autonomy would be at least an option in any future Apple Car. Apple's recent billion-dollar investment in Chinese ride-hailing service Didi Chuxing also seems to be an indicator of aspirations in driverless technology.
2. General Motors
GM stock is dirt cheap these days, with a P/E of less than 5. A big reason is that analysts think current profits aren't sustainable: the auto industry is cyclical, and record auto sales last year may be disrupted by autonomous vehicles. What the market values in the auto sector is clear -- Uber, a company that was virtually unheard of a few years ago, is worth $66 billion, more than both GM andFord. Tesla meanwhile, which is selling cars by the thousands rather than the millions, was worth nearly as much as GM at its peak last year.
Traditional automakers, however, are likely to have some stake in a self-driving future, as potential competitors can't simply ramp up production overnight to manufacture millions of cars a year. Tesla recently promised to build 500,000 cars in 2018, a claim greeted with skepticism by analysts.
And GM isn't standing still in the self-driving car race. The Chevy-maker acquired driverless tech start-up Cruise Automation for more than $1 billion in March.Cruise is best known for creating an aftermarket kit that allows some cars to be driven autonomously, and GM plans to integrate its technology into new vehicles. The automaker has also taken a stake in Lyft with a $500 million investment, putting it in the unique position of having access to self-driving technology, the means to manufacturers such cars, and a business use for it as a supplier for Lyft's ride-hailing service. GM and Lyft plan to test drive a fleet of self-driving Chevy Bolt electric taxis on the road within the next year.
3. Delphi Automotive
Like GM, the auto-parts supplier emerged from post-recession bankruptcy healthier and with a much stronger balance sheet. Trading at a P/E of just 12, its potential in the driverless car industry also seems to be ignored.
Last year, Delphi customized an Audi into a self-driving car, which completed a cross-country trip from San Francisco to New York, only requiring human intervention for 50 miles of the trip.
Delphi has a history of automotive innovation going back more than 100 years, and is a leader in manufacturing autonomous parts, which include cameras, radars, and software to make driving decisions based on data.
For those looking to invest in self-driving vehicles, semi-autonomous vehicles -- built with the help of Delphi -- are likely to precede fully autonomous ones, as it's difficult to design cars that anticipate nearly every contingency that could occur on the road. Such a transition will also give people the opportunity to adjust to autonomous driving, as riding in a vehicle operating itself may be difficult for those who have spent years behind the wheel.
With relationships already established with major automakers, a strong position in semi-autonomous vehicles, and proven technology capable of crossing the country, Delphi may be the closest thing to a safe bet in this evolving space.
The article These 3 Driverless Cars Stocks Are Ridiculously Cheap originally appeared on Fool.com.
Jeremy Bowman owns shares of Apple and General Motors. The Motley Fool owns shares of and recommends Apple, Ford, and Tesla Motors. The Motley Fool has the following options: long January 2018 $90 calls on Apple and short January 2018 $95 calls on Apple. The Motley Fool recommends General Motors. Try any of our Foolish newsletter services free for 30 days. We Fools may not all hold the same opinions, but we all believe that considering a diverse range of insights makes us better investors. The Motley Fool has a disclosure policy.
Copyright 1995 - 2016 The Motley Fool, LLC. All rights reserved. The Motley Fool has a disclosure policy.